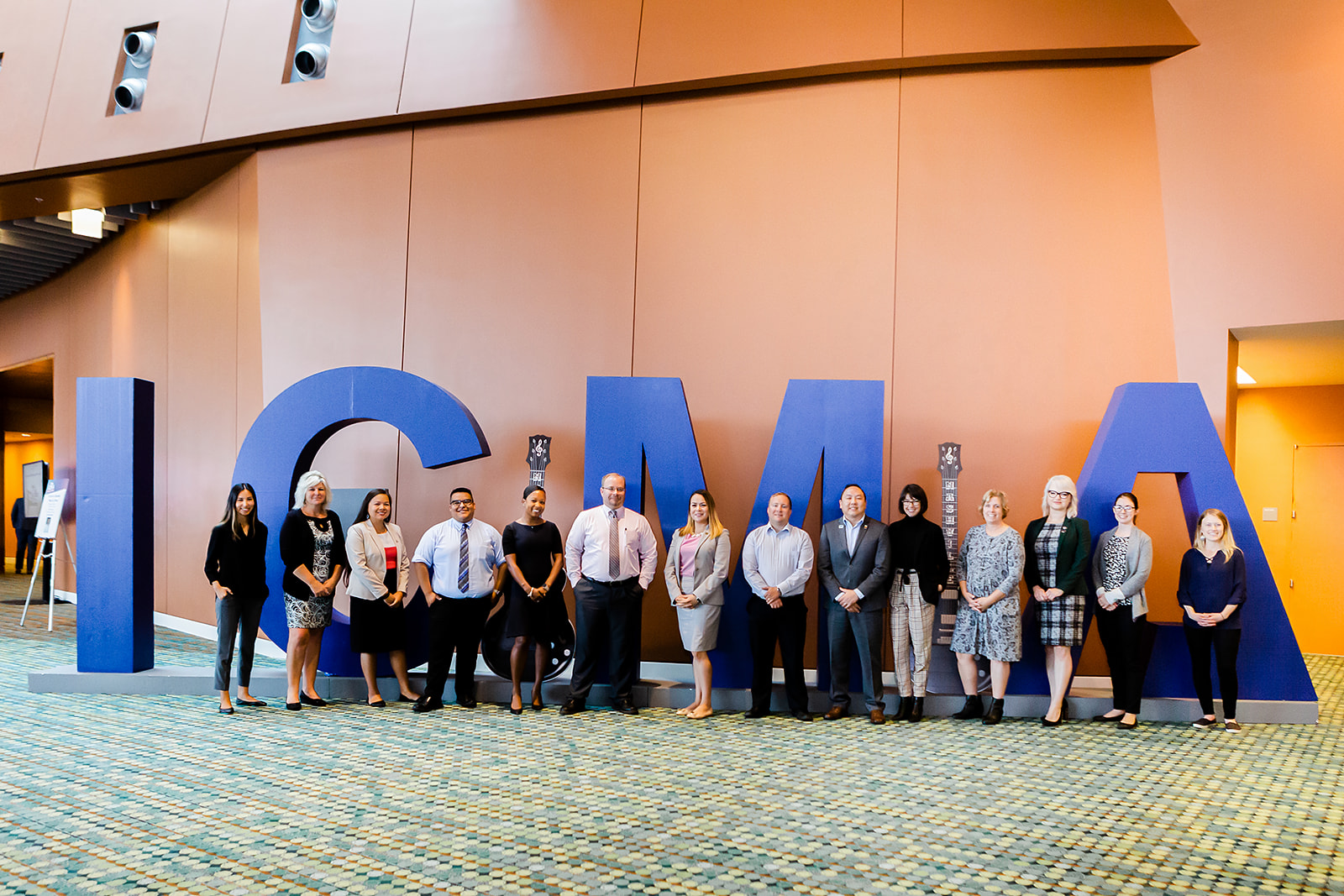 Meet this year's Annual Conference Scholarship Winners:
Young Professional Scholarship
Mr. Harrison Fry, MPA Candidate: 
Harrison Fry serves as the Assistant City Administrator and Community Development Director for the city of Lake Ozark, Missouri.  Prior to serving in this role, Fry worked for the city of Paducah, Kentucky while pursuing a Masters in Public Administration from Murray State University.  Fry also attended the school for his undergraduate studies, focusing on management.  A native of South Fulton, Tennessee, Fry is passionate about economic development and community engagement, working closely with the City of Lake Ozark team to grow the community and the organization that serves it.
Ms. Jessica Muirhead, MPA: 
Jessica is currently the Senior Program Manager for Municipal Services at the Capitol Region Council of Governments (CRCOG) in Hartford, Connecticut. Prior to joining CRCOG, Jessica was an award-winning administrator in higher education for ten years. She has previously served in leadership roles for diversity and equity initiatives and as an executive board member at a university women's center. Jessica remains dedicated to advancing equity in public service through collaborative work.
Stella Carr, BS: 
A spring 2020 Alumna from Arizona State University's MPA program, where she was a Marvin Andrews Fellow, Stella now serves the Town of Lexington, MA as their first Sustainability Director. She has had a lifelong passion for public service and environmental sustainability and is thankful for the opportunity to start her local government career in a way that combines the things she cares most about. Stella looks forward to continuing her career serving the public as best she can as a member of ICMA as they have already provided her great opportunities.
Small Community Scholarship
Mrs. Dawn L. Wucki-Rossbach, BA, MPA: 
Dawn has spent 33 years in local government management and is now serving as the first Village Administrator for the Village of Maple Park, Illinois.  Prior service includes four (4) years as the Business Manager for the Lake County Sheriff's Office, 13 years with the Village of Carpentersville including eight (8) years as the Assistant Village Manager.  She has worked for the Villages of Hinsdale, Libertyville, Mount Prospect and Roselle and has experience in community development, public works, risk management and on the business side of law enforcement with oversight of the $65 million dollar Sheriff's Office budget.  She has experience in grants and has served as the Financial Point of Contact for Federal grants, numerous state grants and a MacArthur Grant; and has been responsible for negotiation oversight for municipal intergovernmental agreements for policing and school resource officer services and coordinated labor negotiations with eight (8) separate bargaining units that represent over 95% of the 483 full-time and 53 part-time people employed by the Sheriff's Office. Dawn received her B.A.s in Public Administration and Political Science from Augustana College and her M.P.A. from Northern Illinois University.
Mr. Victor Hugo Sanchez: 
Victor is a recent graduate of Brigham Young University-Idaho. He is degree is a Bachelor of Arts in Public Policy and Administration. Also, Victor is a City Councilman in Ririe, a lovely little community in Southeastern Idaho. With a passion for community service, Sanchez is striving to learn sound practices and principles to apply at home and throughout the world. 
Workplace Diversity
Ms. Heidi Arely Rivera:
Heidi is serving as an Executive Assistant for the Assistant Chief of the Fire Chief's Office. She has worked with Fairfax County for about 2 years now and about a year and half with the Fire and Rescue Department. Rivera aspires to work with the Fire and Rescue Department long term and help change their workplace demographics to better serve our diverse community. Heidi's goal in attending this conference is to learn and engage with those from other jurisdictions to find opportunities for open discussion and collaboration.
---
ICMA's Conference Assistance is divided into three categories:
Early Career Professional is open to any ICMA member with three years' or fewer experience as a full-time local government employee. There is no minimum salary requirement, although salary might be considered during the evaluation process. (See note under "How to Apply")
Workplace Diversity is open to any ICMA member who is female, a minority, or identifies as LGBTQ.  It is the applicant's responsibility to demonstrate (through additional information included in a required essay) how his or her background merits receipt of an equity award and how the local government and the community served will benefit from the individual's conference attendance. There is no minimum salary or tenure cutoff for the Workplace Diversity award, although those factors may be considered during the evaluation process.
Small Community Employee is open to any member serving in a small community with limited financial resources. Applicants can self-select to apply for this award. There is no minimum salary requirement, although salary might be considered during the evaluation process. 
Conference Assistance Scholarship Eligibility
To be eligible for any of ICMA's Conference Assistance Scholarships (Early Career Professional, Workplace Diversity, Small Community Employee), an applicant must:
Be a member of ICMA at time of application.
Must not have attended the 2019 ICMA Annual Conference. (this requirement will not apply next year to those who attend the 2020 Digital Event: UNITE and is also not applicable to persons who attended a past conference as a student member or a fellow). 
Be a full-time local government employee (not a part-time intern).
Submit a completed application (see below).
Demonstrate, through a 500-word (or less) essay, an avid interest in a career in local government management.
The top eight recipients of the Early Career Professional, Workplace Diversity or Small Community Employee Conference Assistance Scholarship receive complimentary registration to the ICMA Annual Conference.
Additional Requirements
Provide a short biography for the ICMA Annual Conference page.
Post a minimum of once a day on social media about your conference experience.
Scholarship winners will not be required to write a blog as indicated on the application
Eligible candidates can submit an application to multiple categories, if they meet the requirements.
Candidates for Conference Assistance Fellowships and Scholarships must be ICMA members at time of application. To apply for membership, contact ICMA's Membership Services Department at 202/962-3680; membership@icma.org, or visit the website to join.  
How to Apply for the Conference Assistance Scholarships
If you have trouble with the button, follow the instructions below:
You must be an ICMA member and logged into the ICMA website in order to submit an application.
Once you are logged into the website, go to "my account."  You will see "awards" on the top blue menu bar. Hover over the "awards" tab and you will see the link to apply for a conference scholarship.
Alternately, if you are logged into the website you can go directly to the nomination form. 
Follow the online prompts and be sure to fill out all information. Do not forget to upload the essay. (Essay must be named with NO SPACES in the name of the document- example- SmithEssay.doc. and must have a .doc, .docx or .pdf extension)
Applications are due  August 9, 2020.
NOTE: If you are applying for the Early Professional Scholarship select Young Career Professional in the Drop Down. We are working with our contractor to update this category on the  application web site.
Late applications will not be accepted. Questions regarding ICMA's Annual Conference Fellowships and Scholarship Program should be directed to scholarships@icma.org or 202/962-3551.
*Members in Transition: MITs are granted complimentary registration to the ICMA Annual Conference. There are a limited amount of funds available to provide travel stipends to MIT members. Interested parties should contact Rosalyn Ceasar at rceasar@icma.org or 202/962-3544.
Stene Academic Scholarship Program | Closed June 21, 2020
Each year, ICMA selects a graduate school student as the recipient of its Edwin O. Stene Academic Scholarship, named in memory of Kansas University Professor Edwin O. Stene. ICMA provides the Stene Scholarship recipient with complimentary registration to its annual conference as well as $1500 to be applied towards assisting the student with school related financial requirements. 
Stene Scholarship Eligibility
Students enrolled by September of the year preceding the annual conference as full-time graduate students specializing in local government at a college or university recognized by the Network of Schools of Public Policy, Affairs, and Administration are eligible to apply for the Stene Scholarship. Applicants must have had little or no full-time experience in local government, internships excluded.
Applicants to the Stene Scholarship Program must submit the following:
A personal essay of 500 words or less that demonstrates the student's interest in local government and includes relevant professional and personal examples.
A letter of sponsorship from the department head, dean, or director of a related program in which the applicant is enrolled.
A letter of recommendation from a local government manager, previous employer, or an additional academician.
Copies of graduate transcript (unofficial transcripts are acceptable).
You cannot apply for this award online. Submit scanned copies of all materials to scholarships@icma.org. By submitting letters of recommendation and transcripts, the applicant certifies these documents are accurate and have not been altered.
Other Scholarship Opportunities
ICMA Members in Transition
*MITs are granted complimentary registration to the ICMA Annual Conference. There are a limited amount of funds available to provide travel stipends to MIT members. Interested parties should contact Rosalyn Ceasar at rceasar@icma.org or 202/962-3544.
CAL-ICMA
Cal-ICMA will offer scholarship opportunities to the ICMA Annual Conference, however, due to COVID-19 impacts, they are still determining the details. The link to apply will be posted here as soon as we have updated information. 
LGHN
Due to COVID-19 budget impacts, LGHN will not provide a Conference Assistance Scholarship this year. 
NACA
Again this year, NACA, the National Association of County Administrators, will offer the J. Thomas Lundy Scholarship to the ICMA Annual Conference. Applicants must be NACA members and also must be first-time conference attendees. We are in the process of updating the J. Thomas Lundy Scholarship application page. Upon completion that link will be hosted here. 
Direct all questions about Conference Assistance Scholarships to scholarships@icma.org; 202-962-3551.
Read what past scholarship recipients have said about receiving this opportunity to attend the ICMA Annual Conference and the value it added to their lives and careers!
"The ICMA scholarship allowed me to attend the conference in San Antonio. The experience I had and the knowledge I gained has been instrumental in helping me to be a better city manager. I hope to attend every year." - Michael Ceci, city manager, Farrell, Pennsylvania, recipient of the Small Community Scholarship for the 103rd ICMA Annual Conference in San Antonio, Texas.

 
"My conference experience was outstanding! One of the most impactful moments was the general session, sitting there among professional managers from all over the U.S. I've been telling many of my colleagues in Michigan that they absolutely need to consider making it to an ICMA conference soon."- Vester Davis, assistant to the city manager, Grand Haven, Michigan, recipient of the Young Professional Scholarship for the 103rd ICMA Annual Conference in San Antonio, Texas.

 
"Attending ICMA's annual conference in Kansas City was a tremendous opportunity. Over the course of the conference, I received speed coaching from current city managers, attended numerous insightful and engaging sessions, and I was able to connect with countless individuals that are passionate about local government and serving their communities. Perhaps most importantly, it reaffirmed my interest in the field of city management and my desire to pursue a career in local government." - Will Provost, MPA candidate and city/county management fellow at the University of Southern California, recipient of the Stene Scholarship for the 102nd ICMA Annual Conference in Kansas City, Missouri.

 
"I am so empowered with the information I received at the conference and so thankful for the opportunity to attend. I have been so out of the loop due to the lack of funds for educational training opportunities. This conference has armed me with the knowledge and resources that I need to explore to advance my career."  - Allecia Chatman, council administrative aide, Tulsa, Oklahoma, recipient of the Workplace Diversity Scholarship at the 101st ICMA Annual Conference in Seattle/King County, Washington.

 
"Being a new manager from a small community in Maine, I was very fortunate to receive a scholarship to attend the Seattle conference last year. What an experience! The educational sessions were very rewarding and the networking with others from around the country and world was priceless! Thank you ICMA for allowing me to participate with the best of the best in our profession!" - Christine M. Landes, town manager, Bethel, Maine, recipient of the Small Community Scholarship at the 101st ICMA Annual Conference in Seattle/King County, Washington.