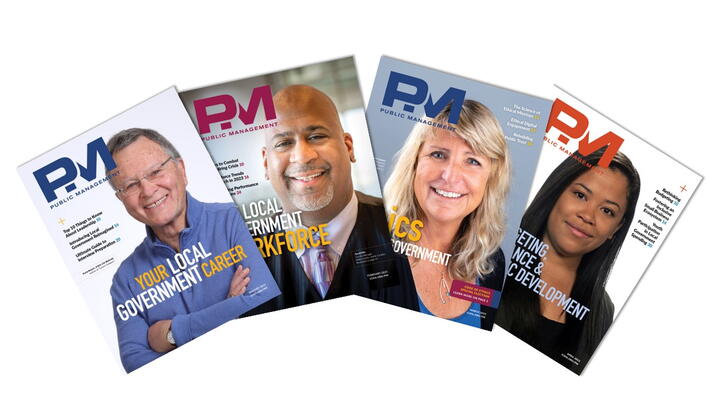 Public Management has been the flagship publication of ICMA for 105 years. A trusted source of local government management information, PM is dedicated exclusively to the public sector practitioner. Designed for quick and informative reading, articles deal with issues of common concern to local government managers worldwide.

The magazine's editorial purpose is aligned with ICMA's mission, which is to create excellence in local government by developing and fostering professional local government management worldwide. Published monthly, each issue contains feature and department articles that focus on local government operations from the real perspective of the chief administrators and other management practitioners.

Articles are written by experts in the field, experienced local government professionals, and observers who have firsthand knowledge of their article's topic.

In recent years, PM has been recognized for its impactful content on diversity, equity, inclusion, and social justice. ICMA received three awards in the 41st Annual EXCEL awards competition, the largest and most prestigious program recognizing excellence in association publishing. PM took home gold for June 2020 special supplement, Moments of Change: Leading with Courage and Commitment for Racial and Social Justice.
Check out the latest issue
Read articles from the current issue of PM here. ICMA members have access to all articles while nonmembers can access select articles each month.
Write for us
We're always looking for interesting and insightful stories to advance professional local government through topics such as leadership, management, innovation, and ethics. Check out the PM editorial guidelines for information on how to submit an article for consideration.
Advertise with us
The purchasing power of the PM readership affects millions of individuals in thousands of communities across the globe. Access our media kit to learn more about advertising in PM magazine, PM Alert enewsletter, the ICMA website, Leadership Matters enewsletter, ICMA podcasts, and more.
Start reading PM today
ICMA members receive digital access to PM and those residing within the United States receive the print edition for free as part of their membership. Learn more about becoming a member. Or perhaps you prefer a subscription. Learn more here about print and digital subscription options.