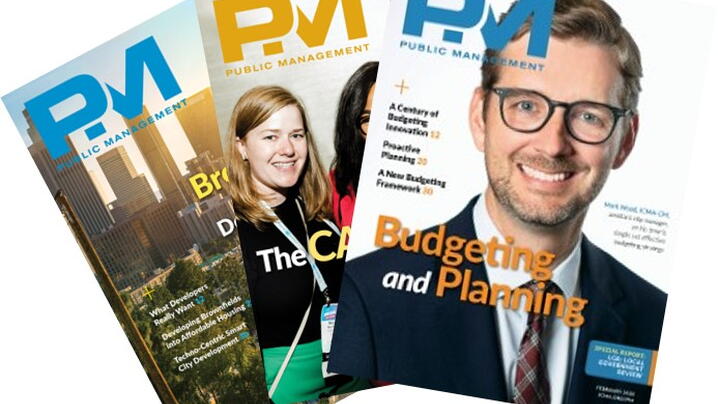 See PM editorial guidelines for information on how to submit an article for consideration.
Public Management has been the flagship publication of ICMA for more than 100 years. A trusted source of local government management information, PM is dedicated exclusively to the public sector practitioner. Designed for quick and informative reading, articles deal with issues of common concern to local government managers worldwide.

The magazine's editorial purpose is aligned with ICMA's mission, which is to create excellence in local government by developing and fostering professional local government management worldwide. Each issue contains feature and department articles that focus on local government operations from the real perspective of the chief administrators and other management practitioners.

Editorial content is recommended, written, and often reviewed by local government managers. Articles are written by experts in the field, experienced local government professionals, and observers who have firsthand knowledge of their article's topic.

ICMA members receive digital access to PM and those residing within the United States receive the print edition for free. Click here to become a member.
Subscription Rates
$50 Digital Access, 12 issues (one year)
$60 Print and Digital, U.S. Domestic, 12 issues (one year)
$155
Print and Digital, Other Countries, 12 issues (one year)