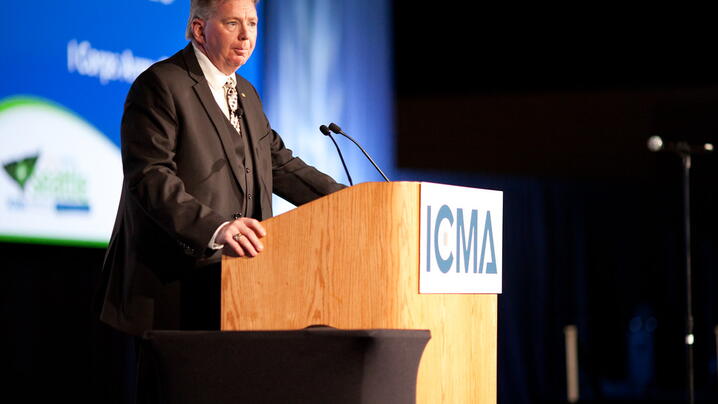 You've devoted your career to local government management and improving the communities where you've served. ICMA invites you to become a "Legacy Leader" and help enrich the profession by mentoring the next generation, supporting their professional development, and encouraging them to belong to ICMA as the professional organization that meets their unique needs.
Credentialed managers who fulfill the following commitments each year will belong to the Legacy Leaders in honor of the legacy you bring to the profession every time you advise a young professional from your community or another community about the rewards of life in the local government trenches. To join the Legacy Leaders, you need to fulfill one of the requirements below:
AND
Coach a participant in the Emerging Leaders Development Program (ELDP), Mid-Career Managers Institute (MCMI), or in a comparable state-sponsored program such as CAL-ICMA for two years.  The coach's responsibilities include:

Serving as a sounding board and career coach throughout the year

Attending a state association meeting, regional meeting, or ICMA Annual Conference with the participant if possible

During the second year of the ELDP or MCMI program, approve completion of the course and sign off on your emerging leader or mid-career manager's final project prior to graduation

Recruit at least one new member each year
Making a difference in the life of a promising young professional does not need to take a lot of time from your busy schedule. Coaching can be done through phone calls and e-mails in just a few hours a month. Think back on the mentors who advised you in the early years of your career. This is your opportunity to do the same for others.  Encouraging their interests, helping them build on their strengths, and giving them career advice not only helps them pursue this profession, it ensures that the next generation will be in the pipeline to provide the caliber of professionalism that enriches our communities.
After one year of coaching and recruiting or sponsoring one member or emerging leaders program participant, you will earn the designation of Legacy Leader. To maintain the designation in the second year, you will continue coaching for another year and recruit one more member or emerging leaders program participant. After that, each year Legacy Leaders will select from a menu of different activities that enrich the profession in order to maintain Legacy Leaders status.  In addition to the activities above, the list includes establishing an intern position in your community or with neighboring communities, hosting an Emerging Leaders Development Program or Leadership ICMA discussion group, and reaching out to students in your community to improve their knowledge of local government or to encourage young people to consider the profession.
To find out more, e-mail and we'll contact you with additional information.
ICMA celebrates the commitment of Legacy Leaders
Frank Benest
Jim Bennett
Wally Bobkiewicz
Susan Boyer
Rob Braulik
Richard Brown
Ed Daley
Mike Garvey

Sam Gaston
Wes Hare
Roger Kemp
Jon Lewis
George Liyeos
Tom Lundy
Jim Mullen

Andy Pederson
Rod Wood
Douglas Schulze
Cynthia Seelhammer
Ted Staton
Greg Sund
Carl Swenson