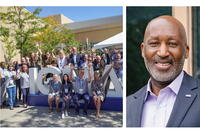 Letter from the CEO/ED:
  Strengthening ICMA's Value Proposition Read>>>
---
Jump to:
New Restructure of Membership Dues
What were the key issues ICMA wanted to address with a dues restructure?

"How much is cost a barrier to membership? How can we grow among nonmembers?"
"How do we make dues more affordable to everyone, and inclusive of smaller communities with limited budgets?"
"Is salary the right metric to use for managers and assistants?"
"How do we get a diversity of members in ICMA? I don't see a lot of people who look like me in ICMA, could that be based off dues structure?"

What we learned from you through this process:

Overall member satisfaction

The majority of members we spoke to (85%) are satisfied with their ICMA membership. Members across tenure, member type, region, and community expressed high satisfaction across the board.

Cost to Value of Membership

Compared to other professional associations ICMA is slightly below average with regards to "the value of membership compared to cost" – indicating room for improvement and a stronger value proposition.

Barriers to Membership

The greatest barrier to membership was cost. Removing the cost barrier, would not only increase the likelihood of nonmembers joining, allowing ICMA to broaden and grow membership, make ICMA membership more accessible for early career professionals, AND demonstrate to our current and loyal members that their continued engagement in ICMA is important.

Why did ICMA make this change?

Membership has been our central organizing model for as long as we can remember, and it has worked. BUT changing member demographics and shifting customer expectations suggest legacy models may not be the right approach for the future. While our approach has contributed to revenue and membership growth, in all categories, and an expansion of member benefits, support, and other related operations, it is not sustainable. What we know is that demand exists for a dues structure that prioritizes membership growth.

How did ICMA make this change?

Recent member surveys gave us consistent feedback that our dues rates for managers and assistants were too high. In December 2019, the Board identified the dues structure and value of membership as a key strategic priority for the organization and created a Dues Subcommittee. Departing from a past approach of using a member task force, we decided to seek the guidance of McKinley Advisors. They brought to us a wealth of expertise in association member dues structures. Using a member survey and focus groups with members and non-members, McKinley gathered the data to inform a series of recommendations. During the fall of 2021, the models were finalized for the presentation at the December Executive Board meeting. The new approach was approved by the Board in February 2022.

What are the changes? How will my membership dues rate be affected?

Everyone who joins ICMA or renews their dues after October 1, 2022 will pay the new dues rates.

Managers and Assistants/Deputies (Full Members): Retained the salary-based approach and decreased the salary adjuster from .008 to .0065 capped at $1200, that represents a minimum 14% dues reduction.
Smaller communities discount: ICMA dues structure has been changed to better serve smaller communities, tying membership dues to community size and General Fund Budget. Full members (CAO or ACAO) working for a local government with population less than or equal to 7,500 and General Fund Budget less than or equal to $7.8 million, receive an additional 20% discount. The discount will be applied as you go through the join/renew process.
Entry level to Department Directors (Affiliate Members): Established a flat rate $200.
Private Sector and Academics (Affiliate Members): Established a flat rate of $200.
Student and Retired Members: No changes.

Small Communities Discount

ICMA dues structure has been changed to better serve smaller communities, tying membership dues to community size and General Fund Budget. Full members (CAO or ACAO) working for a local government with population less than or equal to 7,500 and General Fund Budget less than or equal to $7.8 million, receive an additional 20% discount. The discount will be applied, for qualified individuals, as you go through the join/renew process.

What you need to do

Renew! Join! Current members will receive renewal invoices that will reflect the dues changes as applicable. New members, joining after October 1, 2022, will receive the new dues rates as applicable. If you have questions about your invoice, contact membership@icma.org.

Update Your ICMA Member Profile

Please update your member profile to ensure we have the latest and accurate information about you. Visit My ICMA to update your profile, and to manage your communication preferences.

How will my dues rate be calculated if I want to join or renew?

Per the ICMA Executive Board's financial review and guidance, the new rates go into effect on October 1, 2022 and will be offered at that time. For specifics on cost, please see your most recent invoice; the small community discount will be applied for qualified individuals as you move through the join/renew process or you may contact us at membership@icma.org.
Membership Dues
What are the dues for membership with ICMA?

New memberships will not be established without dues payment in full.
All payments must be made in U.S. currency (VISA, MC, AMEX accepted).
Purchase orders are not considered payment. However, if your local government requires a purchase order prior to payment, please contact our Finance Department at 202-962-3678.
Membership may not be transferred from one person to another. ICMA is a professional association and membership belongs to the individual, not the employer.
ICMA will not refund dues if a member leaves current employment; membership travels with the individual to his or her next position.

How are annual dues calculated?

United States

Local Government Professionals

Chief administrative officers (CAOs), assistant/deputy CAOs, and other senior-level staff in local government: annual salary × .0065, up to $1,200.
Full-time interns or fellows in local government: $25.

Academics

Full-time students (whose primary occupation is going to school) and who do not work full time for a local government, nonprofit, or private sector: $25 (or join for free through a participating student chapter).
Full-time college or university professors: $200.

Others

Private sector, nonprofit, federal, and state employees: $200.
Retired: $50.
Life  (may not join at this level): Complimentary membership, with the option of paying a $25 annual service charge to receive the printed version of Public Management magazine.

Dues below apply regardless of member category:

Canada

CAMA Member: US$135.
Non-CAMA Member: US Fees.

United Kingdom

SOLACE Member: US$105.
Non-SOLACE Member: US$135.

High-income Countries: US$135.
Low- and middle-income Countries: US$70.
Full-time students/local government interns: US$25.
Retired: US$50.
Life (may not join at this level).

Check out the World Bank website to determine if your country is a low- or high-income country.

What is meant by deferred compensation?

Deferred compensation includes pre-tax contributions made by your employer on your behalf to a qualified 457 B plan.

What about dues refunds?

Since membership is not transferable, ICMA will not provide a dues refund if a member leaves current employment.

What are the payment options?

Check or money order: Download a member application from icma.org/join. Mail the completed application and payment in U.S. currency to: ICMA Membership Payments, P.O. Box 79403, Baltimore, MD 21279-0403. This address is a bank lockbox and should be used for membership dues and renewal payments only. Mailed payments should include your membership application.
Credit card (American Express, Visa, or MasterCard): You can join or renew online with a credit card at icma.org/join.

Who does ICMA membership belong to?

As a professional association, ICMA membership belongs to you as an individual, not your employing organization. Membership is not transferable. Your ICMA membership travels with you throughout your career and into retirement.

My membership lapsed - How do I reinstate my membership?

To rejoin ICMA after a lapse in membership, complete the Member Reinstatement application and send with check payment to ICMA. Dues can be made with credit card by calling Membership at 202-962-3680 or 1-800-745-8780.
Membership Categories
Who can be a member of ICMA?

Any individual with an interest in local government leadership and management can join ICMA. Nature of employment and position determine your membership category, dues rate, and benefits.

What are ICMA's membership categories?

Full membership is designated for chief administrative officers (CAOs) whose scope of responsibility meets these six criteria: appointment, policy formulation, budget, appointing authority, organizational relationships, and qualifications; assistant/deputy chief administrative officers; and other senior-level staff in local government who have significant administrative duties and report to a CAO whose position meets the six aforementioned criteria.

Affiliate membership is for any person who does not meet the qualifications for the above full membership category, including entry- to mid-level local government employees, local government department heads, and full-time interns.

Academic membership is for full-time professors and full-time students not working for a local government.

Other/Non-Local Government membership is for private and nonprofit sector employees, federal/state government employees, honorary members, and Life members.

Honorary membership is conferred by the ICMA Executive Board and recognizes individuals outside the local government profession who have contributed to the improvement of local government. Individuals can not join under this category.

ICMA membership is for individuals and is not transferrable.
Professional and Demographic Information
Can I attach a resume in place of listing my employment history?

Yes, positions should be in reverse chronological order, starting with your current employer. Include start and end dates, year, month, and day for each position listed. These dates determine voting and service award eligibility. Work history is used to ensure a complete and accurate listing in Who's Who, our online directory. You can update your job history by logging into your ICMA account on the website.

How does this information help ICMA?

Better data helps us make better decisions. In an effort to help us provide you with the programs, services, and resources you need, we want to know a little more about you. We also collect data that helps ICMA measure the progress of our efforts to build a more diverse profession and association. Data on gender, race, ethnicity, and age is private. This data will not appear in your public profile nor is it shared externally. It is only used in the aggregate.

Will my membership information be kept confidential?

Each member's professional and educational history and home telephone number are published in the Who's Who online directory. Any demographic statistics regarding ICMA members are only published in aggregate form. You can opt to hide your birth date from public view.
Code of Ethics
What is the significance of the ICMA Code of Ethics?

The Code has governed members' professional and personal conduct since 1924 and is a foundation of the association and the local government management profession. ICMA provides ongoing education regarding the Code of Ethics, which is aggressively enforced by a peer review process that involves investigating complaints and recommending sanctions for Code violations. By signing the membership application, you agree to abide by the ICMA Code of Ethics and Guidelines for Enforcement.

Do I have to endorse the ICMA Code of Ethics?

ICMA encourages all members to actively endorse the Code of Ethics by providing an endorsing signature on their membership application. However, all members are bound to the Code of Ethics and the Rules of Procedure for Enforcement. Members working for local government in appointed positions are subject to the provisions of Tenets 1 through 12; members working outside of local government are subject to the provisions of Tenets 1 and 3.
Effective Date
When will I receive new member material?

Expect e-correspondence from ICMA regarding your new membership within one week of joining. New members will receive information about ICMA's resources at 30, 60, and 90 days to orient them with ICMA membership. However, members are encouraged to reach out to membership@icma.org for any membership-related questions. Non-student members residing in the United States will also receive a welcome packet via mail.

Will I be listed in Leadership Matters?

Applicants for full membership are listed in Leadership Matters, ICMA's weekly membership e-newsletter, and if no written objection has been received after 60 days, the applicant will be formally admitted to membership.
Do you have questions about membership with ICMA?
Call the ICMA Member Benefits & Services Team at 800-745-8780 or 202-962-3680 or email membership@icma.org.