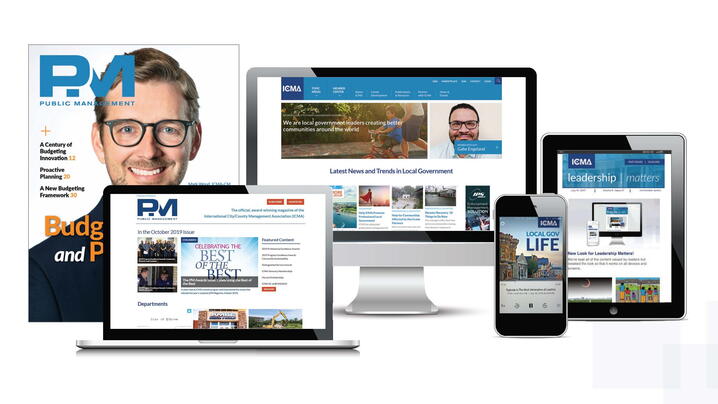 Reach ICMA's more than 12,000 local government members through its authoritative publications and its icma.org website, which attracts more than 105,000 monthly visitors. The management decisions made by ICMA's members in the United States and around the world affect nearly 185 million individuals in thousands of communities.
In addition to our existing advertising opportunities in the print and online issues of Public Management (PM) magazine and in ICMA's Leadership Matters weekly e-newsletter, you will be able to connect with website visitors on key pages within the icma.org website. We're confident these new opportunities will be a great complement to already existing ad spaces and go a long way to helping you achieve your digital campaign goals.
PM magazine is the award-winning magazine for ICMA members and local governments worldwide, inspiring innovation, connecting leading-edge solutions to everyday challenges, and fostering excellence in local governance. Positioned strategically, your print, online, and e-alert ads will reach readers of the print magazine as well as our online readers. For more information, check out the PM magazine advertising opportunities.
Reaching qualified local government professional candidates has never been easier or more cost-effective. The Job Center is your one-stop shop for recruiting. Contact advertising@icma.org for more information or go to the Employer Overview, where you can create and post your job ad today!
ICMA SmartBrief is a daily e-newsletter produced in partnership with ICMA and SmartBrief, reaching a highly engaged audience of over 21,000 ICMA members and local government management professionals. Leverage the advertising and content marketing opportunities in this newsletter to feature your brand/products, showcase your thought leadership, or even generate qualified leads. For more information, please reach out to Megan Kessler at megan.kessler@futurenet.com or 202-517-6295.