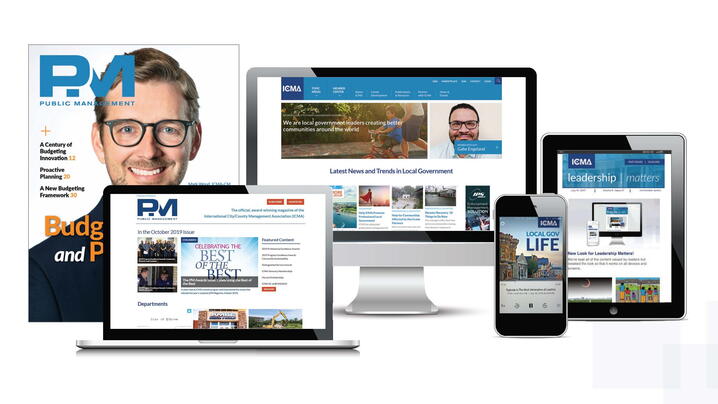 PM is the award-winning magazine of ICMA (International City/County Management Association), the professional and educational organization for chief appointed managers, administrators, and assistants in cities, towns, counties, and regional entities throughout the world. 
PM's mission is to inspire innovation, inform decision making, connect leading-edge thinking to everyday challenges, and serve ICMA members and local governments worldwide in the pursuit of excellence in local governance.
The management decisions made by ICMA's more than 12,000 members in the United States and around the world, affect millions of individuals in thousands of communities across the country—from small towns with populations of a few hundred to metropolitan areas serving several million.
PM readers are among the decision-makers involved in the purchasing process: 86% establish the budget; 80% authorize and approve purchases; and 60% recommend and select specific products and services.
You can reach these decision-makers through PM, the trusted source of reliable guidance and information for 100 years.  
PM's circulation of more than 10,000 (print) and 12,000 (e-newsletter) includes ICMA members, nonmember subscribers, and bonus distribution at major events for local government professionals
ICMA Members Are the Top Decision-makers
Nearly 58% of U.S. local government members hold the top job of chief administrative officer—city manager and county administrator. Nearly 24% are in upper management—department head and assistant CAO.
PM Readers Have Huge Buying Power
The average total operating budget for a local government is $26.8 million, and the average cost of products purchased in a year is $5.1 million.
Reserve Ad Space
To reserve space or learn more about advertising with ICMA, contact our advertising representative, Justin Wolfe, senior account executive, The YGS Group, at justin.wolfe@theygsgroup.com or (717) 430-2238.
General Conditions
Cancellations or changes in advertisements will not be accepted after closing dates. Advertisers assume liability for all content and subject matter of advertisements printed, and responsibility for any claims resulting from them against the publisher. All advertising is subject to the publisher's approval. The publisher reserves the right to cancel any advertising prior to the date of publication or to add the word "advertisement" to any page. The publisher is not responsible for orders, cancellations, or corrections given verbally. Confirmation of orders, cancellations, or corrections must be received in writing by respective closing deadlines. Positioning of  advertisements is at the discretion of the publisher.
Policies
As the publisher of PM, ICMA reserves the right to refuse to publish any advertisement, to correctly classify an advertisement, and to delete objectionable words or phrases in an advertisement.
Here is the list of advertisement types ICMA will not accept: alcoholic, tobacco, firearms, prescription drugs, herbal remedies, personal hygiene products, religious products and services, any ad that implies that laws will be violated and/or appears to be discriminatory, any ads of a sexual nature, and political ads.
Submission of an advertisement to a PM representative does not constitute a commitment by PM to publish the advertisement. Publication of an advertisement does not constitute an endorsement of that ad by PM or by ICMA. PM will not be liable for failure to publish an ad as requested or for more than one incorrect insertion of an advertisement. In the event of any error or omission in printing or publication of an advertisement, PM liability shall be limited to an adjustment for the cost of the space occupied by the error, with a maximum liability being cancellation of the cost of the first incorrect advertisement or re-publication of the corrected advertisement. Under no circumstances shall PM be liable for consequential damages of any kind.