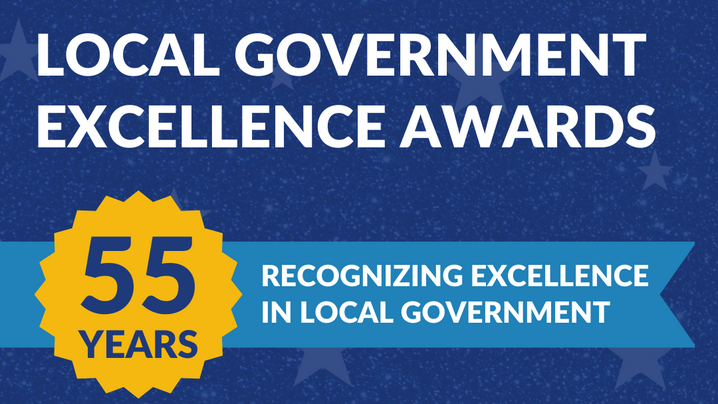 ICMA's Local Government Excellence Awards celebrate the value of professional management and honor creative contributions to professional local government leadership. These awards highlight public awareness of the value of professional management and its impact on the quality of life in our communities. 
Professional Awards are presented to individuals for:
Outstanding Local Government Programs are recognized in these areas:
Nominations are accepted from U.S. and international jurisdictions
Program nominations are divided by jurisdiction size. Communities with a population of 10,000 or less are strongly encouraged to apply. Students are encouraged to nominate a professor for the academic award. Submit a nomination today! Details and submission process below.
---
Categories and Eligibility
Professional Awards
Recognize individual achievement that may have been accomplished through tenure with a number of local governments or organizations. Individuals can be nominated in only one Professional Award category per year.
Presented to local governments and their chief administrators in recognition of their innovative and successful programs. Program Excellence Awards can have multiple recipients.
Awards are presented to local governments for each of three population ranges: less than 10,000, 10,000 to 49,999, and 50,000 and greater. Multi-participant nominations will be classified in the population range that corresponds to the population of the largest participating organization.
Any local government whose chief administrator is an ICMA full member is eligible to receive a Program Award. (Nonmember CAOs are encouraged to join ICMA and enjoy the many benefits of belonging to this international organization.) Local governments must limit their nominations to one program per category—with a maximum of five Program Award nominations per year. Each nomination must be distinct from the others. Programs must have been fully implemented by January 31, 2022, to be eligible for nomination in 2023. The CAO of the local government must be a full member of ICMA for a program to be eligible for submission, this is in-sync with one of ICMA's core beliefs that professional management is an integral component of effective local government and is also a benefit of membership in your professional association.
*The implementation date of January 31 of last year allows for the program to show at least a year's worth of success and progress for the awards evaluation panel to review. To be eligible for a 2023 award, the program must have been fully implemented by January 31, 2022.
---
You must be logged into the ICMA website in order to submit a nomination.
If you do not have an ICMA website account, you will need to set one up here in order to submit the nomination. When setting up an account, use the email address that you want to receive communications from ICMA regarding this submission, 
Once you are logged into the website, go to "my account". You will see "Awards" on the top blue menu bar. Hover over the "awards" tab and select link to nominate either a Professional Excellence or Program Excellence Award. Click on the appropriate tab. 
Questions? Contact Joyce Lee at 202/962-3625 or jlee@icma.org.