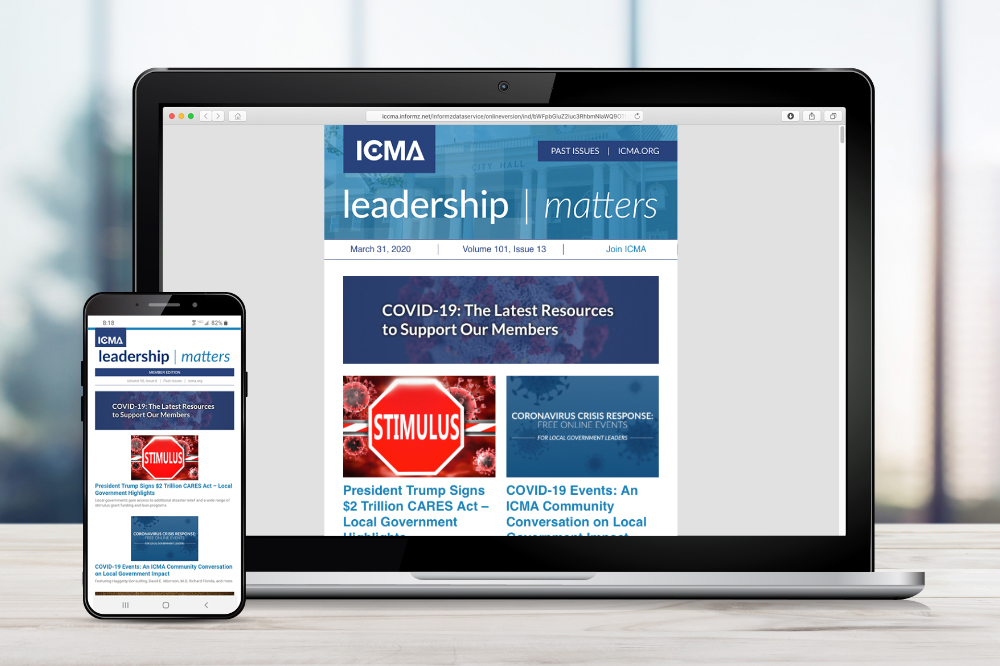 Thousands of local government professionals stay connected with what's happening in local government by subscribing to our newsletters. Sign up today to receive the latest news in your inbox on a daily or weekly basis.
ICMA Leadership Matters
Leadership Matters* is a weekly e-newsletter that delivers the latest career opportunities in local government along with news, strategies, best practices, and innovative ideas on the most important local government issues—from ethics to smart growth, emergency management to sustainability.
Readers also get:
Cutting-edge research
Real-life success stories                                                         
Calendar of events.
It's easy (and FREE) to sign up!
Sign up for Leadership Matters 
If you already have a user name and password on icma.org, all you'll need to do is login to update your subscriptions, and check the box to receive Leadership Matters.
If you aren't already registered on the website, you'll complete an easy registration form, and check the subcription box to receive Leadership Matters.
*The weekly member edition includes premium content available only to ICMA members. Learn about the benefits of joining ICMA. If you are a member and are not receiving this highly rated member publication, contact 800-745-8780 in the U.S. or 202-962-3680 outside the U.S. or membership@icma.org.
Leadership Matters Archive (Non-Member Edition)
To advertise in Leadership Matters, contact Hanna Vedder at hvedder@townsend-group.com. 
ICMA SmartBrief
ICMA SmartBrief is a daily news briefing that brings you the local government-related news that really matters. Expert editors handpick key articles from hundreds of independent, online publications, summarize them, and then provide direct links to the original sources.
Topics include:
Leadership and Management
Budgeting and Finance
Economic Development, Restoration, and Sustainability
Emergency Management & Public Safety
Ethics
Legislation, Policy, and Grants
Public Works and Infrastructure
Recognitions & Transitions.
Each edition of the ICMA SmartBrief also includes valuable news and information on organization programs, products, and activities.
Sign up for the ICMA SmartBrief
To advertise in ICMA SmartBrief, contact mkessler@smartbrief.com