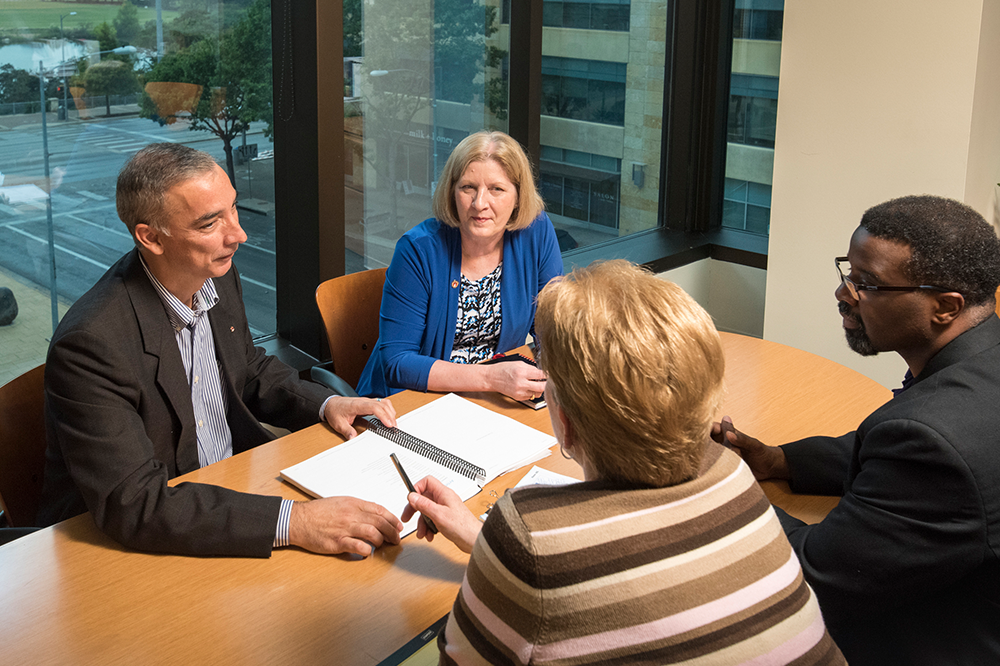 ICMA has many opportunities for you to use your talents and interests to become engaged and support the profession. The level of commitment varies depending on the opportunity you select. Joining a task force is a year long commitment. Serving as a coach may require an hour a month or a lifelong commitment to the success of your mentee. Please review all the opportunities to find your match.  The Call for ICMA Member Task Forces, Advisory Groups, and Committees opens each year in March.
Task Forces
Task forces have specific assignments, work with defined deadlines (one to three years), and are composed of one group of members for the duration.
Advisory Boards
The executive director periodically appoints advisory groups to assist with key initiatives.
Committees
Committees draw on the skills and interests of a broad cross-section of the ICMA membership to study issues of interest and importance to the organization or to local government in general. They also provide an opportunity for member connection and networking.  ICMA committees are primarily those with delegated decision-making authority from the board. They have advisory roles and are ongoing, with staggered terms of members who serve.
The ICMA Executive Board establishes the task forces and committees at its February board meeting. Members are encouraged to volunteer in the spring, and appointments are made by the president-elect in June. New groups usually begin their work at the annual conference in the fall.
Task Force/Committee Member Roles, Expectations, and Responsibilities
Committee volunteers commit to:
Participate actively in the committee by attending at least one committee meeting per year and letting the chair know if you are not able to attend any meetings. (Members must participate in order to remain on the committee.)
Follow through on assigned tasks by meeting deadlines, returning phone calls, responding to requests for input via e-mail, etc.
Respect the opinions of other committee members and the role of the committee chair to build consensus on the specified task.
Represent the committee to assistants' and managers' associations in your area by attending state or national association meetings, making brief presentations, or writing articles about the committee's work for state or national association newsletters.
Current Committees, Task Forces and Advisory Boards
The 2019 Conference Evaluation Committee evaluates the ICMA Annual Conference. The committee will meet twice in Nashville: Sunday, Oct. 20, 2019 and Wednesday, Oct. 23, 2019. Committee members are appointed for a term of one year. Attendance at the conference is required.
The 2020 Conference Planning Committee plans the ICMA Annual Conference. The committee will plan ICMA's 106th Annual Conference. The orientation meeting is on Tuesday, Oct. 22, 2019 during this year's conference in Nashville. The committee's main meeting will be held in Toronto on Decenber 6-8, 2019. Committee members are appointed for a term of one year.
Members must be available to attend conference planning committee meetings and the annual conference. 55 members of the committee are nominated to the committee from affiliate organizations and strategic partners. Approximately 20 members are appointed from the general membership.
The Advisory Board on Graduate Education (ABGE) is a member group that meets jointly with professors of public administration for the purpose of enhancing the education of future local government management professionals. ABGE members are appointed by ICMA's executive director and work hand-in-hand with NASPAA's Local Government Management Education Committee through two subcommittees: Academic Connections and Filling the Pipeline. ABGE members have created a number of useful tools for improving the education of future managers, including Model Internship Guidelines and Guidelines for Managers Who Teach, which can be found at icma.org/teach. The ABGE is made up of about 70 members and meets annually at the ICMA conference and holds conference calls throughout the year. Volunteers should be adjunct faculty, guest instructors/lecturers, full-time academics, or otherwise interested in developing the future of the profession and academic/practitioner relations.
The Awards Evaluation Committee reviews and evaluates nominations to the ICMA's Local Government Excellence Awards Program and selects recipients for Professional and Program Awards, which are conferred at ICMA's Annual Conference. The committee is also responsible for the integrity of the program, bears the responsibility for establishing criteria for the evaluation process, and recommends the creation or reorganization of awards.
There are limited appointments to the panel, which contains seventeen members representing each of ICMA's six regions and includes multiple at-large positions. Panel members serve a three-year term. The committee meets at the annual conference to establish a workplan, participates in one or two conference calls per year, and works in committees to review and rate awards. Members should have knowledge and experience in creating and/or implementing local government programs and policies.
The 15-member Credentialing Advisory Board makes recommendations to the ICMA Executive Board as to who should be granted the ICMA Credential, advises the executive board on policy matters, advises the executive director on the administration of the Credentialing Program, and reviews approximately 1,200 applications and renewals every year. Annually, the advisory board meets by phone 4-6 times and in person for a 2-day discussion. Members are nominated by state and affiliate associations and appointed by ICMA's president.
The Digital Strategies Advisory Board influences member and prospective member engagement with ICMA through digital platforms such as ICMA.org, social media, etc. The board helps to identify the knowledge-sharing needs of local government professionals and provides feedback on the current member experience and ideas for future applications. Advisory board members serve as leaders in the icma.org digital community by making active contributions in their areas of expertise and encouraging colleagues to do the same. The board which has a maximum of 25 members meets once in person at the annual conference and at least once by conference call during the year. Members should have familiarity with websites, metrics (SEO, Google Analytics), ICMA.org; familiarity with social media channels and best practices; willingness to test new applications; willingness to regularly engage with ICMA platforms (website, apps, social media) and serve as an ambassador for member engagement with digital platforms.
The Governmental Affairs and Policy Committee  is tasked with reviewing current and proposed federal, and in some cases state, legislative and judicial action for impacts on local governments. The committee periodically provides feedback to ICMA on a current policy or regulatory issue. The ICMA Executive Board has directed the GAPC to produce a policy white paper each year which provides a managerial perspective on an important and relevant policy issue.  Members are appointed for three-year terms.
The committee is made up of approximately 40 members and meets in-person twice annually: at the ICMA Annual Conference and in conjunction with NLC's March Congressional Cities Conference. Members should have significant experience working with local, state, and federal elected and appointed officials and advocacy groups, be familiar with state and federal legislative and budget processes and be able to understand and communicate the impacts of proposed legislation and/or pending litigation to local governments. 
The The Assistant-Deputy Manager Task Force recommended that ICMA constitute a new standing Advisory Board to the Executive Director for assistant/deputy managers to advise ICMA staff overseeing the Assistants' Program at the annual conference; provide ongoing feedback on a new online toolkit created by the Task Force; provide feedback to assistant/deputy managers on the Conference Planning Committee; and assist in the development of resources for members in outreach to civics education. The Advisory Board will be comprised of 30 volunteers who will hold one in person meeting at the ICMA conference and continue their work virtually. Volunteers should be assistant/deputy managers or have recently been in that position.
The Welcome Ambassadors committee utilizes ICMA's best resource--its current members--to welcome new members to the community. The Welcome Ambassadors' goal is to provide meaningful, peer-to-peer outreach to members who have recently joined ICMA, with a global focus on members serving in local government and students in MPA programs. The Committee consists of 50 representatives from across ICMA's 6 regions who meet at the conference and then virtually. Members are asked to Contact new members each month, as assigned, via email or phone; Provide monthly feedback to ICMA, including what the needs of the new members are, with an eye toward continually improving the process with which we welcome new members into the ICMA community; and act as an ICMA Ambassador when attending state and regional meetings. Members should be available to complete monthly tasks, participate in quarterly conference calls, have a passion for the profession and a strong knowledge of the value of ICMA membership. In addition, they should be interested in expanding their own professional network by interacting with dozens of new members over the course of the year.
The ICMA International Committee serves as an advisory body to the ICMA Executive Board on a range of international matters and carries out an annual charge as defined and described by the Board. The committee works to communicate the value of having an international perspective to members and state and affiliate organizations. Committee members liaise with ICMA's international affiliates. The committee meets at the ICMA Annual Conference, the Regional Conference typically held in an international location in the spring in conjunction with one of ICMA's international affiliate organizations, and at the ICMA Executive Board meeting held internationally every 3 years. The committee consists of individual ICMA members, as well as one representative from each of ICMA's international affiliate organizations, for a total composition of 30 members. Members should have international experience, an international focus or an interest in gaining international experience. They also must be available to attend in person Committee meetings. 
The Leadership Advisory Board advises the Executive Board on policy matters and staff on implementation of the 2014 Leadership Task Force recommendations. The advisory board meets in person at the ICMA Annual Conference and virtually once per month. Its subcommittees meet virtually as needed (0-2 times per month). Members are nominated by state and affiliate associations and appointed by ICMA's president.
ICMA's Performance Management Advisory Committee is charged with helping to advance the practice of performance management in the profession and in individual local governments. Committee members do this by providing advice to ICMA regarding leading practices in performance management and analytics and by encouraging their peers to adopt these practices. The committee meets virtually on a quarterly basis and at the ICMA Annual Conference. They will also share their knowledge and experience from time to time on specific research questions and serve on conference panels within their states. Appointments are for two-year, renewable terms.
ICMA has a deep history of generating research and publications that provide insightful, practical, and timely information on the local government profession. The Research and Policy Editorial Advisory Board supports the Research and Development team by helping to inform ICMA's research agenda, promoting ICMA's research activities, and contributing to information products. The advisory group convenes annually in person at the ICMA conference and virtually once or twice a year. Throughout the year, members provide feedback on specific research and publication projects. Appointments are for two-year, renewable terms. Members are selected to maintain a diverse mix of demographics and perspectives, and for their ability to provide subject matter expertise on research content and processes.
The Board guides and participates in ICMA's emerging smart community research, education, and outreach activities. The board seeks to address the information and content needs of all ICMA members, from subject matter experts to relative newcomers.  The board of 25 meets at the annual conference and quarterly. This board endeavors to have 60% of the board's membership comprised of subject matter experts and 40% of members who have a keen interest in the topic. In addition to looking at the level of subject matter expertise, the Board will consider the diversity of members based on race, ethnicity, gender, small towns, cities, and counties, and international members. Appointments are for a three-year term.
ICMA's Sustainable Communities Advisory Committee  supports the advancement of more sustainable, livable, and resilient communities by promoting sustainability as a best practice of local government and a core competency of city and county management; serving as advisors, partners, peer-to-peer mentors, and advocates for creating more sustainable communities; assisting ICMA in expanding its portfolio of sustainability tools and resources, and grant-funded sustainability initiatives; and establishing ties between SCAC and other ICMA advisory committees where there are benefits to both groups, such as the International Committee.
The committee of 20-25 members is appointed by the Executive Director for two-year terms. The full committee meets in-person at ICMA's annual conference and quarterly by conference call. Subcommittees appointed by the Committee Chair, meet on an as needed basis to carry out the committee's work plan. Members should have a demonstrated passion for sustainability and a willingness to contribute content and thought leadership to the profession. An effort will be made to maintain a diverse mix of demographics and career stages.
ICMA's Recruitment Guidelines Handbook is designed to help council members conduct a successful recruitment process for a new chief executive. While no two jurisdictions require precisely the same qualifications and responsibilities from their chief appointed official, the guide outlines the basis for determining priorities. The handbook includes resources to assist in the process of conducting the recruitment, reviewing applications, identifying and interviewing finalists, negotiating compensation, handling transition, and a summary checklist and timetable. The guide's primary audience is elected officials managing a recruitment without a search firm, but it can also be a helpful guide for those councils working with a search firm. The guide was last revised in 2011. Volunteers should be familiar with the recruitment and placement process for chief executives in local government, work or have worked with search firms, have experience with a non-recruiter-assisted CAO placement, or be otherwise interested in educating councils on the recruitment and placement process for CAOs. The ideal task force size will be 20-30 members.