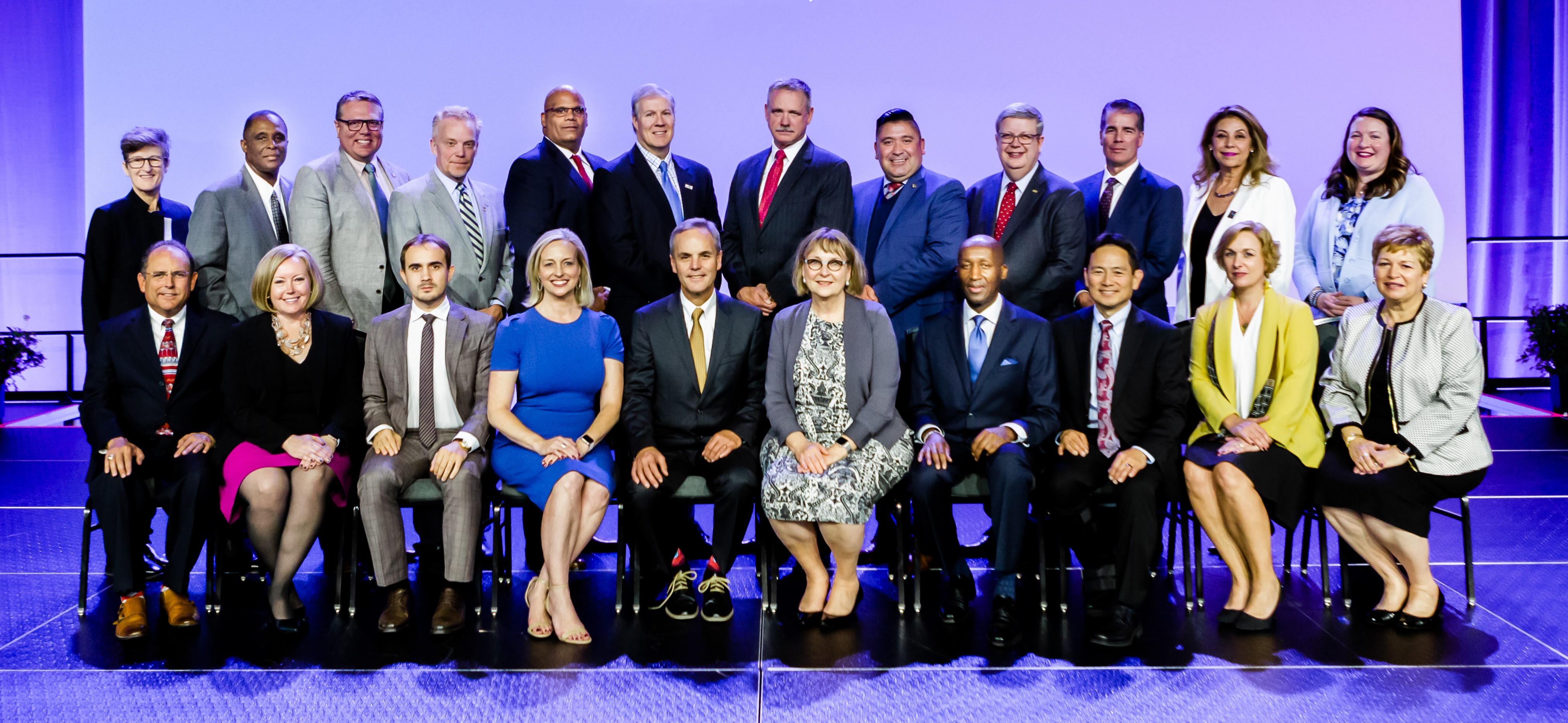 ICMA's 2019-20 Executive Board includes:
First Row (left to right): Michael Land, City Manager, Coppell, Texas (Mountain Plains region);  Heather Geyer, City Manager, Northglenn, Colorado (Mountain Plains region); Robert Kristof, City Manager, Timisoara, Romania (International tegion); Karen Pinkos, City Manager, El Cerrito, California (Past President); James Malloy, Town Manager, Lexington, Massachusetts (President-Elect); Jane Brautigam, City Manager, Boulder, Colorado (President), ICMA Executive Director Marc Ott; Ed Shikada, City Manager, Palo Alto, California (West Coast region); Molly Mehner, Deputy City Manager, Cape Girardeau, Missouri (Midwest region); Teresa Tieman, Town Manager, Fenwick Island, Delaware (Northeast region) 
Second Row (left to right):  Sue Bidrose, Chief Executive Officer, Dunedin City Council, New Zealand (International region); Michael Kaigler, Assistant County Manager, Chatham County, Georgia (Southeast region); Tim Anderson Chief Administrative Officer, Waterloo, Ontario, Canada (International region); W. Lane Bailey, City Manager, Salisbury, North Carolina (Southeast region); Christopher Coleman, Town Manager, Westwood, Massachusetts (Northeast region); Clint Gridley, City Administrator, Woodbury, Minnesota (Midwest region); Peter Troedsson, City Manager, Albany, Oregon (West Coast region); Raymond Gonzales, County Manager, Adams County, Colorado (Mountain Plains region); Wally Bobkiewicz, City Administrator, Issaquah, Washington (Midwest region); Matthew Hart, Town Manager, West Hartford, Connecticut (Northeast region); Maria Hurtado, Assistant City Manager, Hayward, California (West Coast Region); Laura Fitzpatrick, Deputy City Manager, Chesapeake, Virginia (Southeast region)
______________________________________________________________________________________________________________
2019-20 Executive Board Meeting Schedule
December 12-15, 2019: Washington, DC
February 27 - March 1, 2020: Tucson, Arizona
June 5-7, 2020: Virtual Meeting
September 23-26, 2020:  Held in conjunction with ICMA Annual Conference
______________________________________________________________________________________________________________
How the ICMA Executive Board Functions
ICMA's 21-member Executive Board acts in the capacity of directors, overseeing the organization's financial, member-related, and programmatic affairs and selecting the ICMA president. The board also enforces the organization's Code of Ethics, which governs the professional and personal conduct of the membership. Board members attend four board meetings annually.
The ICMA Executive Board is made up of the president, president-elect, past president, and 18 vice presidents. Three vice presidents are from each of the organization's five U.S. regions (Northeast, Southeast, Midwest, Mountain Plains, and West Coast), and three are from countries outside the United States.
Presidential Selection 
The ICMA Executive Board selects the president-elect each year, usually in June, from among eligible former regional vice presidents. To be eligible to serve as president-elect, one must be a former ICMA vice president who has been off the Executive Board for a minimum of one year and is currently working for a local government.
Nomination of Regional Vice Presidents
The nominations process for ICMA regional vice presidents formally launches every September for elections and induction the following year. To learn more about the process and how to submit your name for consideration to your Regional Nominating Committee, click here. 
Minutes and Highlights
Board minutes and highlights are published in the ICMA member newsletter. If you would like access to past agendas, minutes, or meeting materials, contact asnowden@icma.org.