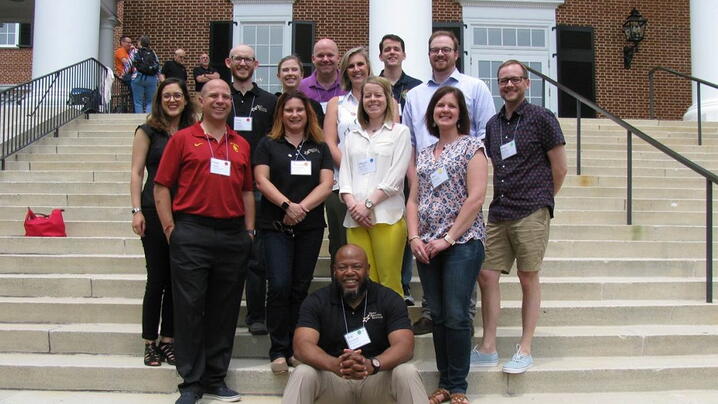 Leadership ICMA is a competitive, intensive two-year ICMA University program designed to cultivate key competencies needed for successful leadership at all levels of local government management. Participants not yet eligible for credentialing join a class of select individuals to complete a series of five class modules and a team-based capstone project. All Leadership ICMA graduates receive one year of experience "credit" toward the ICMA Voluntary Credentialing Program.
The program has accepted its fifteenth cohort, The Class of 2022, and members of the class of 2020 have completed capstone projects for the cities of Alexandria, VA, Boulder, CO, and Needham, MA.
Program Details
We are not accepting applications at this time. 

The tuition and materials fee is $1,795 per year plus travel costs.* 
Successful completion of the program is celebrated with a special certificate, one year of credit toward credentialing and membership in the Leadership ICMA Alumni Association.
What You Can Expect
The Leadership ICMA class begins with a three-day orientation 

During the second year, a three-day capstone orientation will commence in January. There will be minimal travel for the capstone projects which will be completed between February and June . Travel and lodging costs are covered by the capstone community.

Participants will present the results of their capstone project at the ICMA Annual Conference.

The class conducts monthly learning sessions through conference calls and online discussions.

The program facilitates networking within the profession and enhances connections between local government managers and their professional association. 
Who is Right for the Program
Applicants must be ICMA members and have at least three years of senior management experience in local government or a related field with experience in multiple departments. They must have completed the ICMA Management Assessment (formerly Applied Knowledge Assessment) for their own edification. (Results of the assessment remain confidential and are not considered in the review of applications.) Employers must sign a commitment form confirming their willingness to support the educational and travel costs associated with this program.
Your Course of Study
Class modules are scheduled over the course of the two-year period, including a capstone project that requires participants to demonstrate their competence in the concepts presented throughout the Leadership ICMA program. Each module requires considerable preparation through assigned readings, full attendance, and completion of written assignments that demonstrate a grasp of the subject matter in advance of the module.
Faculty include well-respected academics who teach in public administration programs and premier local government executive institutes, local government practitioners, and other content experts.
Module 1: Leadership Philosophy and the Essence of Public Service. Participants engage in a variety of team-building activities designed to develop a solid foundation for positive, honest, and collaborative engagement over the course of the Leadership ICMA program. This is complemented by an intensive overview of democratic values, leadership philosophies, and the value of professional management in a rapidly changing world. 
Module 2: Understanding the Code of Ethics and its Practical Application. The Integrity/Ethics component of this module has its basis in the ICMA Code of Ethics and its practical applications in modern local government management. There is a heavy focus on case studies and role-playing exercises. 
Module 3: Giving Voice to Leadership: Understanding the Role of Policy Administration and Advocacy. Key to understanding and appreciating the role of the elected official is the ability to understand the relationship between policy and administration. Through readings, case studies, and examples from local governments represented in the class, participants learn to better understand this unique relationship.
Module 4: Organizational Effectiveness and Team Building. This module, completed in the second year, focuses on the practical concerns and skills of a high-performance organization—the tools needed to help the local government become known for leadership at all levels, vision that is connected to values, high standards of quality, delivery of customer "value," and strong financial performance.

The module covers effective principles of trust, communication, role clarification, and performance accountability that can create the teams necessary for effectiveness in local government, particularly for participants who are new team leaders, whose team composition has changed, or whose teams are experiencing stress from external events

Module 5: Strategic Planning and Project Management. Strategic planning capabilities are critical to playing an effective leadership role. This module, also completed in the second year, focuses on skills necessary to position the organization and the community for events and circumstances that are anticipated in the future, including the ability to analyze and facilitate good policy choices.
Module 6: ICMA 101. This module provides participants with an understanding of ICMA's mission, history, goals, organization, services, products, and opportunities for member involvement. Leadership ICMA participants are invited to actively engage in a leadership role within the association by serving on task forces, convening member groups for discussion of key issues, leading educational or informational sessions at the ICMA conference or regional meetings, or participating in an international project or exchange.
Capstone
The capstone project requires participants to demonstrate their competence in the concepts presented throughout the Leadership ICMA program. Working in teams, participants work on a local government consulting project solicited through a formal RFP process with a local government client. Through a series of facilitated exercises, participants are individually and collectively evaluated to determine whether they have met the criteria for graduation.
Leadership ICMA Reference Form
Leadership ICMA Commitment Form
Leadership ICMA Legacy Fund Grant Application 
The staff, members, and alum of Leadership ICMA would like to thank the Leadership ICMA Legacy Fund (Class of 2010) for their generous support of our program. The Leadership Legacy Fund's contribution is designated to ensure that each participant - now and in the future - has the financial resources available to take advantage of all of the program's components, regardless of budget cuts in their jurisdictions or changes in their employment. Thanks to the Leadership ICMA Legacy Fund, scholarships to cover the cost of tuition are available. We are so grateful to partner with each of these organizations. If you would like to apply for a scholarship please complete the grant application.