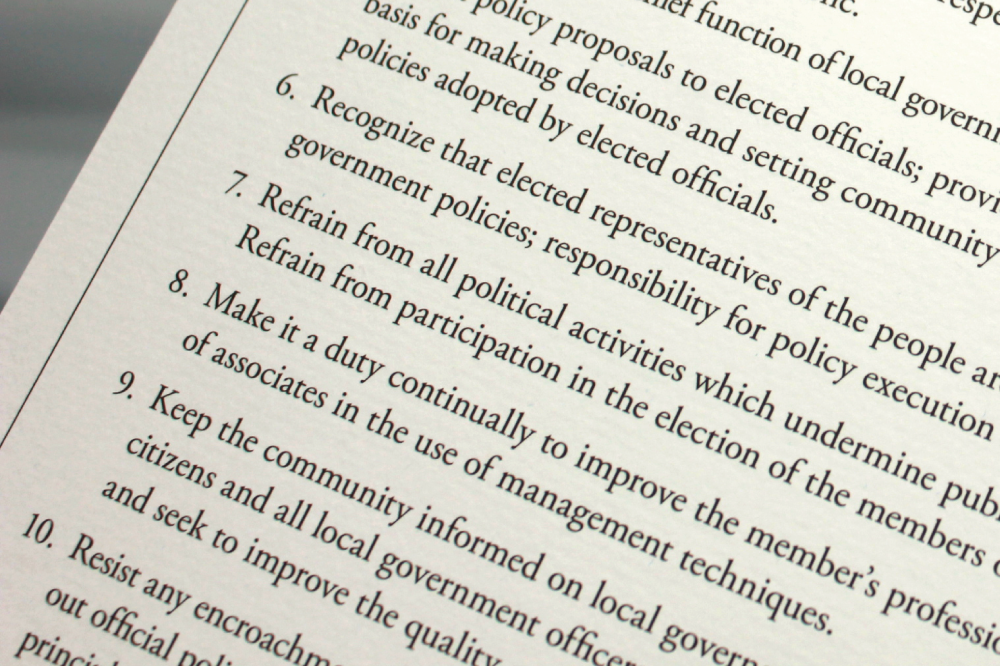 At its September 21, 2018, meeting, the ICMA Executive Board voted to approve the following recommendations from the ICMA Committee on Professional Conduct following a review process that engaged fact-finding committees appointed by the state association president:  
Brian Kischnick, former city manager, Troy, Michigan, was publicly censured and permanently barred from future membership in ICMA for conduct that violated Tenets 3 and 12 of the ICMA Code of Ethics. Kischnick pled no-contest to a misdemeanor charge of domestic violence. Based on information made available as part of the fact-finding process, Kischnick was involved in a personal relationship with the victim, who was employed by the city. Kischnick had an affirmative duty to comply with the law in both his professional and personal lives in order to maintain public confidence in the position and profession.
Manuel Esquibel, former city manager, Brighton, Colorado, was publicly censured for conduct that violated Tenets 2, 3, 5, 9, and 12 of the ICMA Code of Ethics.  While serving in dual roles as the Brighton city manager and executive director of the Brighton Urban Redevelopment Authority (BURA), Esquibel failed in his obligation to perform due diligence in selecting a consultant to perform high profile and complex work on behalf of the city; failed to follow city and BURA procurement policies in compensation paid to the consultant; engaged in a questionable financial transaction with regard to transferring funds between entities; did not ensure proper oversight of the consultant; and lacked transparency in communicating about the redevelopment process with the city council and the public. Among other outcomes, the lack of proper oversight resulted in the use of $98,000 in public funds to investigate this matter.
Members are encouraged to read the ICMA Code of Ethics and Guidelines. As a member benefit, ICMA provides confidential advice to members who may be uncertain of their ethical obligation or who need guidance to resolve an ethical dilemma. Contact Martha Perego, director of member services and ethics at ICMA, 202-962-3668 or mperego@icma.org. Ethics advice, information, and the ICMA Code of Ethics are available online.