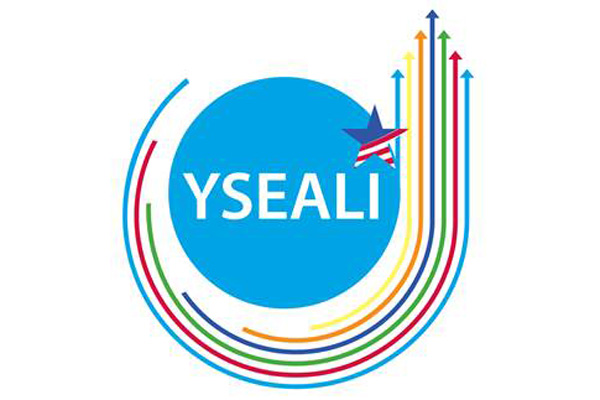 ICMA facilitates international partnerships focused on climate adaptation and sustainability for young professionals from Southeast Asia. With funding from the U.S. Department of State's Bureau of Educational and Cultural Affairs (ECA), ICMA offers the Professional Fellows Program--an opportunity for young professionals from Southeast Asia to learn about sustainable development and the environment through a six-week fellowship. Click below to learn more about the YSEALI Program:
About the Program
Fellows are part of the Young Southeast Asian Leaders Initiative (YSEALI), a program that enables young leaders from ASEAN countries and Timor-Leste to work directly with counterparts in local government offices across the United States to enhance their practical expertise, leadership skills, and professional contacts to address challenges and create new opportunities in their home communities.
Fellows come from Brunei, Cambodia, Indonesia, Laos, Malaysia, Myanmar (Burma), Philippines, Singapore, Thailand, Timor-Leste, and Vietnam. The goal of the program is to create institutionalized long-term partnerships that support these emerging leaders and their institutions in the ASEAN countries and Timor-Leste and the U.S. to inspire change in creating responsive, open, and accountable governance.
Participating host communities have an opportunity to apply for a two-week reciprocal exchange at the end of the program. Selected participants then travel overseas to spend approximately two weeks with their ASEAN and Timor-Leste counterparts on projects of mutual importance.
ICMA works with the following international affiliates and other partners to implement the program:
Program Details
ICMA and the US State Department's YSEALI program looks for qualified professionals in sustainable development and the environment for the Professional Fellows Program.
Candidates must be 25-35 years old, fluent in English, currently employed and working in the environmental field and from an ASEAN country or Timor-Leste.
Selected participants will travel to the US for six weeks during their fellowship period. Selected Fellows will be hosted by an organization for four weeks. ICMA will match selected Fellows with a host organization based on their professional background, technical expertise and community challenge.
Fellows will identify a community challenge and find a way to address it after the program. Fellows will work with their American host during the program to find innovative ways to solve that challenge. Please note: this program does not offer financial support for follow-on projects, but funding is sometimes available through U.S. embassies or through separate U.S. Department of State grants.
Host Application Information
ICMA matches Fellows with U.S. host communities that provide educational and cultural experiences for the Fellows during a four-week period. In return, hosts may apply for reciprocal visits in the Fellow's country. Past hosts have found the experience highly rewarding. Here's an example:
"The opportunity to work with the nation of Indonesia has been a chance for my organization to broaden their perspectives of municipal government responsibilities and focused it on our best practices. As City Manager, I personally have seen a new appreciation by my staff for the challenges of municipal government beyond our borders. I believe the continued opportunity to work with Indonesian counterparts allows me to grow professionally and obtain new ideas for use in my American city." – Mark Watson, City Manager, Oak Ridge, Tennessee.
To express interest in hosting, please complete this form.
Apply Now
ICMA invites young professionals from ASEAN countries to apply for the Professional Fellows Program.
See Frequently Asked Questions about the YSEALI program.
Media
Blog
Both U.S. and international fellows are invited to share their experiences on the YSEALI Fellows blog.
Videos
Past program participant Noor Shahiwan Bin Ismail put his experience from the YSEALI Professional Fellows Program to work in an aboriginal village in Malaysia with Mark Bortman, an outbound U.S. Fellow. Together, they visited houses to examine solar energy systems and to complete some maintenance and installations.
YSEALI-ICMA Professional Fellowship ( Legislative Process & Governance ) Fall 2017 Team Video Project
ICMA Content
International Fellows Return Home to Successful Careers: ICMA staff catch up with three former Fellows from Malaysia.
Host a Fellow: 3 Ways Next Gen Leaders from Southeast Asia Will Strengthen Your Community: Hosting an international fellow is a great professional development experience for team members who want to explore how cities solve problems outside of the United States.
Professional Fellows Exchange Program: Frequently Asked Questions: Answers to questions asked by international applicants to the Environmental Sustainability Professional Fellowship program.
Emerging Leaders Development Program: Build knowledge, skills, and abilities in the basic management and technical topics that managers need to know to be successful.
This program is managed through the support of a grant from the U.S. Department of State's Bureau of Educational and Cultural Affairs and is administered by ICMA.