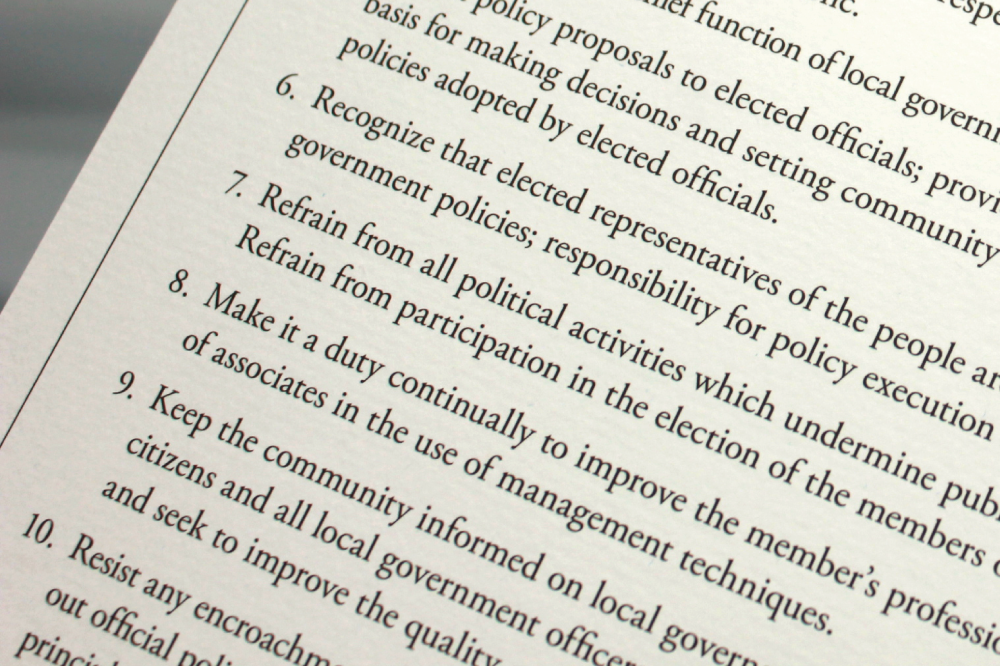 At its February 9, 2019, meeting, the ICMA Executive Board voted to approve the following recommendations from the ICMA Committee on Professional Conduct (CPC) following a thorough review process:  
Wanda Greene, former county manager, Buncombe County, North Carolina, was publicly censured and permanently barred from future membership in ICMA for conduct that violated Tenets 2, 3, 4, 9, 11, and 12 of the ICMA Code of Ethics, as well as violating the law and county policies. Greene pled guilty to two counts of federal program fraud, one count of making and subscribing a false federal tax return, and one count of receipt of kickbacks and bribes. Greene also entered into a financial settlement with Buncombe County, agreeing to pay $750,000 so that the county could recover funds related to her personal use of county credit cards, unauthorized purchase of whole life insurance policies for herself and other employees, a $240,000 employee retention benefit she received before her retirement that was not properly approved, and benefits that accrued to her and others from a county vendor involved in a kickback scheme.
Cathy Davison, former executive director, Albemarle Commission, North Carolina, was publicly censured for conduct that violated Tenets 3 and 12 of the ICMA Code of Ethics. The Albemarle Commission entered into a $22,000 construction management services agreement for a new headquarters facility with a company owned by her spouse. Davison participated in the making and awarding of the contract and leveraged her position for personal gain by receiving a financial benefit. Furthermore, Davison only disclosed her husband's ownership of the firm to the commission's auditors during the audit process and not to the commission. A report issued by the North Carolina state auditor concluded that Davison violated the Albemarle Commission's Conflict of Interest Policy by awarding the contract to her husband's company.
William "Bill" Jordan, city manager, Ferris, Texas, was publicly censured for conduct that violated Tenet 3 of the ICMA Code of Ethics. Based on publicly available information, Jordan failed in his responsibility as the manager to model good conduct, set the appropriate tone for the organization, address other employee's inappropriate conduct that could create a hostile work environment for all staff, and protect the organization from potential liability because of the inappropriate conduct. Jordan's conduct created an environment in which employees, both female and male, were offended by his language and conduct and that of his subordinate employees.
Members are encouraged to read the ICMA Code of Ethics and Guidelines. As a member benefit, ICMA provides confidential advice to members who may be uncertain of their ethical obligation or who need guidance to resolve an ethical dilemma. Contact Martha Perego, ICMA director of Member Services and Ethics, at 202/962-3668 or mperego@icma.org. Ethics advice, information, and the ICMA Code of Ethics are available online.