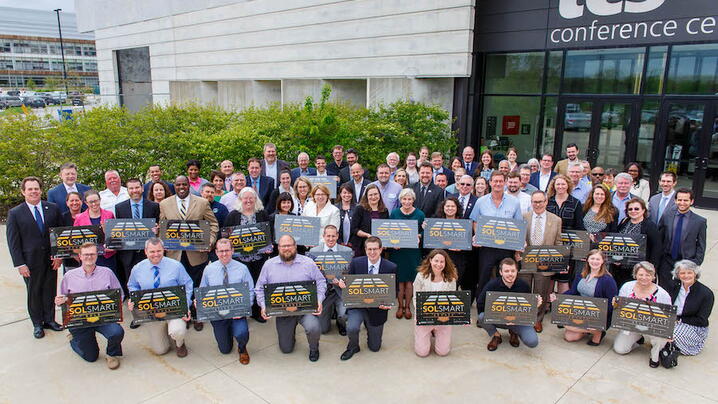 The U.S. Department of Energy (DOE) announced that the SolSmart program will expand to help 500 more communities over the next five years. The program will be led by ICMA and the Interstate Renewable Energy Council (IREC). The two organizations will share the $10 million award to expand the program and will include initiatives to ensure 40% of new designees are underserved communities, in support of President Biden's Justice40 initiative.
The SolSmart program's team of experts provides no-cost technical assistance to help cities, counties, and regional organizations make it faster, easier, and more affordable to go solar in their jurisdictions. In recognition of their achievements, communities have the opportunity to receive SolSmart designation. With the expansion of SolSmart, the program will encourage more equitable solar deployment and the adoption of emerging technologies, including a combination of solar power and battery storage. All cities, counties, and regional organizations are eligible to join SolSmart and receive no-cost technical assistance to achieve designation.
DOE also announced SolSmart's achievement of Secretary Granholm's challenge to add another 60 communities to the program in six months, issued in September 2021. The complete list of communities can be found in DOE's press release.
To engage in the SolSmart program and join the over 460 communities who have made it faster, easier, and more affordable to go solar, visit solsmart.org 
Register for the ICMA Annual Conference
Join us September 17-21 in Columbus/Franklin County, Ohio for the 2022 ICMA Annual Conference.
JOIN ICMA TODAY!
ICMA provides the tools, resources and connections to help you become part of the international network of 13,000+ local government management professionals.