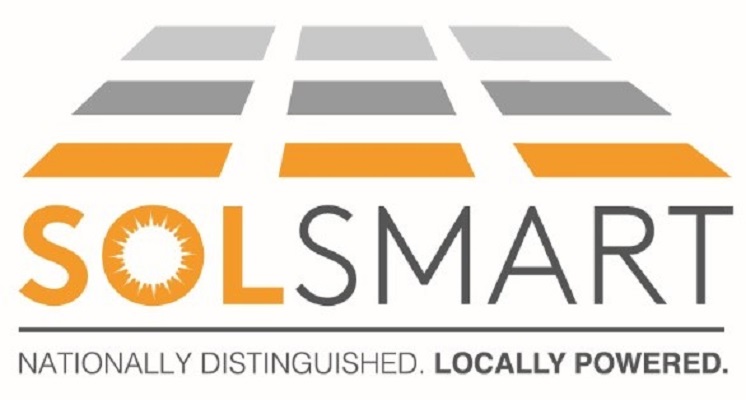 by Scott Annis, program manager, global program management, ICMA 
Local governments have an important role in ensuring solar markets can flourish. While a community and its residents might be pro-solar, permitting that is vague, difficult, or outdated can add $700 to the process of going solar.
More than 200 cities and counties have helped cut the red tape and made it easier for homes and businesses to go solar, creating jobs and ensuring they are "open for solar business." These SolSmart local governments represent 59 million, or one in five Americans.
Funded by the U.S. Department of Energy Solar Energy Technologies Office and led by ICMA and The Solar Foundation, SolSmart launched two years ago in April 2016. Local governments that meet objective criteria are designated SolSmart Gold, Silver, or Bronze, a signal that the community is "open for solar business." Every local government in the United States is eligible to receive no-cost technical assistance to achieve designation by SolSmart.
SolSmart designation recognizes communities that act to:
Cut permitting costs and save money for customers. A cumbersome permitting process alone, as noted above, can add $700 to the cost of a single solar project. Gold-designated communities have reduced permitting time to no more than three days, which saves consumers and local governments time and money. West Palm Beach, Florida, for example, started a "walk-through" permit process that takes as little as 15 minutes.
Engage with community members to encourage solar development. A SolSmart adviser helped the cities of Goshen and South Bend, Indiana, launch Solarize campaigns, which allow residents to come together to install solar at a discounted cost. Together, these projects led to nearly 100 new solar installations.
Reduce zoning obstacles to solar. All SolSmart designees have reviewed their zoning ordinances for obstacles to solar development. SolSmart Silver communities also have ensured their zoning ordinances do not require special permits or hearings. Brownsville, Texas, is one that adopted a zoning ordinance that will help facilitate the growth of new solar projects.
Streamline inspection processes. Pima County, Arizona, is an example of a county that launched a "remote inspections" process to provide same-day approval on solar and other projects.
Want to learn more about SolSmart? Visit SolSmart.org to learn about the program, designees, and how to begin your consultation for no-cost technical assistance. 
Related Content 
Encouraging Rooftop Solar. This 2015 PM magazine article uses the case of Chapel Hill, North Carolina, to demonstrate how a community can encourage the use of rooftop solar.
5 Resources to Support Your Community Solar Development. In a 2016 article, the focus was on grants and other programs that can be used to support the use of solar energy. 
4 US Cities That Prove Solar Power Has a Bright Future. In this 2017 blog post, the work of four big cities is highlighted, which demonstrates the future of solar energy in the United States.