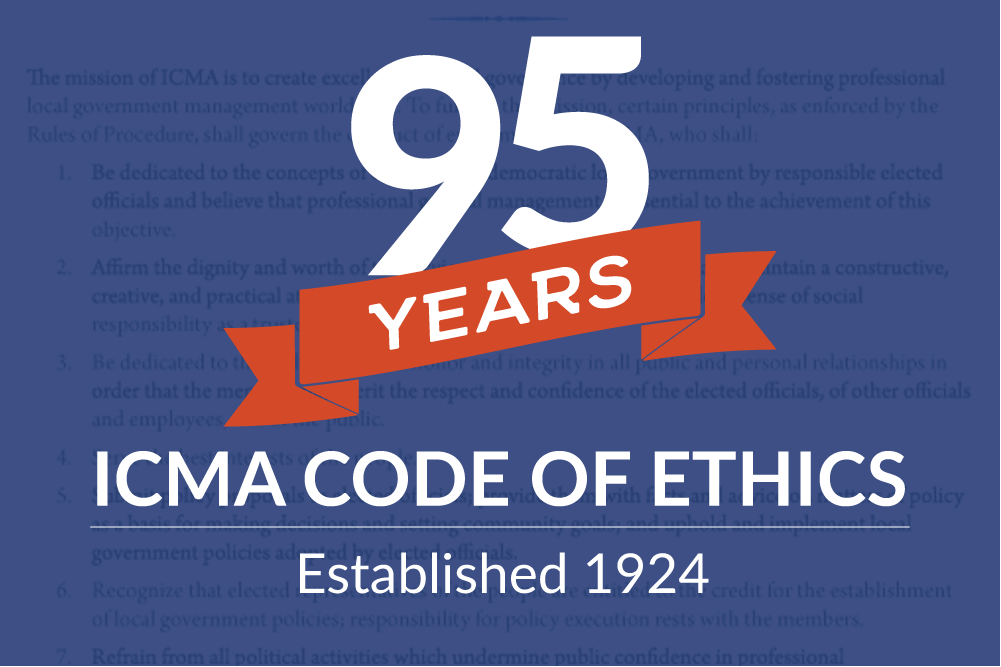 At its October 18, 2019, meeting, the ICMA Executive Board voted to approve the following recommendations from the ICMA Committee on Professional Conduct (CPC) after a thorough review process:  
Daniel "Adam" Miles, former city manager, Hewitt, Texas, was publicly censured and permanently barred from future membership for conduct in violation of Tenets 3 and 12 of the ICMA Code of Ethics. Miles had a personal relationship with a subordinate employee, and he made decisions about her performance, promotion, and compensation. Miles and the subordinate employee lived together for at least the last six months of his tenure as the city manager, while he was her direct supervisor. His actions to increase the compensation for this employee with whom he shared a residence created the opportunity for him to financially benefit from his actions.

 
A. Reese Peck, town manager, Bowling Green, Virginia, was publicly censured and permanently barred from future membership in ICMA for conduct that violated Tenets 2 and 3 of the ICMA Code of Ethics.  Based on the information made available during the fact-finding process, Peck sent nearly 40 emails between the time that he separated from Essex County in 2016 and his resignation from membership in ICMA to Essex County commissioners. In more than half of those emails, sent to the entire governing body or to individual members, Peck failed to include the current county administrator.  Engaging with a colleague's elected officials, with or without their knowledge, serves to undermine that individual and the position they hold.  In addition, he submitted a number of public information requests to the county. The ICMA Executive Board determined the unprofessional manner in which Peck engaged with county staff responding to his requests did not meet the highest ethical standards expected of ICMA members.

 
Mark Perkins, city manager, Creve Coeur, Missouri, was publicly censured for conduct that violated Tenet 3 of the ICMA Code of Ethics.  Perkins accepted the position as city manager for Paradise Valley, Arizona, and negotiated an employment agreement that was approved by the governing body. Perkins later withdrew his acceptance.  The ICMA Executive Board concluded that his conduct violated the Code since the governing body did not make any fundamental changes to the negotiated terms of employment or express a concern about his capability to lead the organization. Perkins' decision to ask the governing body to release him from his employment agreement had the potential to undermine public confidence in the local government management profession, especially as an ICMA Credentialed Manager.  The executive board noted that Paradise Valley experienced a five-month delay until a permanent manager could be recruited to join the organization.
Members are encouraged to read the ICMA Code of Ethics and Guidelines.  As a member benefit, ICMA provides confidential advice to any member who may be uncertain of their ethical obligation or who needs guidance to resolve an ethical dilemma. Contact Martha Perego, ICMA director of member services and ethics at 202-962-3668 / mperego@icma.org; or Jessica Cowles, ethics advisor, at 202-962-3513 / jcowles@icma.org.  Ethics advice, information, and the ICMA Code of Ethics are available online at icma.org/ethics.