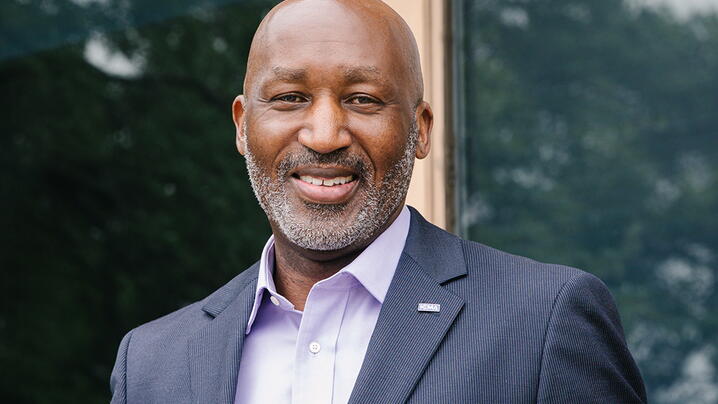 Marc A. Ott
Marc A. Ott is executive director/CEO of ICMA, the International City/County Management Association.
ICMA is the authority on leadership and management for appointed professional managers and administrators serving U.S. and international local governments. The organization provides member support, publications, data and information, peer and results-oriented assistance, and training and professional development to roughly 12,000 appointed city, town, and county leaders and other individuals and organizations throughout the world. The management decisions made by ICMA's members affect millions of individuals living in thousands of communities throughout the world, from small villages and towns to large metropolitan areas.
ICMA's executive director operates on a national and international stage, representing a profession with more than 100 years of history, tradition, and transformation. In this capacity, Marc oversees a workforce of 100 employees and a budget of more than $30 million. Responsibilities include:
Working closely with the 21-member ICMA Executive Board and members to support and advocate for professional and ethical local government management.
Establishing networks and strong working relationships with ICMA's affiliated State Associations, as well as peer organizations such as the National League of Cities, U.S. Conference of Mayors, National Association of County Organizations, National Association of County Administrators and other national forums.
Understanding today's economic climate, and how to support members whose local governments are dealing with the post-recessionary economy and ever-tightening resources.
Leveraging opportunities to enhance ICMA's global presence in the international development arena.
Assisting local governments as they deal with their communities' changing demographics. 
Harvesting trends and leading-edge ideas by working with ICMA staff to provide professional development opportunities for managers.
Upholding the ICMA Code of Ethics by swiftly addressing ethical issues among members, with an eye toward increasing the Association's responsiveness.
Prior to joining ICMA, from January 2008 to October 2016, Marc served as city manager of Austin, Texas, a full-service city with 40+ departments, a workforce of 14,000 employees, an all-funds budget of $3.7 billion, and a AAA bond rating that was maintained throughout his tenure. During his nearly nine years as chief executive and chief administrative officer, Marc championed employee empowerment, civic dialogue, innovation, and fiscal sustainability with the goal of having Austin recognized as the "Best Managed City in America."
Marc has received numerous awards and honors. In 2011, he was one of only six senior public sector administrators worldwide—including Los Angeles, Chicago, Las Vegas, Vienna (Austria) and Melbourne (Australia)—that were highlighted for their exceptional local management practices in the CAO Chronicles of Public Sector Digest.  In 2013, he was recognized with ICMA's highest professional honor, the Award for Career Excellence in Memory of Mark E. Keane, for his creative approach to such challenging issues as budget deficits, homelessness, infrastructure management, and education.  
Also in 2013, Marc and the City of Austin received ICMA's Community Sustainability Award, which recognizes innovative local government programs that creatively balance a community's social, economic, environmental, and cultural needs. The city was cited for its Austin Energy Green Building program, a rating system initially designed for single-family homes that expanded to include multifamily and commercial buildings.
Marc was selected in March 2017 as a recipient of the prestigious National Public Service Award conferred by the American Society for Public Administration. He also was elected as a 2017 Fellow by the National Academy of Public Administration and will be formally inducted into the Academy during the organization's fall meeting in November 2017. 
In 2020, Marc was presented with the Hall of Fame Award by the National Forum for Black Public Administrators (NFBPA). The NFBPA Hall of Fame Award was established in 1991 by the NFBPA Board of Directors to recognize and honor African Americans in public service whose accomplishments are noteworthy of emulation and who serve as a source of inspiration and encouragement to others in public service. The selected individuals are worthy of national/international recognition for their life's work and accomplishments, particularly in the face of obstacles.

Marc has had a long and distinguished career in municipal management.  Before joining Austin, he served as assistant city manager for infrastructure services for the City of Fort Worth, Texas (2002-08), where he was responsible for the infrastructure operations carried out by the Water, Transportation and Public Works, Engineering, and Aviation departments. He was also responsible for implementing one of the city council's top strategic priorities: promoting orderly growth.
Prior to moving to Texas, Marc served as city administrator of Rochester Hills, Michigan (1998-2002), where he had administrative and managerial oversight over all municipal operations. He also served as city manager (1993-97), deputy city manager (1991-1993), and as an assistant city manager (1990-91) in Kalamazoo, Michigan. Marc served in leadership and support roles for the cities of Grand Rapids and Jackson, Michigan (1982-90), and as a staff assistant to the Michigan Municipal League (1981-82).
Marc earned his bachelor's degree in management with a concentration in economics from Michigan's Oakland University and a master's in public administration from the same university. He is also a graduate of the Program for Senior Executives in State and Local Government at the John F. Kennedy School of Government at Harvard University and serves on the Board of Directors for the Alliance for Innovation. He received an ICMA Service Award in 2012 in honor of his 30 years of service to local government.