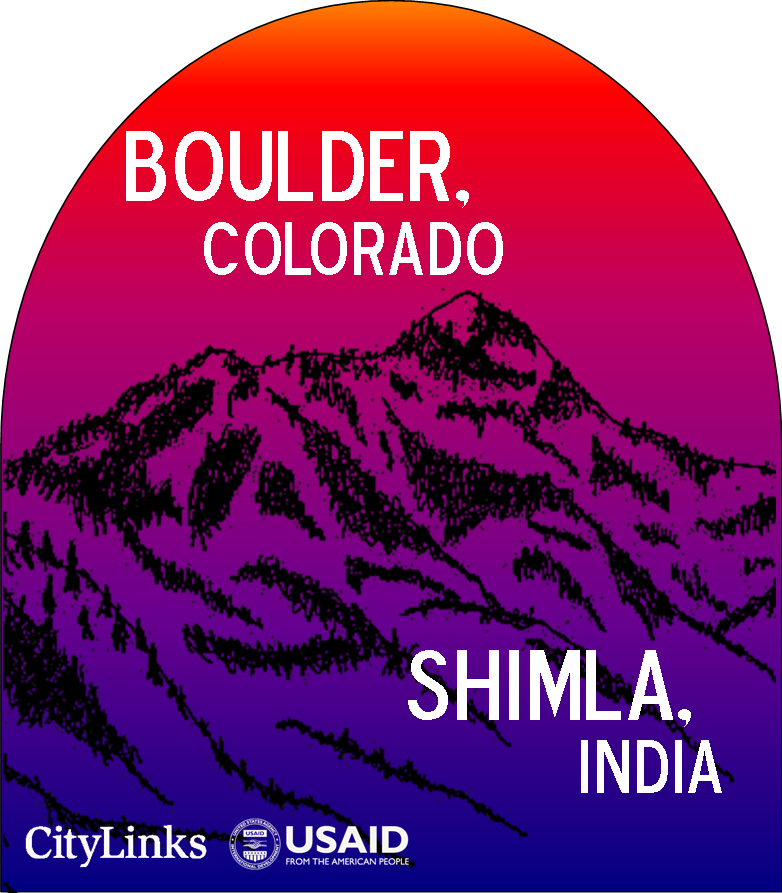 The Shimla, India - Boulder, Colorado Partnership is underway! As the first activity under the partnership, the CityLinks team, comprised of myself, Carl Castillo from the City of Boulder, Colorado, Dr. Tiwari  from our partner organization, the Urban Climate Change Research Network (UCCRN) who is also a regional climate change professor from Kumaon University of Uttarakhand, traveled to Shimla to get the lay of the land.
The week was extremely rewarding and instrumental in developing a foundation for a a work plan that will help define the goals and activities for the rest of the partnership.  The week was mainly comprised of on-the-ground site visits, specifically to its water and sanitation related sites, and meetings with  government leaders at the local and state level ,local government practitioners such as the water engineers and sector specialists, public sector stakeholders and community members.  By the end of the trip, the MC prioritized the challenge the city faces with  climate change, specially related to droughts and heavy rainfall,  and its impact on its quality and quantity of its water supply and distribution systems.  For immediate next steps,  we are currently identifying specific projects that align with the challenge and are excited for the year ahead. 
Shimla , India and its cascading mountains and beautiful yet fragile hillside structures.
The remains of a home in the Krishna Nagar slum, damaged by heavy rain in 2013.
A water engineer from the State Department of Irrigation and Public Health (I&PH) showcases a spring source located in the Shimla Water Catchment Sanctuary, one of five water supply sources for all of Shimla. I&PH of the state government manages the water supply and the Municipal Corporation manages the distribution , but both must work closely to coordinate and deliver sufficient quality and quantity of water, which is becoming more and more difficult with climate change.
A site visit to a sewage treatment plant nestled in the forests of Shimla and its water quality testing area. When heavy rainfall hits, the flow of water and sewage becomes intense and unmanageable, often causing cross contamination between water and sewage, affecting the water quality supply.
The City's first pilot compost project. Community members , featured below, are employed by the city to manage this compost project where the community's trash is turned into free fertilizer for the community. Shimla is active in implementing innovative ways to enhance public service and include environmental and employment considerations.