This dataset scans interactions of top municipal and county administrators with elected officials in their local governments.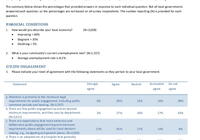 Covers economic recovery, citizen engagement initiatives, council relations, ethics, education, and other characteristics of the profession.
This article provides a profile of responding top administrators; reviews their roles with respect to their governing boards, citizens, and elected officials.