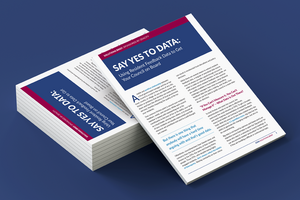 This Solutions Brief, sponsored by Zencity, provides a quick overview on how local government leaders can get their councilmembers to say yes with resident feedback data. While there are several means to extract resident feedback data, a singular or anecdotal data source may not always provide a good enough account in order to make an informed decision. In this brief, you'll explore which resident feedback data sources are readily available to local leaders, what inherent challenges managers face when incorporating feedback data into policy making, and, finally, how you can use this data to guide council in a more data-driven direction.
What's inside "Say Yes to Data: Using Resident Feedback Data to Get Your Council on Board":
Feedback and Sentiment Data
The Challenges with Using Data
Leveraging the Data and Bridging the Gap
Quantity Meets Quality with Big Data and AI
Communities Featured:
Cary, North Carolina
Mankato, Minnesota 
Charlotte, North Carolina
ICMA Solutions Briefs are an ongoing series aimed at helping local government leaders learn from the expertise of ICMA strategic partners.