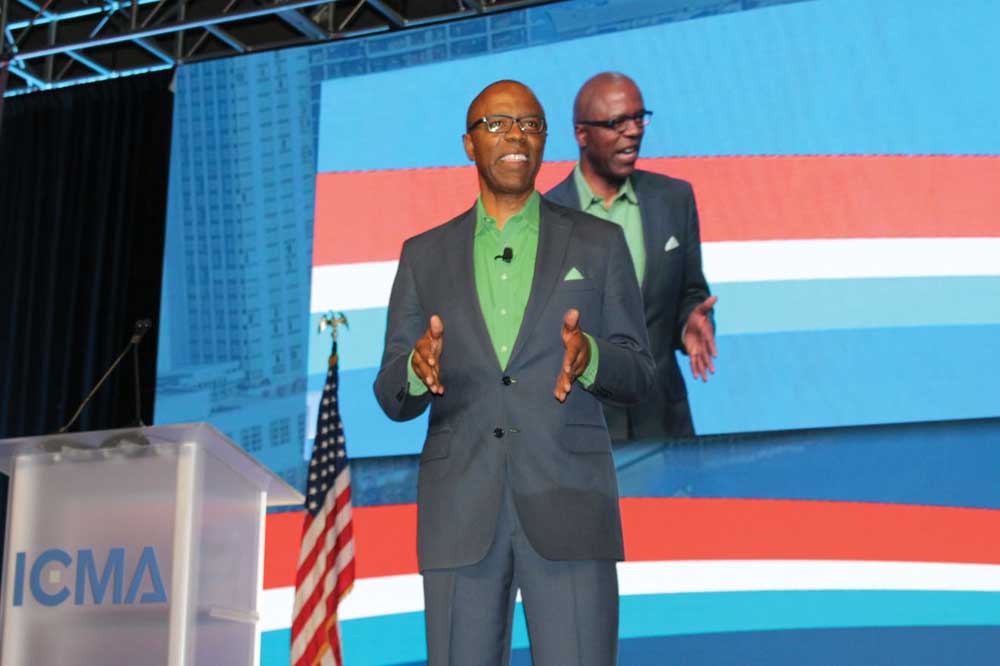 By Mike Conduff, ICMA-CM
The story of Water the Bamboo as told by author Greg Bell at the 2018 ICMA Annual Conference in Baltimore was equally familiar and inspiring. Familiar because it is the life work of so many professional city and county managers, and inspiring both because Bell is a great storyteller (originally from Texas!) and also because it is what we all aspire to do for our governing bodies.
In case you missed it, the concept is that the giant timber bamboo farmer tends the bamboo year after year, planting, nurturing, watering, fertilizing, and weeding when necessary, all without much in the way of visible results or reinforcement for the effort. As a reward for this faithfulness, the bamboo sprouts and grows prodigiously, making all the work and wait and worry worthwhile in a bountiful harvest.
If this sounds like the story of your council, then you understand the sense of familiarity.
Year after year, great professional local government managers nurture their governing bodies. They welcome them as newly elected officials, meet with them often, and go with them to training at the National League of Cities or the National Association of Counties and, of course, to their state conferences. They provide leadership summits or retreats to help sharpen their vision. They make available the latest tools and efficiencies. They educate, acculturate, moderate, and, when appropriate, accommodate. Ideally, at some point, the governing body reaches its potential and leads prodigiously. The community harvests the rewards of good governance.
None of this happens by accident. Just as each bamboo field is different, so, too, are groups of elected officials. It is up to city or county managers to assess the capacity of their governing body and enhance it where possible, sometimes knowing it may be years before the harvest is realized. They take a long view of success.
Cultivating Persistence
As a long-time facilitator, I am blessed to observe and assist many of these managers as they cultivate in this governance arena. It is especially rewarding to be with them year after year as they water the bamboo field of their own professional development, the field of their staff effectiveness, and the field of the city, town, or county elected officials.
In his talk, Bell told us that bamboo roots grow over a hundred yards, and like those roots, so much of the effort expended by appointed leaders remains unseen by most. The best of these folks invest in the capacity of their council year after year after year even when faced with change, either from the ballot box, term limits, or circumstance.
They are patient, recognizing that all of the breakfasts and lunches with newly electeds to help educate them may not pay back immediately. They are persistent and hold to their values and ethics in the face of the pressure of immediacy and instant gratification. And they are courageous: They give the council the credit for successes and accept the criticisms when thing go awry.
If this sounds like you, then you understand the inspiring part!
Growing Strong Roots
A long-tenured manager I know is watching his seven-member council with a collective term in office of well over 50 years transition to less than a dozen collective years due to term limits. Another with a nine-member council has no members at all left from when she was hired. A third just saw his most tenured member resign for health reasons. In each case these managers are taking the long view and continuing to invest in training for the group remaining and those coming on. They may need to adjust the pace and process but do not despair or neglect the effort.
I am also fortunate to be able to coach and counsel elected officials throughout the year. Because coaches are typically familiar with the communities and circumstances but have no stake beyond helping them be successful, we can listen, inquire, nudge, and even challenge, helping the governance roots grow stronger. Making this resource available to elected officials is just one more part of the nurturing role managers play.
If you want to incorporate the lessons of the bamboo for your governing body, remember that good governance does not happen by accident. You must:
• Understand and utilize the communication preferences of each elected official.
• Invest in developing your relationship with all of them.
• Facilitate their individual and collective skill enhancement.
• Provide a leadership summit or retreat (at least annually).
• Implement their collective vision for the community.

Mike Conduff, ICMA-CM, is president and CEO, The Elim Group, Denton, Texas (mikeconduff@theelimgroup.com).