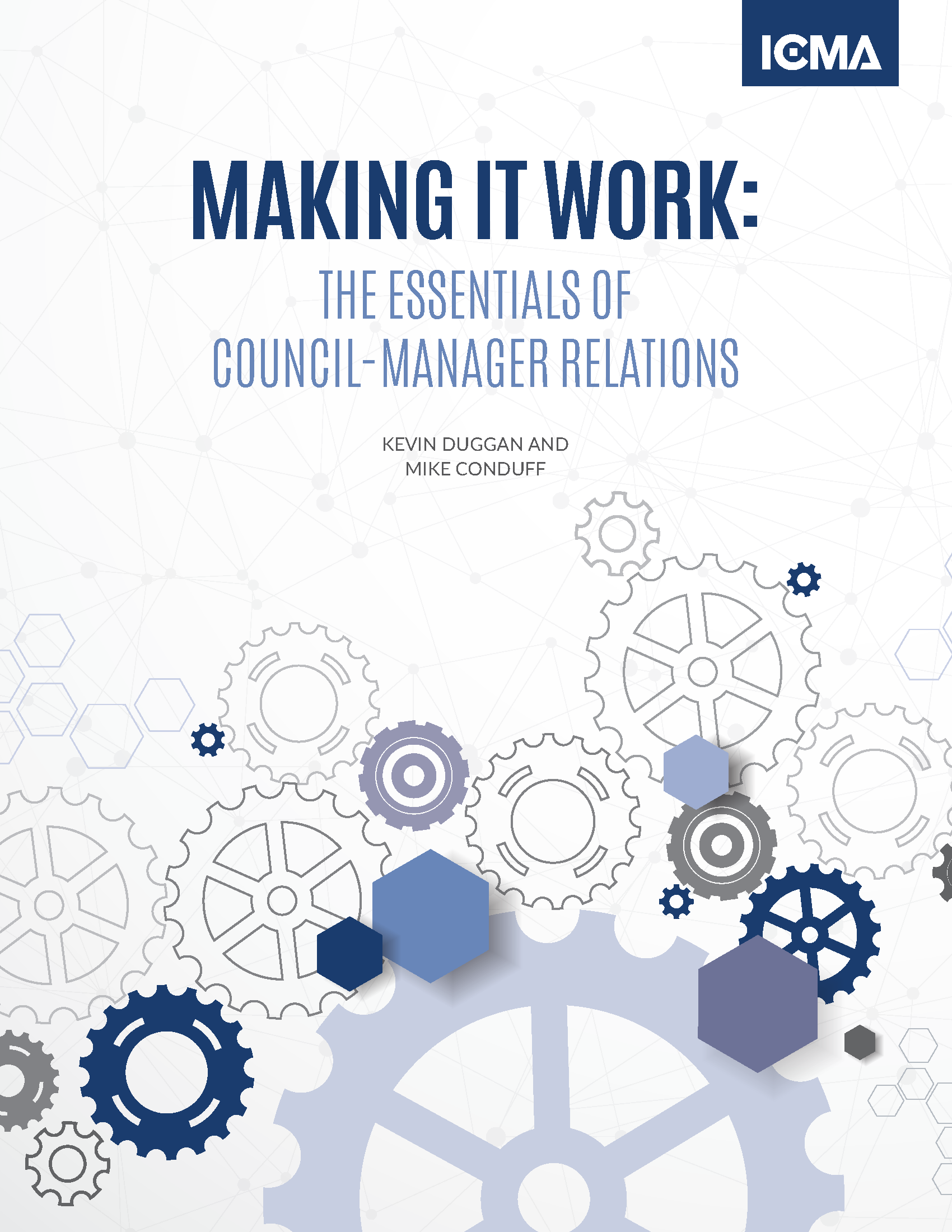 Few factors are as critical to the success of local government professional managers and the organizations they lead as is the quality of the relationship between the elected officials and the manager. Making It Work: The Essentials of Council-Manager Relations, a new e-book from ICMA, provides the competencies needed to build a relationship that is based on mutual respect, understanding of roles, and open communication.
With eight chapters written by two local government experts, Making It Work: The Essentials of Council-Manager Relations, challenges early and seasoned local government professionals to create connections and forge the bonds necessary to tackle the difficult issues that inevitably face all professionals at some point during their careers. Making It Work describes and shows the combination of relationship competencies and operational competencies that underpin a solid foundation for effective council-manager relations.
Local government professionals will find useful insights and approaches not-uncommon to council-manager relationship challenges, from using interpersonal and communication skills to best advantage, to learning how to manage the bumps in the road.

About the Authors
Kevin Duggan, ICMA-CM
ICMA West Coast Regional DirectorMountain View, California
kduggan@icma.org
Kevin Duggan is an ICMA Credentialed Manager and was appointed ICMA's West Coast Regional Director in May 2011. Prior to that he worked in California city government beginning in 1971, the last 27 years as a city manager for the cities of Campbell and Mountain View. As West Coast Regional Director, Duggan serves as the primary staff link between ICMA and members and professional associations in California, Oregon, Washington, Alaska, Arizona, and Nevada.
Duggan began his career as an administrative intern for the city of Mountain View while earning a bachelor of arts in political science from San Jose State. He then served as an intern for the city of Campbell while obtaining his master of public administration, also from San Jose State. Duggan worked for Campbell for 18 years, the last 6 as city manager. He then returned to Mountain View in 1990 as city manager, where he served until April 2011.
Duggan has served as president of the both the City Manager's Department of the League of California Cities and Cal-ICMA. Other professional activities have included serving on the California State Board of Fire Services, participating in an International Management Exchange with Limerick County, Ireland, and serving on ICMA's Task Force on Organizational Structure and Governance. Duggan has served as an ethics trainer for ICMA and has written a number of articles for professional journals on topics ranging from budgeting during tough economic times, city council/city manager relations, and ethics.
 
Michael A. (Mike) Conduff, ICMA-CM
ICMA Special Liaison for Governance and President and CEO, The Elim Group
Denton, Texas
mike.conduff@theelimgroup.com
Mike Conduff is the president and CEO of The Elim Group—Your Governance Experts, a leadership training and organizational governance consulting firm headquartered in Denton, Texas. He is an
ICMA Credentialed Manager, speaker, multiple-time best-selling author, and corporate coach, and has extensive leadership, management, and governance experience.
During his 30-year career in local government, Conduff served as the city manager of four university communities in the United States, each with extensive municipally owned utilities.
Conduff also served on the executive board of the International City/County Management Association; is a National Academy of Public Administration® Fellow; and is the Special Liaison for Governance for ICMA, in which capacity he writes a regularly occurring governance column for the internationally distributed Public Management magazine.
Conduff is the past chairman of the board of the International Policy Governance® Association, a worldwide organization of leading governance practitioners. His books on governance have been widely recognized and his book, The On Target Board Member—8 Indisputable Behaviors, now in its fourth edition, has been nominated for numerous awards.
New, Reduced Membership Dues
A new, reduced dues rate is available for CAOs/ACAOs, along with additional discounts for those in smaller communities, has been implemented. Learn more and be sure to join or renew today!