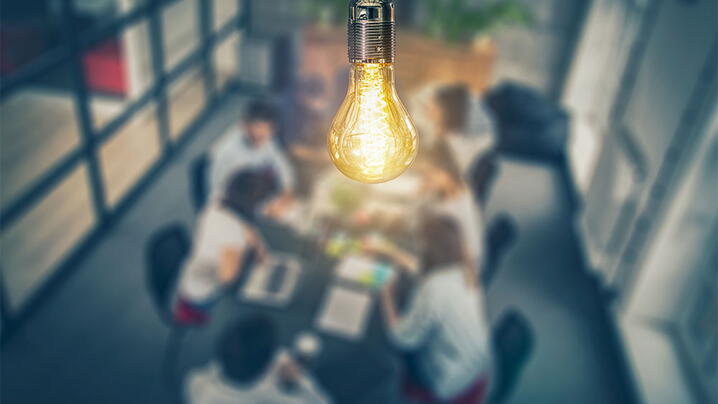 By Rebecca DeSantis, content and engagement coordinator, ICMA
The saying goes that nothing remains constant except change itself. With the inevitable evolution of programs and processes as technology advances, local governments rely on innovative practices to deliver services and engage residents of the community.
ICMA helps its members stay abreast of new technology and innovations by providing information from IT assessments to GIS/geo-spatial mapping technology and many more emerging technologies. ICMA's recent "Innovations and Emerging Practices in Local Government 2016 Survey" is part of an ongoing research partnership between these organizations: ICMA, Center for Urban Innovation at Arizona State University, and Alliance for Innovation. 
By exploring trends in the topics related to public sector innovation, as well as emerging issues and practices affecting local government management, local government leaders can stay up to date on the state of innovation. Check out some stats from the survey and read about communities that are examples of the trends being seen in local governmment innovation.
Almost one in three of all cities and counties surveyed are implementing significant changes to their organizations each year.
A notable number of local governments are making changes to their processes and programs to fit with the emerging practices. Jackson County, Oregon, saw a need to implement a change to its emergency management services to help save the lives of residents in the community with cardiac issues. With the knowledge that delivery of CPR in a sudden cardiac arrest (SCA) incident can sustain life until emergency responders arrive, Jackson County leaders decided to implement the PulsePoint app, which allows CPR-trained community members to provide aid until the emergency responders can arrive on the scene.
This app, which is connected with the county's emergency communication system, alerts registered bystanders of an incident within 400 yards in 19 seconds of the local crews being dispatched. With more than 10,000 registered users, this program has allowed the county to engage bystanders in serving their fellow residents in a time of crisis. 
Most survey respondents agree or strongly agree that their organizations respond both quickly and effectively to external changes; however, effectiveness of responding to change (74.3%) was rated higher than quickness of responding to change (61.3%).
With an upward trend in the use of innovative practices, it is encouraging to see that local governments are trying to respond quickly and effectively to change. The city of Detroit, Michigan, found a way to help residents engage with local government in a way that is efficient for both leaders and community members. As the pilot city of City Bureau's Documenters program, community members are paid (although some are volunteers) to take notes, live tweet, and post on social media during such community events as school board meetings, to help inform residents who may not be able to make it or are feeling "meeting fatigue," and still want to stay informed. According to Darryl Holliday, City Bureau's cofounder, the program not only informs those who can't attend, it also gets residents involved in the conversation at meetings. 
Potential for budget savings was identified by survey respondents as the most significant factor motivating the implementation of new practices or initiatives in their local government, with 92.9% of respondents identifying this as either a significant or very significant factor.  This was followed by the potential for increased customer satisfaction (87.6%) and the potential for increased productivity (84.2%).
When budgets are tight, local government leaders are looking for ways to integrate practices that help save money. In Fort Lauderdale, Florida, a community court has been set up to help end the cycle for the homeless who find themsleves moving from the streets to courts to jail. The court, held once a week in city hall, allows eligible people experiencing homelessness, and who are cited for misdemeanors like public drinking and trespassing, to be connected with services and required to do community service work, instead of jail time. This not only helps lift up those in the community who are struggling, it saves the county the $140 a day it takes to jail each inmmate, who often spends 20 to 30 days behind bars for minor violations. Florida Supreme Court Justice Alan Lawson states that "this is an exciting innovation that will make a difference in this community."
Download the "Innovation and Emerging Practices in Local Government 2016 Survey" report to find more innovation trends.
Want to give your take on innovation? Look out for an opportunity to participate in a research project with ICMA Local Government Research Fellow Beth Noveck.
Want to talk more about innovation? The 2019 ICMA Regional Conferences focus on local government innovations and technology. This year's sessions will serve as building blocks for ICMA's vision to help local government leaders evaluate the positives and negatives of fast-changing technologies. Learn more and register today!
New, Reduced Membership Dues
A new, reduced dues rate is available for CAOs/ACAOs, along with additional discounts for those in smaller communities, has been implemented. Learn more and be sure to join or renew today!