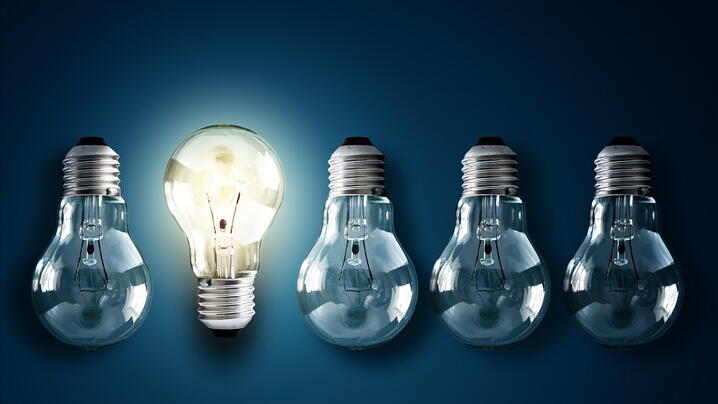 by Meredith Trimble, senior content specialist, Tyler Technologies
Among the many highlights of the 2018 Digital Counties Survey conducted by The Center for Digital Government, the through-thread of using government data to improve local communities sets the course for a wave of innovative solutions in the new year.
As detailed in the survey, diverse counties are entering 2019 with an eye toward increased investment in cybersecurity, data analytics, and application integration and modernization.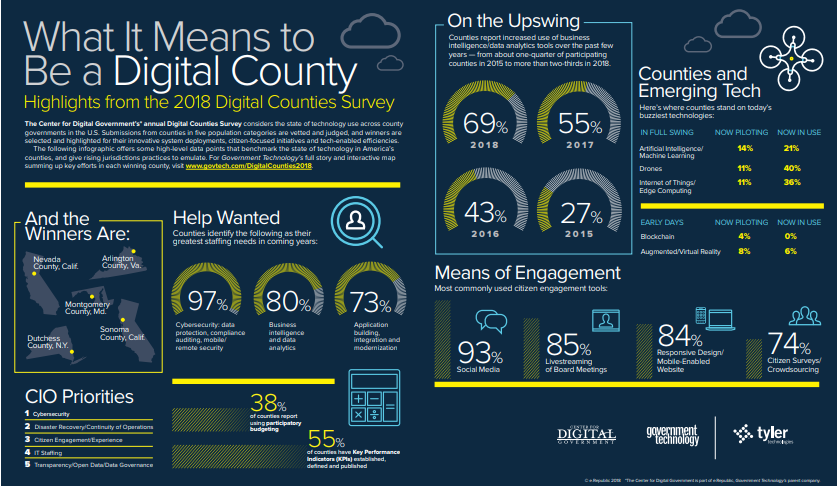 Digital County Survey winner, Montgomery County, Maryland, rose to the top with its creative tech use in addressing these priorities. In cybersecurity, data sharing, and even on-site power generation, the county is at the forefront of implementing solutions and piloting programs to tackle real-world problems and elevate service to residents.
This exemplar tech county has a long vision. As an integrated enterprise, all departments make use of reliable, secure data to enhance internal operations and improve core service delivery. Notable initiatives and innovative future plans include:
An accelerated cybersecurity program with an enterprise cybersecurity dashboard and monthly reports to all departments.
New connectivity between the county's bio-health sector and Ashburn, Virginia, data centers across the river.
An interactive self-sufficiency dashboard that provides the county and its partner agencies with data to solve challenges faced by low-income residents.
A new, web-based interagency jail management system.
A cryptocurrency working group and blockchain pilot.
On-site power generation to allow two mission-critical facilities to operate off the grid if necessary.
Digital integration of the county's Identity Management System, Active Directory, and ERP system is underway, and the county is also prototyping the use of AI voice tools, such as Amazon's Alexa, to answer resident questions with nuanced specificity.
In an exclusive interview, Montgomery County data services manager Victoria Lewis took time to talk to Tyler Technologies, an ICMA strategic partner, about her AI prototype and to offer practical tips for any county's journey toward smarter data use. 
When asked by Tyler to enumerate the hallmarks of a successful county data program, Lewis provided the following insight:
1. Show that you take this seriously.
Make a visible statement about your government's commitment to making public data freely available. The first and most crucial step is either hiring or assigning a person full-time to this effort. This lucky individual will have his or her hands full with motivating departments to share data, creating a framework to responsibly publish data, ensuring the data stays relevant, and looking to the future.
2. Create a repeatable process.
There are too many what-ifs when publishing data. Every level of government at some point has an issue, question, or concern about publishing its data and that's okay because sometimes you need to work through the "whys" to get good data. To help make this a smooth experience, create a process to work through all these issues. Whether it's a data scoping and review process, general guidelines or templates, just have a way to objectively review data for publishing.
3. Prepare for unforeseen events.
The hardest test any program can go through is how to weather a crisis. What if you accidentally publish sensitive or inaccurate data? If you don't have a plan on how to resolve this, your data set, or worse—your entire program—could be shut down indefinitely due to bad press, escalating politics, or unhappy users. Have a plan ready ahead of time to navigate emergencies.
Montgomery County also leads by example in transparency by making data accessible for everyone, not just experts or analysts. The dataMontgomery categories and tags, for instance, were created by librarians, and departments minimize government speak and publish data using language that residents use.
Another highlight is Montgomery County's AI pilot, which explored how common household devices and apps like Alexa can provide helpful information to constituents. The initial project focused on how to use open data and geographic boundaries to provide custom responses to each resident in three use cases:
Doing business with Montgomery County: What is the status of Solicitation 123?
Resident services: When will my leaves be collected?
Emergency management: Where is my nearest shelter?
To learn more about what makes Montgomery County unique and what Lewis is working on next, read the full interview here. Tyler Technologies' software solutions deliver essential back-office systems for Montgomery County as well as more than 15,000 other diverse local government clients. Learn more about Tyler's best-of-breed technology and groundbreaking digital infrastructure that connects the public sector to communities by visiting www.tylertech.com.
Meredith Trimble is a former municipal official and town council acting chair, who focused on strategic planning, annual budgeting, and bonded infrastructure projects. Her government experience also includes posts in both federal and state-level executive branch agencies.
New, Reduced Membership Dues
A new, reduced dues rate is available for CAOs/ACAOs, along with additional discounts for those in smaller communities, has been implemented. Learn more and be sure to join or renew today!