2018 Hosts
 REGION

 COMMUNITY

NORTHEAST

Pelham, NY (filled)

SOUTHEAST

Delray Beach, Florida (filled)
Ft. Lauderdale, Florida (muiltiple positions)(filled)
Sarasota County, Florida (filled)
Decatur, Georgia (filled)
Douglasville, Georgia (filled)
Smyrna, Georgia (filled)
NCACC Partnership (Counties in North Carolina) (filled)
City and County of Durham, North Carolina (filled)
Raleigh, North Carolina* (filled)
Rockingham County/Transylvania County (filled)

MIDWEST 

Evanston, Illinois (filled)
Munster, Indiana (filled)
Davenport, Iowa (filled)
Dakota, Minnesota (now recruiting as of 05/2018)
Edina, Minnesota (filled)

MOUNTAIN PLAINS

 

Sedgewick County, Kansas* (filled)
Olathe, Kansas* (filled)
Wichita, Kansas* (filled)
Dallas, Texas* (filled)
Plano, Texas (filled)
Vermillion, South Dakota

WEST COAST

 

Hillsboro, Oregon* (filled)
Gresham/Lake Oswego, Oregon(shared) (filled)
Tacoma, Washington* (filled)
Hayward, California * (now recruiting as of 04/2018)
Yountville, CA (filled)
Snoqualmie, WA (filled)
*Hosts that are participants in the LGMF, but prefer to accept direct applications. Links to application page are available on their website, or the ICMA Job Center if posted there. These positions may have different posting and filling dates than the LGMF cycle.
---
ICMA Regions
There are five ICMA regions in the United States and one region that includes all members outside of the United States.  International students are welcome to apply for the program as long as they are allowed to work in the U.S.  There may be international positions available in future program years.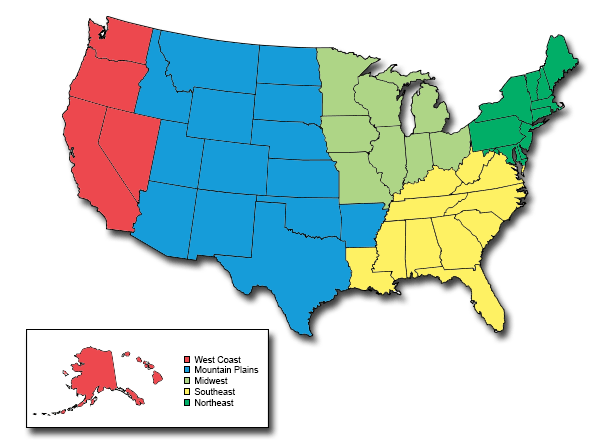 West Coast
Alaska, California, Hawaii, Nevada, Oregon, Washington
Mountain Plains
Arizona, Arkansas, Colorado, Idaho, Kansas, Montana, Nebraska, New Mexico, North Dakota, Oklahoma, South Dakota, Texas, Utah, Wyoming
Midwest
Illinois, Indiana, Iowa, Michigan, Minnesota, Missouri, Ohio, Wisconsin
Southeast
Alabama, Florida, Georgia, Kentucky, Louisiana, Mississippi, North Carolina, South Carolina, Tennessee, Virginia, West Virginia
Northeast
Connecticut, Delaware, District of Columbia, Maine, Maryland, Massachusetts, New Hampshire, New Jersey, New York, Pennsylvania, Rhode Island, Vermont
---
PAST HOSTS 
 REGION

 COMMUNITY

NORTHEAST

Milford and Rehoboth Beach, Delaware
Lexington, Massachusetts
Nether Providence Township, Pennsylvania
Milton, Vermont

SOUTHEAST

Clearwater, Florida
Fort Lauderdale, Florida
Miami Beach, Florida
Sarasota County, Florida 
Wellington, Florida
Cartersville, Georgia 
Decatur, Georgia 
Douglasville, Georgia
East Point, Georgia 
Savannah, Georgia 
Smyrna, Georgia
Catawba County, North Carolina 
Charlotte, North Carolina 
City & County of Durham, North Carolina 
Hickory, North Carolina
Hillsborough, North Carolina
Lee County, North Carolina
Mecklenburg County, North Carolina
North Carolina County Fellowship (coordinated by NCACC)
Wake County, North Carolina
Albemarle County, Virginia
Arlington County, Virginia
Henrico County, Virginia
Winchester, Virginia

MIDWEST 

Evanston, Illinois
Oak Lawn, Illinois
Munster, Indiana
Davenport, Iowa
Dubuque, Iowa
Dakota County, Minnesota
Edina, Minnesota
Minneapolis, Minnesota
Columbia, Missouri
Hamilton, Ohio
Loveland, Ohio
Altoona, Wisconsin
Bayside, Wisconsin  
Dunn County, Wisconsin
Howard, Wisconsin
Lancaster, Wisconsin
Mauston, Wisconsin
River Falls, Wisconsin

MOUNTAIN PLAINS

 

Tucson, Arizona
Aurora, Colorado
Olathe, Kansas
Sedgwick County, Kansas
Wichita, Kansas
Tulsa, Oklahoma
Vermillion, South Dakota
Arlington, Texas
Lancaster, Texas
Plano, Texas

WEST COAST

 

Fremont, California 
Hayward, California
Mountain View, California 
Palo Alto, California 
San Jose, California
San Mateo County, California
Douglas County, Nevada
Henderson, Nevada
Las Vegas, Nevada
Washoe County, Nevada
Federal Way, Washington
Issaquah & Snoqualmie, Washington
Kirkland, Washington
Tacoma, Washington
Sound Transit, Washington
University Place, Washington
This page updated August 30, 2018.