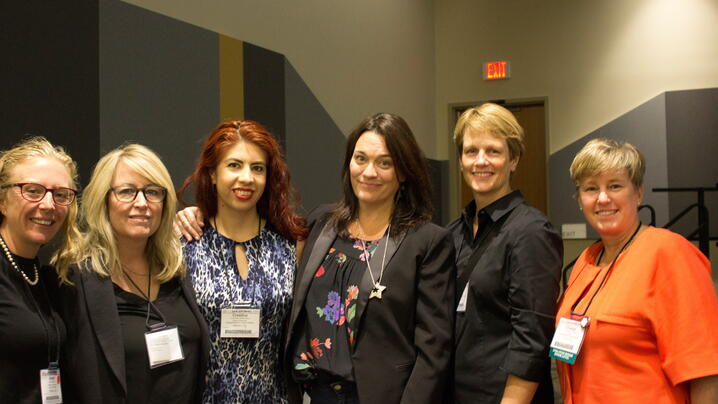 by Rob Carty and Ashley Jacobs
The first step in overcoming the massive problem of underrepresentation of women in leadership and management is recognition. The infographic shown below tells the story of failure across all sectors to harness the power of gender equality. Ensuring the equal participation of women in our economy and at all levels of government benefits everyone—more women in the workforce and in leadership roles would add hundreds of billions of dollars to the U.S. economy.
Diverse gender leadership particularly at the local government level, since that's our focus, strengthens the organizations and the communities they serve. Just read, listen to, or watch the stories of women leading local governments—they are featured throughout the ICMA website, including ICMA Member Spotlights, podcasts, YouTube channel, on the League of Women in Government website, and by following #sheleadsgov. They not only tell the tales of women overcoming obstacles but of their tremendous accomplishments. Use these examples and others to help elevate stories of women, including discussing the barriers and biases they face.
Focus on Solutions
Here are some steps you can take today in your own organization to help achieve #GenderBalance:
Have a discussion within your organization and ask staff to identify biases that exist and develop a plan to eliminate those biases; for example, women candidates for leadership roles are still being asked who will care for their children. Here's Dana Muscott's story.
Knowing how to break down biases is critical; you don't want to begin a conversation without the tools you need. Consultants can assist, as can learning from peer success in other communities. But Careerbuilder and other online resources can give you good starting tools. Making people aware of collective unconscious biases is a key first step.
Understand and share information on the positive economic benefits of #GenderBalance.
Advocate for family-friendly policies, including paid parental leave, affordable childcare options, onsite childcare, and flexible schedules as a start.
Offer women development and training programs. Attend the ICMA Annual Conference and participate in the roundtables, educational sessions, and workshops.The League of Women in Government and ICMA are cosponsoring a symposium as well. But if attending the conference is not possible, there are lots of free webinars, networking, and coaching experiences that can be shared with female employees.
Along those lines, include scholarships or other funding sources to bring more equitable professional development opportunities.
Advocate for women when promotional opportunities arise.
Provide women in your organization with interim or acting assignments to gain vital experience. If time and resources allow it, you can even explore talent exchange partnerships with neighboring communities.
Ask yourself "how can I (my organization) better enable women to grow in their careers?"
ICMA and League of Women in Government Initiatives

Ashley Jacobs
Ashley Jacobs is assistant county manager of Aiken County, South Carolina, and president of the League of Women in Government.

Rob Carty
Rob Carty is director of Career Services and Next Generation Initiatives at ICMA.
The Underrepresentation of Women in Leadership and Management
This infographic looks at the underrepresentation of women in leadership and management positions in both the private and public sector.

New, Reduced Membership Dues
A new, reduced dues rate is available for CAOs/ACAOs, along with additional discounts for those in smaller communities, has been implemented. Learn more and be sure to join or renew today!