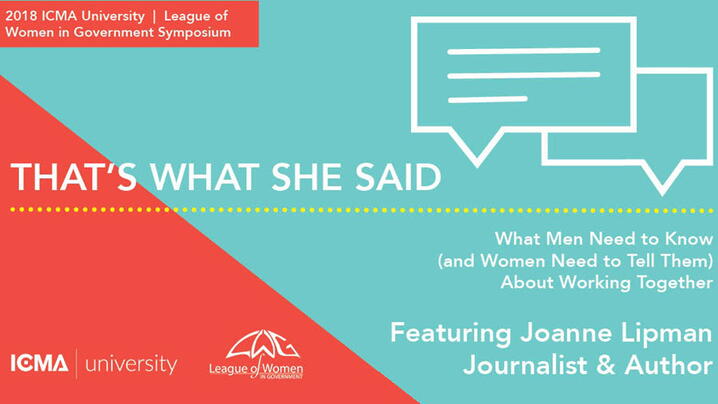 ICMA University + The League of Women in Government Symposium
Join your colleagues from across the nation for the 3rd Annual ICMA University + League of Women in Government Symposium. 
DATE:
Saturday, September 22, 2018 from 1:00 to 4:00 PM (Eastern)
WHERE:
Baltimore, MD in conjunction with the ICMA Annual Conference – Room TBD
KEYNOTE SPEAKER:
This year's keynote speaker will be Joanne Lipman, bestselling author of That's What She Said: What Men Need to Know (and Women Need to Tell Them) About Working Together. One of the nation's most prominent journalists, she most recently was Chief Content Officer of Gannett, and Editor in Chief USA TODAY and the USA TODAY NETWORK, comprising the flagship title and 109 other news organizations including the Detroit Free Press, the Cincinnati Enquirer, and the Arizona Republic. In that role, she oversaw more than 3,000 journalists and led the organization to three Pulitzer Prizes plus an additional three Pulitzer finalists.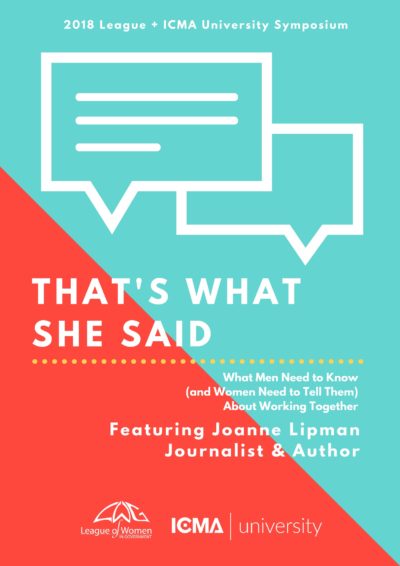 Ms. Lipman began her career as a reporter at The Wall Street Journal, ultimately rising to Deputy Managing Editor, creating Weekend Journal and Personal Journal, and supervising coverage that earned three Pulitzer Prizes. New York Times media columnist David Carr described her as the Journal's "innovator-in-chief." She subsequently was founding Editor-in-Chief of Conde Nast Portfolio and Portfolio.com, which won National Magazine and Loeb Awards. She is a frequent television commentator, seen on CNN, NBC, CNBC, and CBS, among others, and her work has appeared in publications including The New York Times, Time, Newsweek and Harvard Business Review. She is also co-author of the critically acclaimed musical memoir Strings Attached.

OPENING SPEAKER:
Fran Mainella will be this year's Symposium opening speaker. Director Mainella served nearly six years as the 16th Director and the first woman to lead the U.S. National Park Services. Prior to that, she served twelve years as Director of Florida's State Parks, which were awarded the Gold Medal Award, recognizing Florida as the best state park system in the country.
Ms. Mainella has also served as executive director of the Florida Recreation and Park Association and as president of both the National Recreation and Park Association and the National Association of State Park Directors. Today she leads her own consulting firm and will be speaking about Reaching the Summit through the 3 C's: Courage, Communication, Connection.
CLOSING SPEAKER: 
The League is excited to announce that in addition to  Joanne Lipman and Fran Mainella, Angelica Wedell, National Research Center, Inc. Marketing Director will be presenting survey data highlights on the perspectives of local government employees across the U.S. Angelica will be answering the important question, Do women see the local government workplace differently from their male colleagues?
As the profession seeks to promote healthier organizations that equally provide job satisfaction and opportunities for advancement, this is a question we must ask. Fortunately, the answers are not beyond the reach of public sector leaders. Angelica will share findings on how women and men rate key aspects of municipal work-life. Join us at the symposium to see how these genders rate the workplace differently, or the same. And may these data inspire ideas and strategies to move your own municipal organization forward.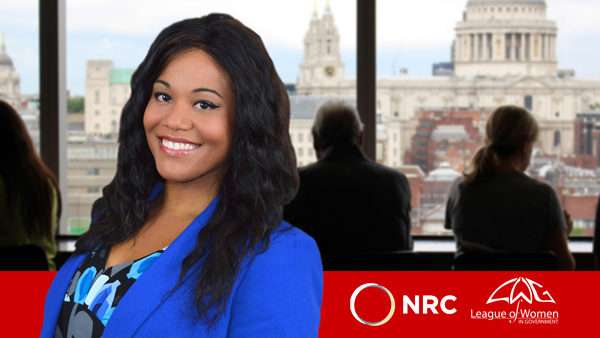 Mark your calendars and make your travel plans to arrive in Baltimore early for this not-to-miss event! You won't want to miss this fantastic presentation! Seats are only $25 and will sell out quickly.
Get your ticket today:
To register for the Symposium you may complete your Symposium ticketing online through the ICMA Annual Conference Registration process. Look for the Symposium under the "ICMA UNIVERSITY WORKSHOPS" section in the ONLINE REGISTRATION FORM WHICH MAY BE FOUND HERE.
If you have already registered, adding the symposium ticket is quick and easy. Simply log into your icma.org account and visit "My ICMA." Click "My Events" to view your registration to the 2018 Annual Conference, then click the orange "Add Session" button to purchase additional tickets.  
Hope to see you in Baltimore!