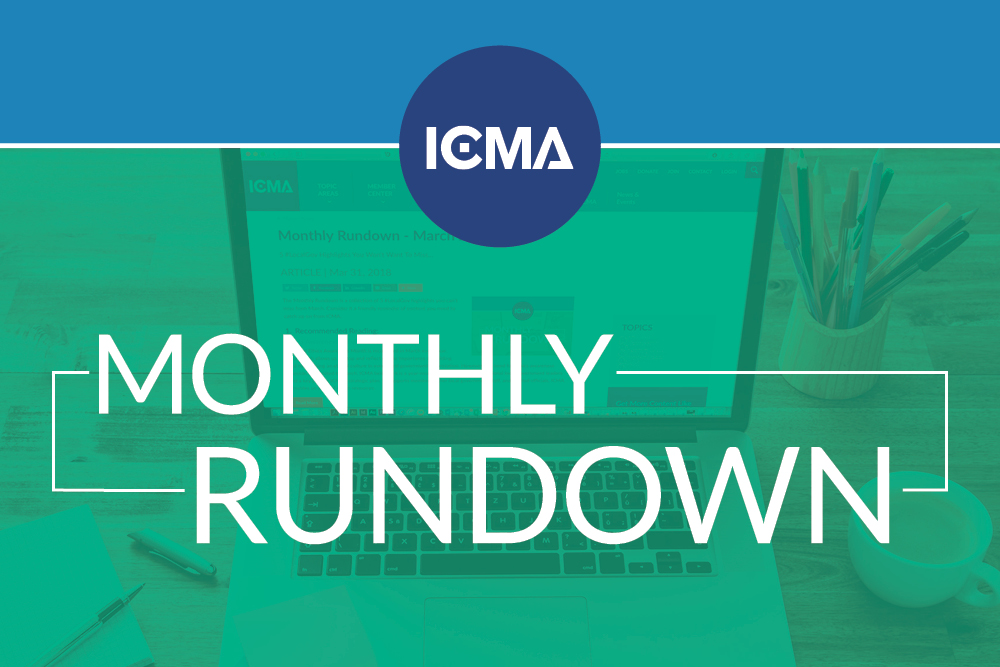 by Paloma Ferreira, marketing and creative services assistant, ICMA 
This Monthly Rundown is a collection of #LocalGov highlights from the month of March. Consider it a friendly reminder of the content you might need to catch up on from ICMA.
What We're Reading
Incorporating Ethics into Everyday Work in Local Government. As ICMA celebrates 95 years of the Code of Ethics, we reflect on how we develop and support ethical local government professionals as a core value in ICMA's mission to advance the profession of local government management. This month's "facts and stats" features highlights from the ICMA Ethics in Local Government survey.
Why Creating a Culture of Trust Is Key for Local Government Boards. Great ideas and improvements often come from citizen feedback, so it's important to keep the lines of communication active and open. Read more about how municipal leaders can get information out to their citizens, and how they can do it in ways that are understandable, relevant, and cost-effective in this new blog. 
Celebrating Stories of Women in Local Government. We asked our readers to share their stories to help ICMA celebrate Women's History Month! Check out these inspiring stories of women in local government in this interactive story map! #SheLeadsGov
Maximize Your Membership
It's Your Time to Make a Difference: Volunteer! The 2019 call for volunteers is now open with opportunities to give back to the profession.
FREE WEBINAR: Ethics in Action-When It's Your Duty to Say "No". Join us April 10, 2-3:30 p.m. EST for a webinar on spotting prevelant ethics issues and knowing when and how to say "no" as part of the ICMA Coaching Program Webinar Series.
Thrive in Your Career
2019 ICMA Regional Conferences: The 2019 ICMA Regional Conferences will send you home with the ideas and know-how you need to reshape and create new innovations in your organization and community.
Listen to This
Local Gov Life - United Front. Celebrate the end of Women's History Month by listening to this special season of the Local Gov Life podcast. Hear how six female managers are earning the respect of their peers and breaking down barriers they contend with in today's local government profession.
Watch This
UNSCRIPTED with ICMA: Hear from ICMA members who share what ethics mean to them.
For more updates on the latest news about local government, subscribe to the ICMA Blog and watch this space for more blog summaries.