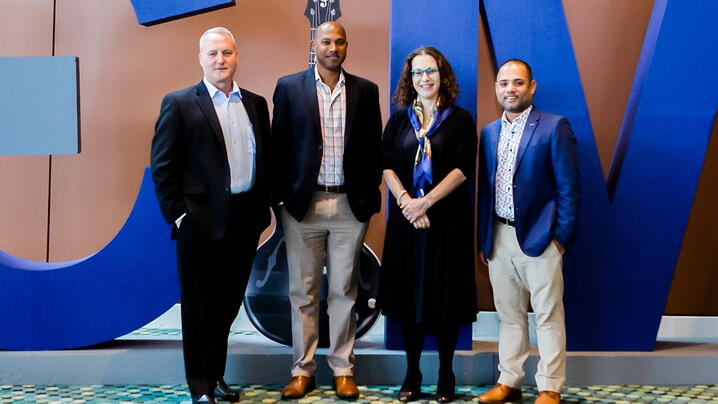 ICMA's 2019 Annual Conference in Nashville just wrapped up with a record attendance of more than 5,500 local government professionals exchanging ideas, deepening their skillsets, and connecting with their colleagues. Joining us at this year's conference were the 2018-19 ICMA Local Government Research Fellows, as part of a program initiated by ICMA last year to leverage expertise from recognized thought leaders in diverse fields.
The inaugural cohort presented their research to members and facilitated conversations on topics such as equity, innovation, and the vitality of local government. Below are highlights from their four sessions.
Benoy Jacob, associate professor at UNLV's School of Public Policy and Leadership
Over the past year, Benoy Jacob convened focus groups with local governments to better understand how they are framing and operationalizing work on equity issues. In Nashville, Jacob kicked off an interactive session that provided the opportunity for participants to engage in similar conversations facilitated by leaders actively addressing racial inequities in communities across the United States. The panelists' introductions described their work as both a journey and practice, and ensuing discussions indicated an appetite for continued peer learning on this complex and challenging topic. Through a short exercise, attendees shared questions and roadblocks encountered in engaging all members of the community, working with data, identifying root causes, and designing strategies; and they offered each other tools, metrics, policies, and programs. For more, read Jacob's PM article "Advancing Social Equity: Lessons from (and for) Public Managers" and check out ICMA's affiliate GARE.
Beth Noveck, director at The Governance Lab; professor in Technology, Culture, and Society at New York University's Tandon School of Engineering
Attendees at Beth Noveck's roundtable didn't expect to be part of an experiment, but after participating in her survey on public problem-solving, they were brought into a larger discussion centered on how innovation methods and practices are used in public organizations. Participants shared the challenges they face when attempting to make their cities and counties more innovative. Issues such as the ability to experiment and possibly fail with public dollars, misunderstanding of methods and jargon, and lack of financial support were cited as barriers local governments face to incorporating innovative practices in their organization. Building on her previous ICMA Annual Conference keynote, which highlighted the potential of citizen input and technology, Noveck's current research aims to inform training for ICMA members and other local government stakeholders in innovative public problem-solving skills. Review preliminary findings, learn more about the innovation methods, and participate in the survey here.
Tom Carroll, village manager, Silverton, Ohio
ICMA Credentialed Manager and researcher-on-the-side, Tom Carroll shared his work on revitalizing America's first suburbs—older, inner-ring communities that surround central cities. Drawing from his own experiences managing a town outside Cincinnati, Ohio, he provided metrics collected over the past year highlighting how many suburbs in his county have not fully recovered from the Great Recession and are unlikely to without intervention. Carroll shared that while the likelihood of increasing revenue through raising taxes was unrealistic for many of these communities, there were strategies to negate or even reverse some of the negative impacts of shrinkage. Carroll's call to action included rethinking the way you allocate resources, building more densely in your community, rewriting overly restrictive zoning laws, reigniting public spaces with art, and working with private developers for smart community investments. Catch Carroll's session at the 2019 Brownfields Conference to learn more.
Kevin DeSouza, professor of Business, Technology and Strategy in the School of Management at the QUT Business School
Are information technologies making our cities more fragile? This was the question at hand during Kevin DeSouza's roundtable, where administrators from across the country chimed in on how technology was making their organizations more vulnerable. Attendees shared strategies on how to deal with the public's increasing expectations on governmental use of technology, how to avoid falling for the "latest trend," and how to be innovative without throwing unnecessary technology at an issue. When it comes to information technology, one common theme arose: get the basics right before you add on the flashy extras. To learn more, review DeSouza's recent Scientific American article on the fragility of cities.
New, Reduced Membership Dues
Beginning October 1, 2022: For memberships expiring on December 31 and for new members, a new, reduced dues rate is available. Learn more and be sure to join or renew today!