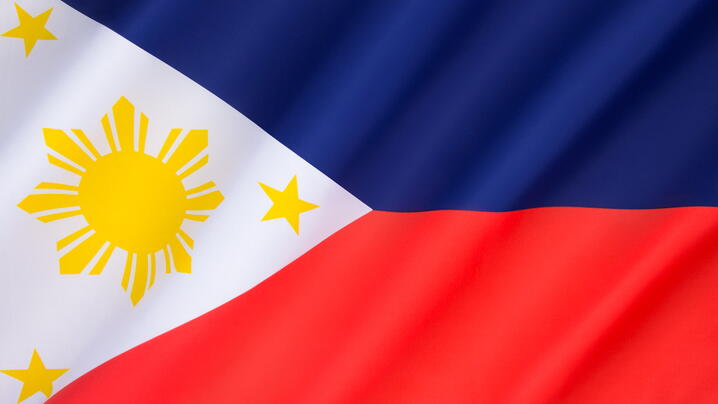 The U.S. Agency for International Development (USAID) hired ICMA to implement the Strengthening Urban Resilience for Growth with Equity (SURGE) Project in Philippine cities to improve local capacity in inclusive and resilient urban development, improve local economic development, and expand economic connectivity and access between urban and rural areas. Here's an update on the latest efforts in the recovery from COVID-19:
Designing Handwashing Facilities in the Philippines

Improved sanitation and personal hygiene are among the easiest ways to prevent the spread of the novel coronavirus. In this effort, USAID's SURGE Project continues to provide technical assistance to the General Santos City Water District (GSCWD) and General Santos City's local business chambers for the construction of handwashing facilities in public spaces such as markets, bus terminals, business establishments, and other strategic areas in the city.
On June 4, 2020, USAID/SURGE Project Engineer Bahnarin Salud presented the conceptual designs and budget requirements of two models of handwashing stations: one designed for a single user and one that can accommodate two to four individuals. Both models are foot pedal-operated to control the flow of water from the faucet and reduce the risk of cross contamination from multiple users touching the faucet and the sink.
Read "Coronavirus: Restroom Guidance for Local Leaders" »
To guarantee successful implementation, Sharon Gadayan, division manager of GSCWD, ensured that water services are available in all areas where handwashing facilities will be installed. Local business chambers—Filipino-Chinese Chamber of Commerce and Industry, Inc. (FCCCII) and General Santos City Chamber of Commerce and Industry, Inc. (GSCCCII)—pledged to support the initiative by providing materials and labor for the construction and installation of the handwashing stations. FCCCII Executive Director Rofil Mae Rillo also committed to partner with International Pharmaceuticals, Inc., to supply all handwashing stations with germicidal soaps. The city government of General Santos will undertake the management and maintenance of the handwashing stations once completed.
With the construction of handwashing stations, local governments and private sector stakeholders can ensure access to basic sanitation facilities and enable people to adopt positive water, sanitation, and hygiene behaviors as part of COVID-19 prevention.
Women Entrepreneurs in the Philippines Adopt Digital Marketing and E-Commerce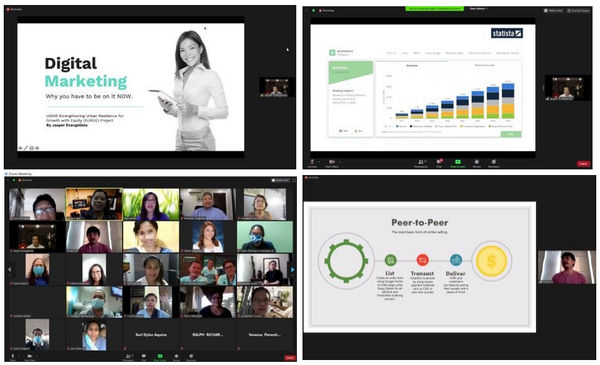 Entrepreneurs are maximizing the rise of digital marketing and e-commerce to cope with the challenge of resuming business operations during the COVID-19 pandemic. On June 4, 2020, more than 80 women-owned or women-led micro, small, and medium enterprises (MSMEs) in Puerto Princesa City participated in a digital marketing session organized by USAID's SURGE Project. MSMEs learned practical techniques and strategies to expand marketing through online platforms such as YouTube, Instagram, and Omnichannel.
Read "How Women Can Maintain Momentum and Achieve Success Through Resiliency" »
Aside from the social media giant Facebook, these digital platforms can help entrepreneurs to optimize customer experience and gear them toward the sales funnel.
Entrepreneur Jasper Evangelista discussed the Philippines' rapidly growing digital economy and the need for MSMEs to build an online store in the new landscape. Meanwhile, business owner Arrian Lim discussed online marketplace portals available for MSMEs and how entrepreneurs can reacquaint themselves with customers by identifying new behaviors and lifestyles. The MSMEs were also encouraged to jumpstart their e-commerce business and take advantage of booming e-commerce sales worldwide. USAID/E-PESO Activity Chief of Party Mamerto Tangonan presented various digital payments options such as GCash and debit and credit payments via electronic channels such as laptops and mobiles. The session is part of USAID/SURGE's efforts to advance women entrepreneurship development under the U.S. Government's Women's Global Development and Prosperity (W-GDP) Initiative.
Read "Inclusive Economic Growth" »
As the world goes digital due to widescale quarantine restrictions, entrepreneurs equipped with the knowledge and skills to use online markets can maintain business continuity and adopt to the increasing digital habits of consumers. 
New, Reduced Membership Dues
A new, reduced dues rate is available for CAOs/ACAOs, along with additional discounts for those in smaller communities, has been implemented. Learn more and be sure to join or renew today!