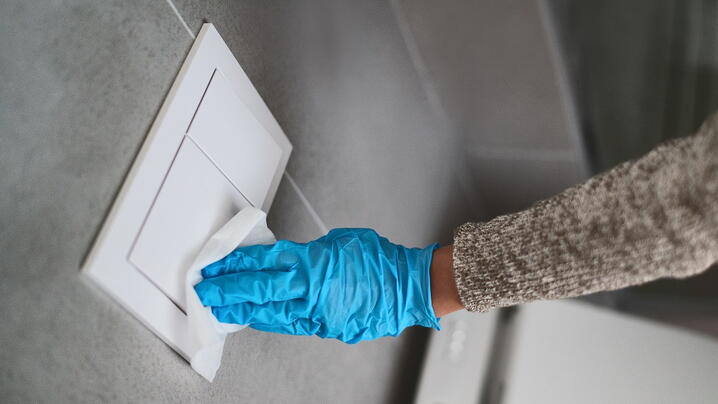 In many of the world's more developed countries, sanitation and wastewater treatment operate with well-defined sets of policies, programs, technologies, people, and institutions.  This expensive, far-flung, and health-preserving system has many avenues for inputs, not the least of which is the simple restroom.  
Operating and Regulating the Restroom 
Local governments maintain, operate, and supervise a remarkable number of bathrooms.  From those in city halls and government buildings to others found at libraries, schools, recreation centers, athletic fields, convention centers, visitors bureaus, homeless shelters, public parks, and playgrounds, restrooms are a significant responsibility.  Additionally, localities will often have public health responsibilities over private sector enterprises, such as restaurants, bars, gas stations, grocery stores, and more, which will by code almost always be required to have a clean, working restroom.
The local regulatory oversight of restrooms, public and private, is often a patchwork of additional requirements.  Restroom ordinances prohibit actions like smoking in stalls, sleeping or loitering for too long in the facility, drug trafficking, and solicitation of many kinds.  There are often requirements for diaper changing stations, coat hooks on stall doors, disposal options for non-toilet items, and accessibility for people with mobility challenges. More recent requirements in some places are the establishment of unisex or gender nonspecific facilities and guidance for usage. 
Restrooms and Covid-19 
The coronavirus pandemic has created a new set of conditions. We are all familiar with the run on toilet paper and other health and safety products that the pandemic generated.  As the world reopens, formerly shuttered restrooms and bathrooms face new requirements, notably social distancing, cleaning, and disinfection.  There is also the need to ensure a steady stream of supplies.  A recent study suggested that 78% of Americans are washing their hands more than six times a day, which is nearly double the number from before the start of the pandemic.  Roughly 20% say they are washing more than 16 times a day since the outbreak. 
A paragraph in a recent Washington Post article may have recently summed up the road ahead for restrooms. 
The idea of a return to life in public is unnerving enough for many people. But it turns out that one of the biggest obstacles to dining in a restaurant, renewing a doctor's appointment, or going back to the office is the prospect of having to use a public restroom — a tight, intimate, and potentially germ-infested space.
Reopening and Public and Private Restrooms 
There are several things for public managers to consider as our communities reopen, more people go out, and more of them have "to go," while they are out.   
Maintaining Employee Safety 
As the pandemic spread, concern about employee safety has been articulated by many professions, including those tasked with facilities maintenance.  For example, in the city of Vancouver, Washington, employees expressed concern about a lack of protection equipment when they were reassigned from grounds maintenance to facilities maintenance to meet the needs of more stringently cleaning public restrooms. Given the ongoing unknowns about the virus, it will be important that the latest guidance is adopted for personnel protective equipment and other safety measures so that staff and/or facilities management contractors are safe while cleaning public restrooms.  
Ensuring User Safety 
The pandemic seems likely to stimulate an already vibrant marketplace for smart, touchless, and other sensor-driven innovations in restroom technology. In the COVID-19 era, restrooms are an asset to be managed.  And just as ordinances and codes have been developed for diaper change tables, local governments may need to take additional measures in their local approaches to mitigate any potential spread of the virus.  The CDC notes that toilets, faucets, and sinks are some of the most frequently touched surfaces in buildings and will require more stringent cleaning and disinfecting as public and private sector buildings and facilities reopen. 
Restarting Economic and Community Mobility 
It is hard to fully reopen a community without access to restrooms.  As localities move from takeout to sit down meals; public parks, pools, playgrounds, and beaches return to accessibility, local governments will need to clearly communicate the regulations and guidance about restroom operations as well as their availability.  Similarly, as larger gatherings of people are permitted in various settings, an appropriate plan for the availability of restrooms needs to be carefully considered as occupancy limits may exist for the foreseeable future. 
Assisting Vulnerable Populations 
Even before the pandemic, some communities incorporated public restrooms as an element of the services provided for their homeless populations. The onset of the pandemic and the closing of public facilities exacerbated the problems associated with open defecation and urination.  As Sophie House noted in an editorial for NextCity: 
People without shelter are also people without bathrooms. In most cities, the few places that function as public sanitation hubs, from Starbucks to public libraries, have closed. Shortages of hygiene supplies from hand sanitizer to toilet paper are now a punchline. But for people experiencing homelessness and for society more broadly, the need for proper hygiene has never been more critical.
Some communities have relocated portable restrooms and handwashing stations in locations nearby known encampments of homeless populations or outside of frequently visited services like homeless shelters.  Places such as Lexington, Kentucky have installed additional temporary facilities to help homeless populations with additional access during the current crisis and closures. 
Common Sense Guidance 
The CDC has maintained a consistent message about public and private restrooms during the pandemic.  All restrooms that are open should be  
Operated with functional toilets.
Cleaned and disinfection regularly, particularly the high-touch surfaces. 
Stocked and restocked with handwashing supplies and/or hand sanitizer.. 
And for those facilities without running water, or those that can't be stocked with portable hand cleaning options, a public communication campaign to remind people to bring their own supplies is a good idea. 
Don't It Always Seem to Go 
Many times, the importance of a thing, like the ease of finding and using a restroom is so taken for granted that "we don't know what we got till it's gone" as Joni Mitchel notes in her song Big Yellow Taxi. The ongoing pandemic has reestablished the importance of public sanitation and elevated restrooms as a key element in a return to normalcy.   
While we may never know who flushed the toilet during the closing arguments of the remote (and recorded) May 2020 Supreme Court case of Barr vs American Association of Political Consultants, it is a stark reminder that nature will come calling often at the worst time.  As people flow back into the public commons and privately run places of daily life, local governments need to make sure that the need to go can be met by the availability of open restrooms that are fully operational, clean, and as pandemic proof as possible. 
New, Reduced Membership Dues
A new, reduced dues rate is available for CAOs/ACAOs, along with additional discounts for those in smaller communities, has been implemented. Learn more and be sure to join or renew today!