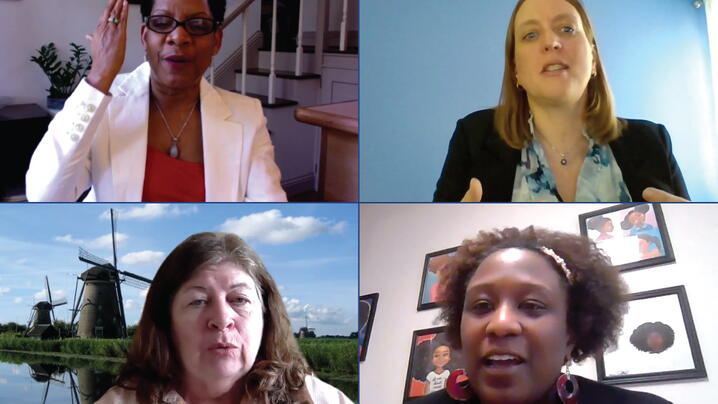 On International Women's Day, the SheLeadsGov Virtual Forum on Maintaining Momentum: Achieving Success Through Resiliency provided more than 450 women and men a day of inspiration filled with thought-provoking and motivational speakers and panelists. Presented by ICMA and the League of Women in Government, and sponsored by Cigna, the event provided a platform to make amazing connections, encouraged attendees to take breaks to clear their mind and relax, and offered new tools and approaches to lead with hope and manage stress.
Kicking off the virtual forum, Cigna hosted a panel on Components of Your Success: a Coach, a Mentor, and Having an Advocate in Your Corner. Kim Funderburk, national vice president and general manager for government & education, Cigna moderated the panel that featured four local government leaders: ICMA member Kathy Hodgson, city manager, Lakewood, Colorado; Shawn Stokes, director, human resources, Prince George's County, Maryland; Bonnie Wise, county administrator, Hillsborough County, Florida; and ICMA member William "Bill" Bell, city manager, Montrose, Colorado. The panelists explored the difference between a coach, a mentor, and an advocate and illustrated how at any stage of their career, everyone can benefit from sharing best practices and gaining perspectives from others who can help them see their situation and opportunities from a fresh perspective.
ICMA member June Mighty, organizational & talent development division chief for Santa Barbara County, California, inspired attendees to gain the confidence needed to move through chaos during her keynote on Leading with Hope: A Key to Navigating Ambiguity and Building Resilience.
In the session Resiliency Matters – For Your Health and Productivity, Sandra Shaklan, behavioral clinical account manager with Cigna, presented findings from the Cigna Resilience Index survey. She shared that, due to major stressors and the current environment, government workers are significantly less likely than other full-time U.S. workers to rate their physical health and social life as very good or excellent right now.
At the close of the event, almost 150 attendees participated in three continuing the conversation sessions focused on women in leadership, connecting through coaching, and well-being, self-care, and mindfulness. The spaces provided attendees opportunities to engage with each other, panelists and presenters, Cigna and League of Women in Government representatives, ICMA staff, and June Mighty.
Following the event, we asked three attendees to share their insights and takeaways from the day:
How did the SheLeadsGov event help you learn from and connect with women in the profession?
Nicole Tudor, executive assistant, Truro, Massachusetts: It was wonderful hearing other women's stories working in government, their challenges, goals, and insights. I found June Mighty especially enlightening. 
Kimberly Richardson, interim assistant city manager, Evanston, Illinois: I am not alone in the struggles of executing my duties to the best of my abilities and coming up against political conflict that is outside of my control. There are resources such as the ICMA Senior Advisors group that include experienced former senior managers.  
Brent Stockwell, assistant city manager, Scottsdale, Arizona: It was great to participate in this national event and hear many perspectives on how to support women in local government leadership. It was inspiring to follow along in the chats, see people I know, and reconnect with people nationally; as well as hear outstanding presentations from both the panel and the keynotes.
What's one thing you'll do, change, or implement based on the sessions?
Tudor: I would have to say more research of organizations like League of Women in Government, which I was unaware existed.
Richardson: I was very interested in the resilience discussion. Sometimes the importance of our own mental health is never discussed when trying to keep things together as organizational leaders.
Stockwell: I was encouraged and empowered to continue to be an ally and coach, and to mentor others.
Why is it important for you or your organization to promote women in the profession?
Tudor: Our local government has many positions filled by women, less so in public works, police, and fire departments. Many women juggle family and career. I think support of women, including those with families, is vital. Employees will appreciate that they are appreciated beyond their work load. An organization will have longer tenure of employees if that is nurtured.
Richardson: For one thing, women run the world!  Seriously, women are the backbone of not just the family, but an organization. It's important to have female voices at the decision-making table because there are going to be things missed without the perspectives of both men and women.
Stockwell: My local government career resulted from women in leadership positions who believed in me and gave me opportunities to succeed. Getting opportunity should lead to giving opportunity to others.
New, Reduced Membership Dues
A new, reduced dues rate is available for CAOs/ACAOs, along with additional discounts for those in smaller communities, has been implemented. Learn more and be sure to join or renew today!