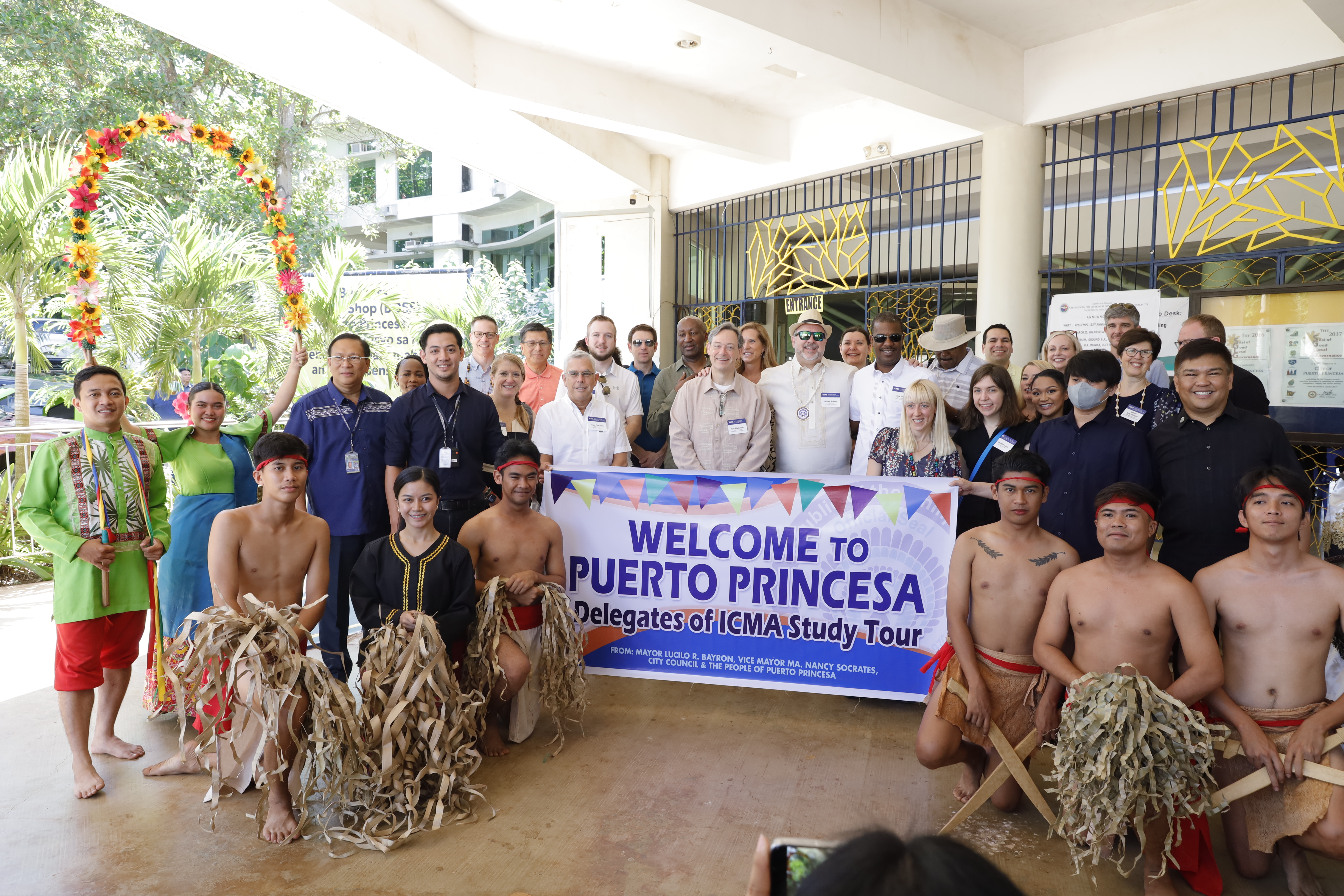 ICMA has worked with local leaders in the Philippines since 2015, with funding from the United States Agency for International Development (USAID), to implement and support programs and services that improve local governance, strengthen economic vitality, and enhance disaster resilience.
In March 2023, ICMA's Executive Board, International Committee, and key staff were invited to see the impact of these programs and other innovative practices in the cities of Valenzuela, Puerto Princesa, and Tagbilaran. Marc Ott, CEO/Executive Director of ICMA, said, "I am very proud of the work that ICMA has accomplished in partnership with local public servants in the Philippines. Our visit to the country provided an opportunity to see firsthand the progress that has been made and to strengthen partnerships with local stakeholders. Moving forward, we remain committed to supporting sustainable development and good governance in the Philippines and around the world."
ICMA met with elected leaders, professional staff, and community representatives from each of the cities they visited and learned about ways in which local governments are setting policies and launching initiatives to promote resilient and equitable economic growth, mitigate environmental risks, and bolster trust in government.
The trip was aimed at discovering how cities in the Philippines are addressing critical areas of need. "Visiting cities around the world to learn about their local governance practices is a valuable experience for government officials and policymakers. By learning how other communities are addressing issues and meeting the needs of their communities, we gain new insights, perspectives, and ideas for improving our own communities back home," said Jeff Towery, president of ICMA.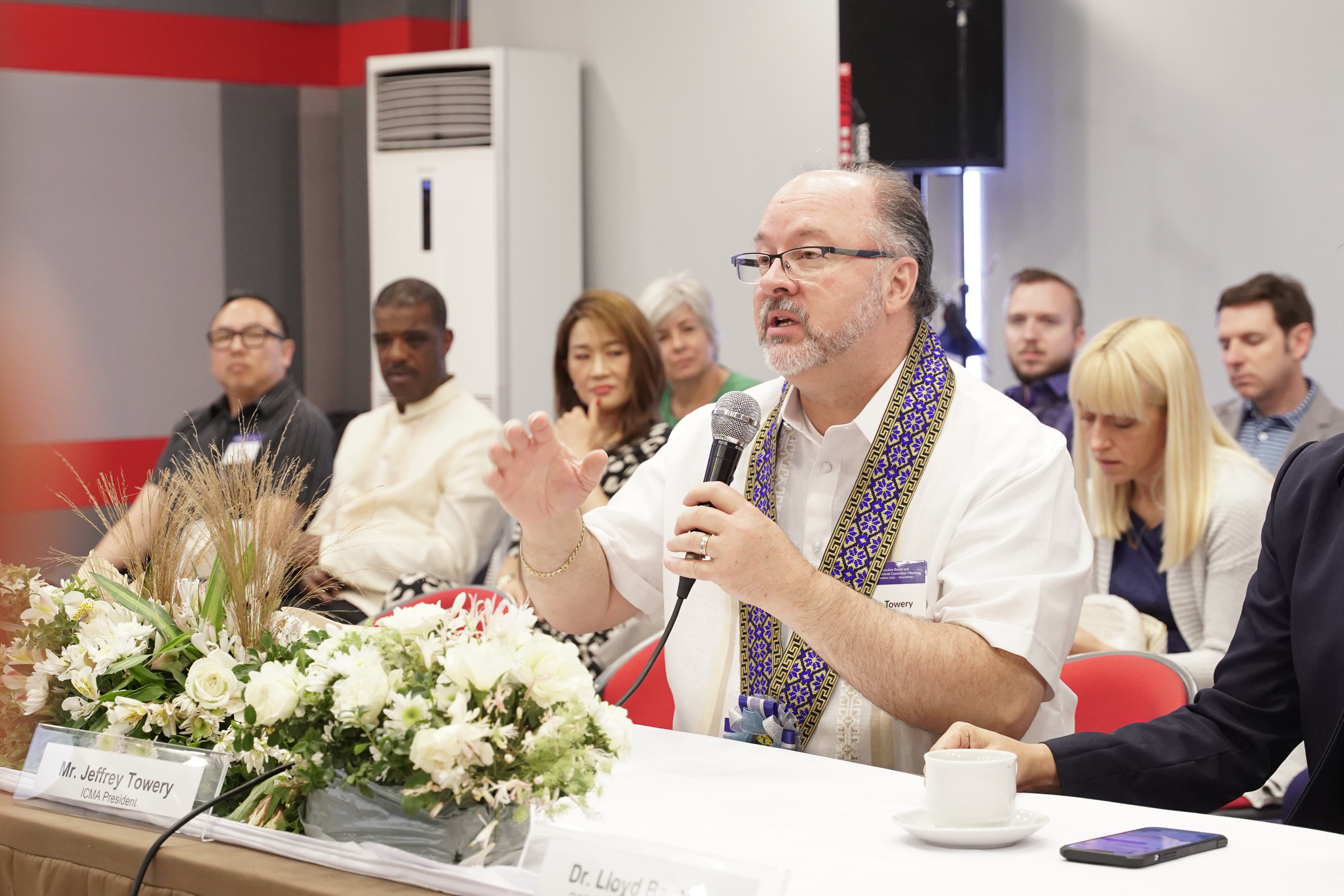 Jeff Towery, ICMA President, addresses questions in Valenzuela city hall. Photo Credit: ArtisteSpace
In Valenzuela, Mayor Wes Gatchalian addressed how changes to its business permitting processes through the 3S in Public Service Program helped reduce government waste and increase job and business investment in the city. In Puerto Princesa, ICMA toured the sewage and septage treatment plant constructed through a public private partnership. The plant has significantly reduced pollution to the Puerto Princesa Bay, enhancing its ecosystem and shorelines, resulting in increased economic opportunity in the tourism industry, enabling the city to proudly host the Iron Man event.
Another project highlighted during the visit was an overview of a seaweed cultivation project established with support from the USAID Strengthening Urban Resilience for Growth with Equity (SURGE) Project, implemented by ICMA. The initiative demonstrates how cities and national government agencies can work with communities to establish practices and policies to support local organizations as they mplement solutions to growing global climate concerns. On a visit to its facilities, the delegation learned how Project Zacchaeus, a nongovernmental organization, has provided training on proper waste handling, as well as leadership to empower 60 waste collectors from a disadvantaged community with funding from the USAID Clean Cities, Blue Ocean (CCBO) Project. This visit showcased how targeted investments can not only improve livelihoods but also serve other goals, such as cleaning up the environment.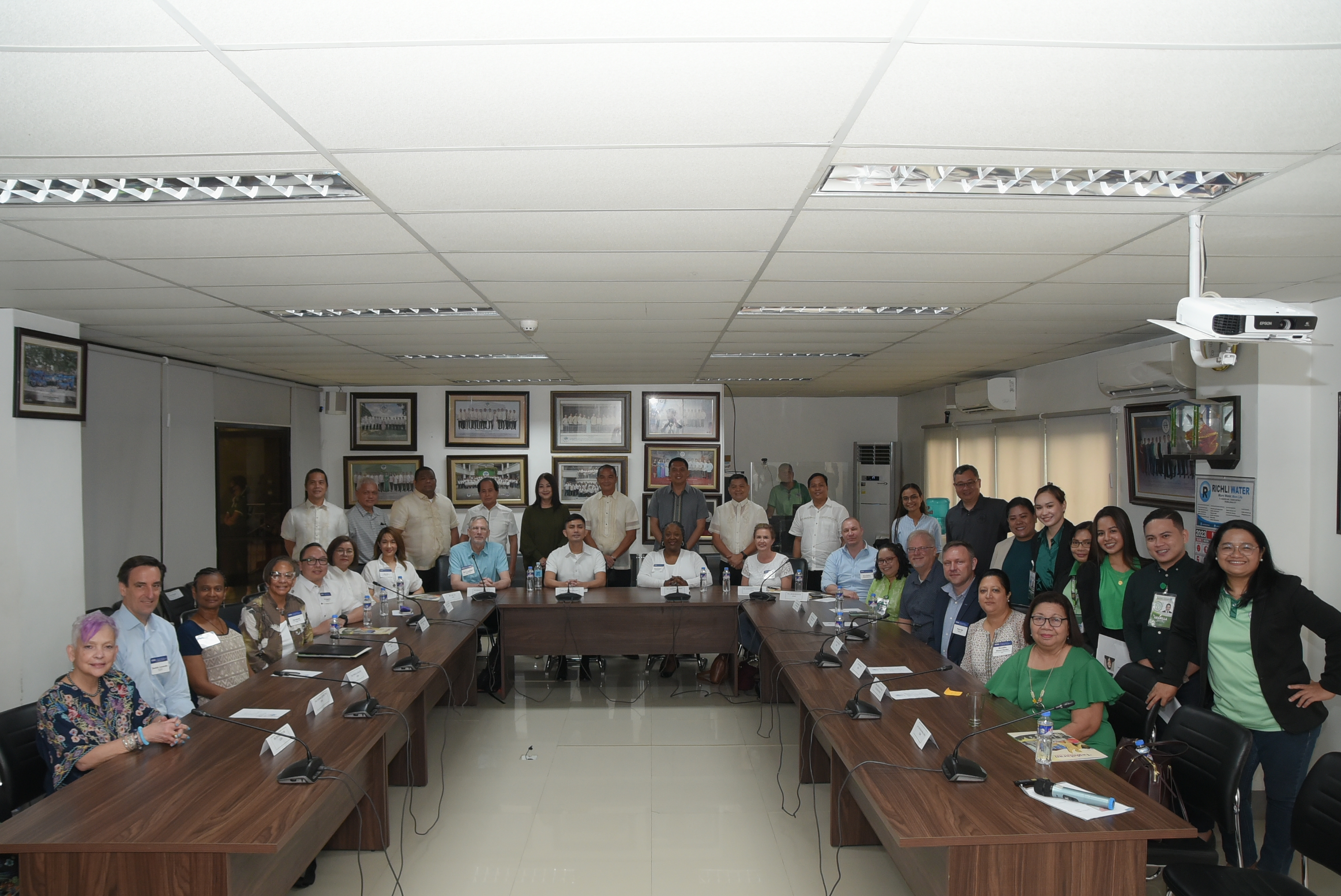 ICMA delegation visits Tagbilaran city hall. Photo credit: A&M Studio
In Tagbilaran, ICMA visited city hall and met with officials from different city offices. The delegation toured the City Disaster Risk Reduction Management Office, where they discussed some of the initiatives to strengthen disaster management and build resilience to climate change. Tagbilaran suffered a devastating 7.2 magnitude earthquake in 2013. With some of the most densely populated cities in the world, and its location along the Pacific "ring of fire," the lessons learned and efforts to implement early warning and response to common threats of typhoons and earthquakes were particularly useful to the international delegation.
Tourism officials also discussed how, thanks to support from USAID SURGE, Tagbilaran has strengthened its tourism industry by developing cultural heritage tours of historic houses, churches, and a localized history museum to attract visitors and tourism revenue to the community. This serves as a great example for cities that want to draw upon their unique cultural heritage to enhance their own tourism industries.
The delegation also attended a meeting of the Tagbilaran's People's Council (TCPC) to observe the findings of a citizen-led monitoring project. Through the USAID CHANGE Project, ICMA is reinforcing the important role of civil society organization (CSO) networks in facilitating and strengthening the participation of CSOs in local governance.  ICMA members highlighted the importance of listening to and securing the active engagement of all citizens to ensure a thriving democracy.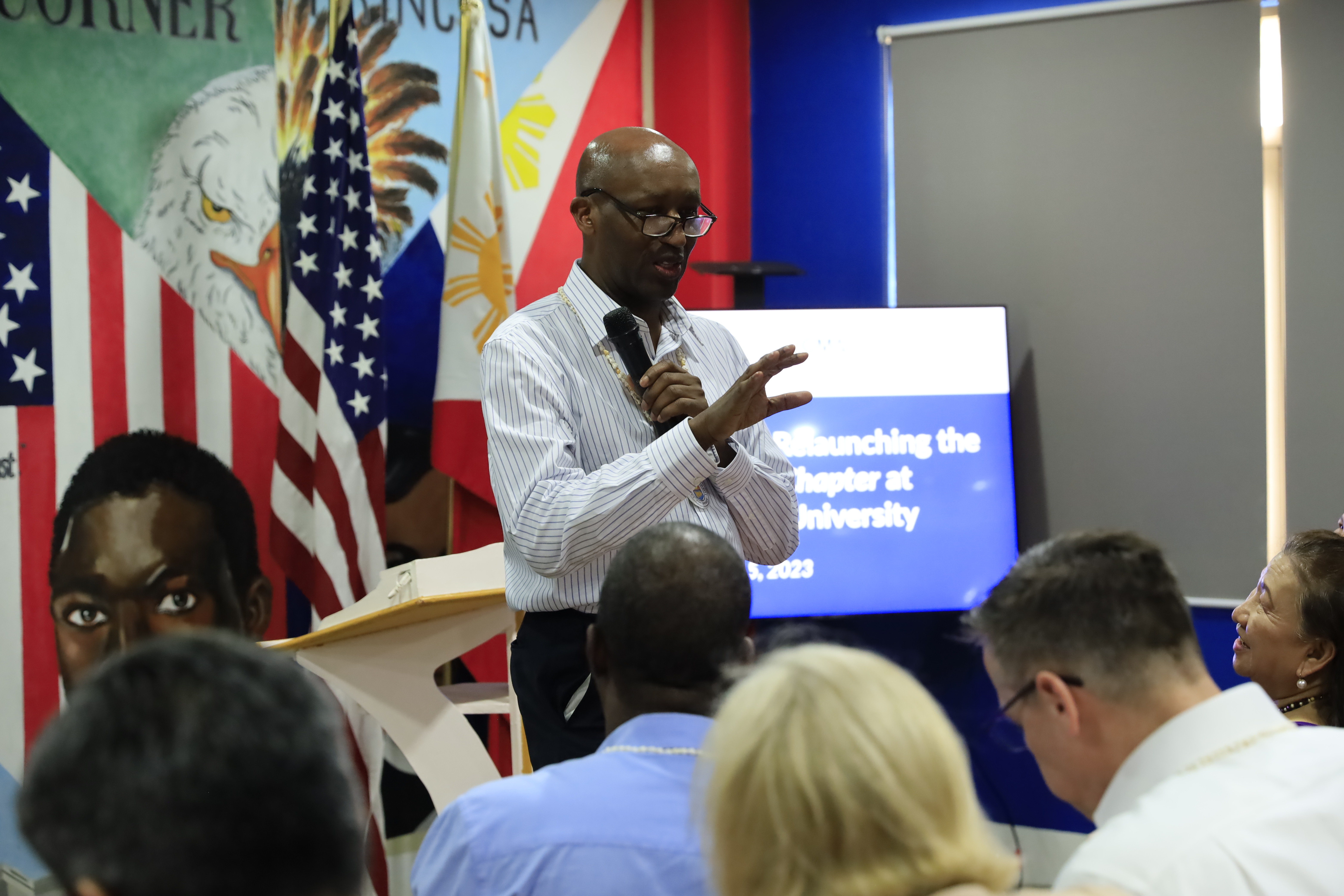 Marc Ott, ICMA CEO/Executive Director, addresses the ICMA student chapter at Palawan State University on the value of local government management and administration. Photo Credit: Infinite Digital Media & Techmart Solutions
Finally, the delegation met with student chapters at Palawan State University and Holy Name University to encourage participation in local government and to engage with future government leaders and professionals in the Philippines. Members of the delegation spoke with students from a variety of disciplines, and Ott offered strong words of encouragement to each of them, noting, "No matter what discipline you are studying, your local government needs your knowledge, skills, and passion. Each and every one of you can make a difference in your community, and I encourage you to seek opportunities to serve in local government."
ICMA is proud to be a leading voice in local government administration around the world. Through its partnership with USAID and collaboration with the people of the Philippines, ICMA strengthens its network of local government administrators, and learns new and innovative approaches to grow economic prosperity, promote resilience, encourage transparent governance and citizen engagement, and address global issues at the local level.
As Betsy Keller, El Paso County chief administrator and International Committee member indicated, "I was inspired by the innovations in good government we witnessed in the Philippines and the desire to continuously enhance and add services to strengthen businesses and economies, provide jobs to marginalized populations, improve the environment and create sustainability, preserve historic assets and culture, promote tourism, and strengthen local government management practices."
To learn more about ICMA's Global Engagement Strategy, visit our website or contact the Global Engagement team members, Isabelle Bully-Omictin, managing director and Jeanette Gass, senior program manager.
New, Reduced Membership Dues
A new, reduced dues rate is available for CAOs/ACAOs, along with additional discounts for those in smaller communities, has been implemented. Learn more and be sure to join or renew today!