Overview
Data-driven decision making doesn't have to be rocket science. Learn how local governments can take the next steps with data - and it's easier than you might think!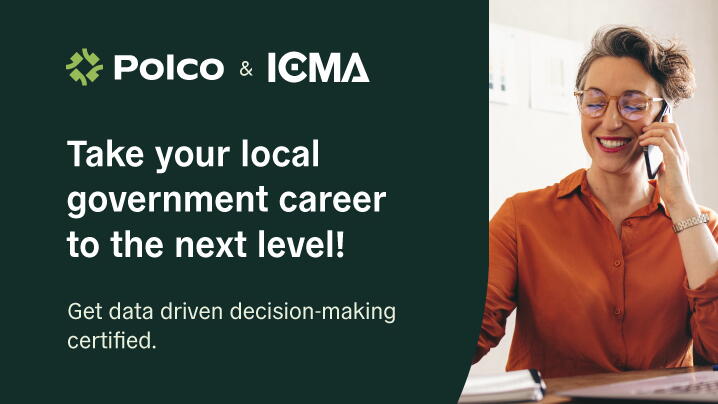 Local government professionals agree that evidence-based decision making is the best practice. Even so, the majority of cities don't use data for their strategic planning processes. The truth is the overwhelming mountain of "big data" often paralyzes action. 
So how can leaders harness the right community data in the most practical ways for the best return? In this certificate program, Polco data science experts will teach the best ways to incorporate community information into the planning process, while leaders will use the learnings from these sessions to create a capstone project. Participants can choose an internal project (organizational climate) or external project (strategic planning, public engagement plan, or apply for another) to be the focus of their capstone work. Leaders will learn how to capture the right data and ensure community and/or staff feedback is truly representative. 
What Is Data-Driven Decision Making?
Instead of using simple intuition, assumptions, and/or anecdotes, data-driven decision making (DDDM) gives sound credence to new policies and initiatives. DDDM brings together appropriate data sources, analysis, and metrics to help inform choices, reasoning, and actions.
 
Advantages of Data-Driven Decision Making
Data-driven decision making increases inclusivity, defensibility, and the opportunity for performance measurement. Most importantly, DDDM increases the likelihood that government leaders and staff decisions produce the desired outcomes. 
Learning Objectives
Learn the best practices to gather data and how to formulate questions data can help answer.
Understand how to use data to make better decisions for strategic planning, budgeting, and performance measurement.
Understand how to design a sustainable data-driven performance measurement system that can help track overall performance in a meaningful way.
Discover promising practices in transparency and accountability to build government trust at the local level.
Schedule
April 20, 2023
Module 1: Strengthening Resident Confidence in Local Decision Making
May 4, 2023
Module 2: Setting the Stage for Data-Informed Decision Making
May 18, 2023
Module 3: The Information Age and Necessity of Data
June 1, 2023
Module 4: Use of Data in Government Decision Making
June 15, 2023
Module 5: Performance Measurement
June 29, 2023
Module 6: Capstone Project
August
August Capstone Presentations

ICMA 2023 Annual Conference - Final capstone presentation and graduation
(Attendance at ICMA's Annual Conference is encouraged but not mandatory.)
---
Polco Speakers:
Nick Mastronardi, Ph.D., CEO
​
Nick is a public servant, academic, and CEO of Polco. Prior to founding Polco, Nick served as a senior economist at Amazon, in the same role on the President's Council of Economic Advisers in the White House, and 10 years as an active-duty Air Force officer including time on faculty at the Air Force Academy. Nick holds a Ph.D. in economics from the University of Texas at Austin, and serves in the Air Force Reserves.
Michelle Kobayashi, Senior Vice President of Innovation
​
Michelle Kobayashi is a thought leader in the field of survey research and evaluation, and has written numerous books and articles on the subject. As a community survey expert with experience working in local government, she travels the country to speak professionally and lead workshops on resident surveys, performance measurement, strategic planning, and more. Kobayashi has led the innovation efforts of National Research Center for nearly 30 years, and keeps Polco / NRC on the cutting edge of the survey industry.
Tobin McKearin, Vice President of Data Science