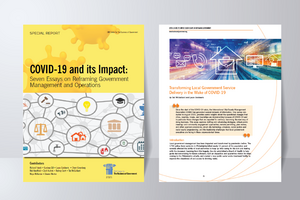 Governments today are facing serious, seemingly intractable public management issues in the aftermath of COVID-19 that go to the core of effective governance and leadership, testing the very form, structure, and capacity required to meet these problems head-on. Leaders have found it necessary to go beyond established parameters and institutional structures, working across organizational boundaries in pursuit of multilayered, networked approaches that better respond to system and societal shocks brought by the pandemic.
In fall 2020, the IBM Center for The Business of Government initiated a Challenge Grant competition soliciting essays from academics and practitioners describing how government can best transform the way it works, operates, and delivers services to the public in light of the impact of the COVID-19 pandemic. Edited by Center Leadership Fellow Michael J. Keegan, COVID-19 and its Impact: Seven Essays on Reframing Government Management, features selected commentary on sustaining transformation and increasing resilience. ICMA's Tad McGalliard, director of research and development, and Laura Goddeeris, director of survey research, are among the contributing authors. Their essay draws upon ICMA survey research in exploring which pandemic-driven innovations and operational changes might prevail in a post-pandemic environment.
Expert Insight
"The key to transformation is not to lose momentum and fall back on the old ways, when potentially innovative practices and programs are still evolving from the crisis." -- Tad McGalliard, ICMA director of research and development
Key takeaways from this report include:
The pandemic accelerated changes in the way government works and delivers services that were already underway. This change has unlocked opportunities to build a new civic future.
Local leaders will need to address numerous policy issues raised by these changes in work environments and service delivery. Fostering a more flexible and outcome-driven culture will contribute to a new model of success for government.
Expectations of individuals and communities will focus on access to continued online services even after conditions merit reopening of government facilities. Building a hybrid operating model to engage with citizens that adopts consistent standards for customer experience will be necessary for successful government performance.
Cities and counties across the country are leading the way in understanding how to deliver COVID and other services to communities in need, who suffer disproportionately during the pandemic.
Governments must anticipate risks and develop data-driven programs to mitigate risks, respond to events, and be resilient in the aftermath of inevitable threats—physical and cyber—that face agencies at all levels.
Unprecedented demand on public procurement in response to the COVID-19 pandemic reveal significant vulnerabilities in government supply chains and procurement processes. The pandemic offers the opportunity to consider how governments can make contracting more resilient going forward.
Essays featured in this compendium:
Five Ways COVID-19 Changes How Local Governments Do Business, by Richard Feiock
The Future of Work in Local Governments Beyond COVID-19, by Sherri Greenberg
Transforming Local Government Service Delivery in the Wake of COVID-19, by Tad McGalliard and Laura Goddeeris
Community Driven Government—Reimagining Systems in a Pandemic, by Maya McKenzie and Gurdeep Gill
COVID-19 and the Resilience Imperative in Public Procurement: Building Back Better, by Zach Huitink
Achieving Supply Chain Immunity: Planning, Preparation, and Coordination in National Emergency Response, by Rob Handfield
Trust and Resilience: How Public Service Principles Encouraged Compliance with COVID-19 Public Health Guidelines in New Zealand, by Rodney Scott and Eleanor Merton
You may be interested in related resources from ICMA survey research: