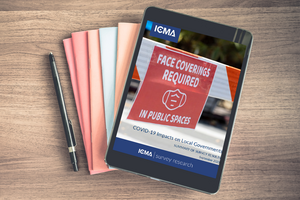 ICMA conducted this survey in July 2020 to track how local governments have responded to budget, operations, and other challenges posed by COVID-19. The survey was distributed by email to 3,289 ICMA member chief administrative officers and 616 responded. Responses include local governments with populations ranging from less than 2,500 to over one million. 
Key findings highlight:
Status of CARES Act funding
Personnel actions taken to mitigate budget shortfalls
Revenue projections for first budgets since the onset of the pandemic
Impacts on capital improvement investments
Racial equity intersection with the COVID crisis
Outlook of operational changes accelerated by the pandemic.