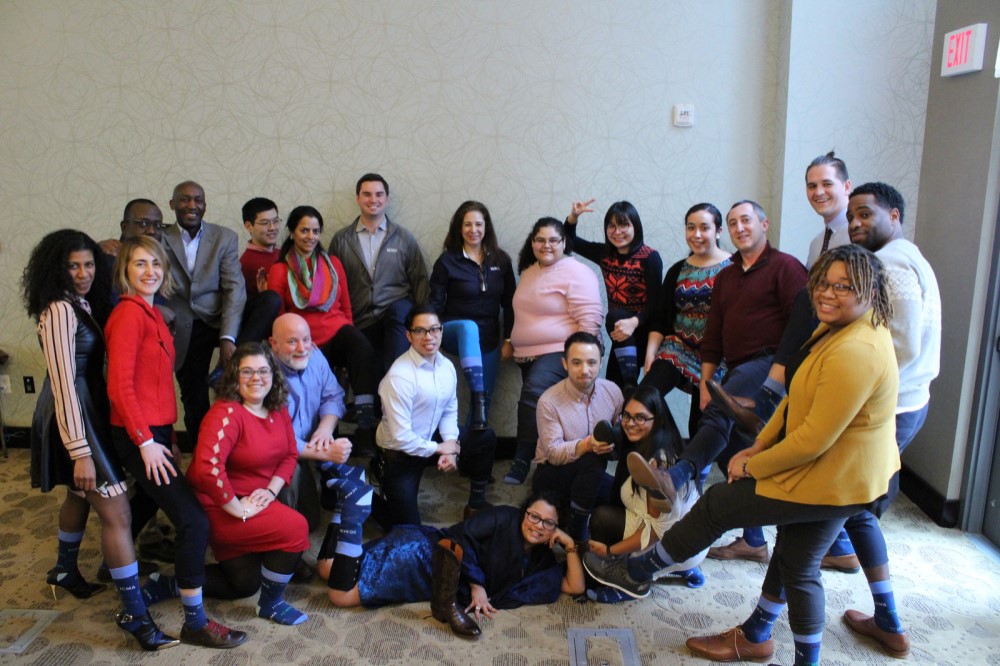 by Rebecca DeSantis, content and engagement coordinator, ICMA
It's the end of 2018—a big year of projects, conferences, and programs that propelled ICMA forward in its mission to advance professional local government management. Before we jump right into the projects of 2019, ICMA staff teams reflect back on 2018 and share the meaningful moments that they will remember as staff members head into the new year.
2018 ICMA Annual Conference
A highlight this year was the opportunity to serve and connect with so many ICMA members during the Annual Conference. In 2018, ICMA expanded the First Time Administrators program, increased scholarship opportunities for Members in Transition, and enhanced recognition of award recipients. The Member Benefits & Services team also found value in the many relationship building interactions with members while in Baltimore.
The Membership Marketing team enjoyed creating a new array of logo items for members to enjoy. This year, they introduced socks, tumblers, eco-friendly straws, power banks, and lanyards. The Membership team looks forward to sharing these items with more members through engaging contests and giveaways in 2019!
Celebrating Women in the Profession
In 2018, the Outreach Team launched a content series to celebrate the triumphs and contributions of women chief administrative officers (CAOs) who are progressively earning the respect of their peers and breaking down many of the barriers they contend with in today's local government profession.
The series launched with a PM magazine article titled, It Isn't Easy, But We Do It Anyway. This article celebrated five women in the profession who have not only earned the respect and recognition of their peers by achieving the role of CAO but also have been selected as their community's first female manager. These groundbreakers shared what motivated their achievements, the impacts of mentorship, and shared stories of perseverance despite any barriers they might have experienced.
Outreach continued with the Local Gov Life podcast series, United Front, and further told the story of two women highlighted in PM, but also introduced other female CAOs who are progressively earning the respect of their peers.
To conclude the series, attendees of the 2018 ICMA Annual Conference had the opportunity to join the conversation and meet the women highlighted in the PM article. It was a great way to help local government professionals recognize and understand the backgrounds, accomplishments, and obstacles that women face on the way to achieving their professional goals.
Puerto Rico Project
The Puerto Rico Project was a highlight for the Global Programs Management (GPM) team because it mobilized ICMA members and staff to work on a project that was successful in achieving its objectives of conducting a governance and service delivery survey of all 78 municipalities in Puerto Rico, but which more importantly raised awareness among all who participated of the issues faced by local governments in Puerto Rico.
It highlighted the need for ICMA to play a greater role in Puerto Rico's recovery and to create a sustainable strategy to engage more effectively with Puerto Rican local government officials and staff. The GPM team says the impact was felt at an individual and organizational level. Staff who had never interacted with members got to do so and learn from them. Overall, it was a great professional development experience.
The Research Team joins the GPM team in choosing Puerto Rico's recovery project as the highlight of the year. For them, watching staff from the research team collaborate with colleagues from other ICMA teams, as well as pro-bono ICMA members, experts from our Strategic Partner friends IBTS, students and faculty from the University of Puerto Rico, and others was a case study in cooperation.
Kosovo Award
On the business development side, ICMA scored a big win in 2018 with the local governance award in Kosovo, which ICMA actually won twice! When the victory celebration was cut short earlier this year by a protest from a competing firm, the exuberating jubilation of a multi-million dollar project turned to anxiety. When the protest closed and ICMA rebid and won again, the teams tossed a well-deserved party.
Cybersecurity Research
The Research and Development Team's director also celebrated a personal achievement. He learned late one afternoon that the New York Times was willing to publish an op-ed on ICMA's cybersecurity research, which required a cross team of ICMA staff and consultants to finalize a version to send to the paper. Once published, the op-ed seemed to generate a flow of interviews and additional information requests from papers, organizations, and individuals around the country.
ICMA University Online Classroom
In May, ICMA University opened its new high-tech online classroom for webinars, online certificate programs, and e-courses. This state-of-the-art upgrade allows online learners to register with ease, view programs across multiple platforms, and manage and review their own transcripts in a digital dashboard.
New Strategic Partners
2018 was an exciting year for ICMA's Corporate & Donor Relations team and the Strategic Partners Program. ICMA Corporate & Donor Relations was established in the spring to ensuring corporate partner satisfaction and delivering private sector and innovative solutions to ICMA members. The team hit the ground running by providing daily service to partners, coordinating logistics for the Baltimore conference and expanding the partner portfolio to an all-time high of 64 partners. New partners include ZenCity, BlueDag, PrimeGov, InterDev, EverBridge, Verizon Connect and Ring.
The team will be embarking on reconceptualizing the partner and event sponsorship programs, and an ICMA cross-team task force has been established and member feedback will be requested in the new year. Check out the Strategic Partner directory and highlights to learn more about the best-in-class products and services provided by ICMA partners.
MuniWorld2018 Conference
Every three years, the ICMA Executive Board holds a joint meeting with ICMA's International Committee in conjunction with the International Regional Conference. During 2018, the board had the privilege of traveling to Israel to attend the MuniWorld2018 Conference, hosted by ICMA's Israeli affiliate – the Federation of Local Authorities in Israel.
Through the generosity of the hosts, ICMA board members, their partners, and ICMA staff were able to attend sessions on smart cities and cybersecurity, to go on site visits and learning exchanges in municipalities throughout Israel, and to meet with local leaders from both the city of Tel Aviv and the neighboring municipality of Holon.
This opportunity reinforced our understanding that the challenges faced by U.S. communities are no different than those faced by communities across the globe, and we have much to learn from one another by sharing our experiences.
Watch the "I Am ICMA" video for more highlights and proud moments from this year.