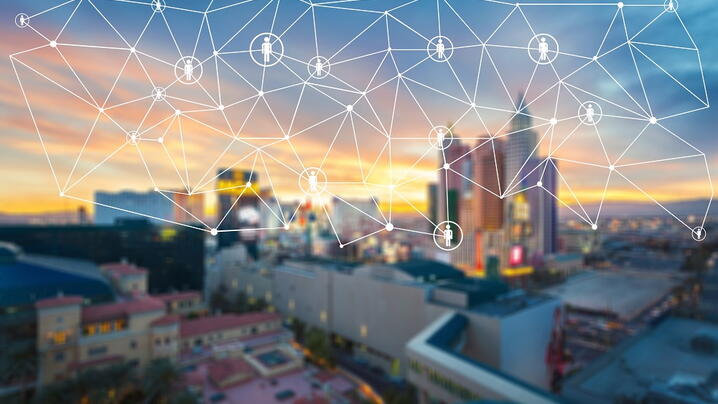 As local government managers, we seem to be at our "best" when we are faced with disasters that challenge us to think and work differently.  My question is, why are we so good at being creative under stress and can we keep that mentality in the weeks, months, and years following the challenge?  And, can we encourage local governments to develop a sense of innovation in ways that do not cost a lot of money and take advantage of resources at hand?
With those questions in mind,  I recently presented a four-session course on "Engagement"  for the ICMA Mid-Career Managers Institute, focused on creating a higher performing, innovative local government through engagement of the community and the workplace. The class provided great insight into the work of nine local government managers who participated in the MCMI program who were able to put some of the principles of the class to work in their response to COVID-19.  
While there are many ways to be innovative, there are three engagement-related approaches that can help you, during normal times or times of crisis, to become higher performing and tap into the many talents that exist in your own organization and community. 
1. Focus on Your Mission/Vision
With a focus on its vision "To coordinate and deliver essential services and ensure a sustainable future,"  the city of River Falls, Wisconsin, realized that its organizational structure could best address the needs of its community under COVID-19 if reorganized into a more nimble "recovery team" structure with a focus on that vision. While the city's initial response included typical emergency response-type principles, it quickly became clear that the response and recovery from this pandemic would be like nothing the city had dealt with before, and its typical structure and response roles would not suffice nor be sustainable.
The executive team reorganized the city's strategic priorities and initiatives and aligned all departments into a recovery team with five new core functions (providing quality public safety services; supporting the local economy; connecting the community to resources; maintaining infrastructure and providing safe public utilities; and ensuring organizational resilience), which would become the focus areas for the assignment of staff, resources, and efforts.  The recovery team created a nimble way for the city staff to remain focused on its important vision of service delivery in a way that best served its community.
For more information on how to establish a recovery team for your organization, read Reopening Our Communities: Establishing a Recovery Team.
2. Engage Your Workforce
The county administration of Kershaw County, South Carolina, challenged the workforce to think creatively and opportunistically to address the problems created by the COVID-19  pandemic. As a result of this workforce engagement, the county became a leader in alternative staffing plans/schedules,  online services, and effective partnerships with other organizations to address community needs, including serving as the distributor of all personal protective equipment to the various municipalities, hospitals, and nursing homes in the county; development of safe strategies for the County Detention Center and for the homeless population; and developing a grant program for small businesses and a nonprofit stabilization fund to address immediate financial needs of these important community assets. Communications—both internal and external—were a priority and featured a strong social media program, including the #KCStrong promotion of positive acts and people and daily administrator briefing videos.
The Kershaw County organization learned a tremendous amount about itself during the pandemic, including the fact that it could be more efficient, more aggressive in its approach to technology advancements, that outreach was even more important than originally thought, and that modern ways had to be developed to work with the public. It was also an opportunity to begin to look forward to what the county would look like in the future. The county developed a reopening plan to reconnect the government back to its community, reset the organization and its culture to the public, and refresh what the organization looks like (emphasizing organizational chart, technology, and customer service). Finally, it showed how it prepared to re-engage as needed (staying vigilant and prepared for what the future brings).  The county's workforce contributed to this new approach and will be consulted throughout planned after-action reviews for modifications going forward.
For more information on engaging your workplace, read Three Critical Elements for Making a Great Workplace and HPO and Salt Crisis: One City's Story.
3. Engage Your Community
In the midst of COVID-19, the city of Amarillo, Texas, was faced with a number of complicated challenges, including the need for essential personnel childcare, a need for social distancing at homeless shelters, an increase in pets that were being surrendered by their owners, and food needs by residents. Capitalizing on good community relationships, the city quickly went to work using a strong engagement strategy to form public/private partnerships to address these challenges. A partnership with a local church offered childcare for all essential city staff, as well as healthcare workers. A strong working relationship with various housing partners, supplemented by community donations, allowed the relocation of 60 homeless individuals from the Salvation Army shelter to alternate facilities, complete with donated furniture and living essentials, all disinfected by a volunteer local company.  A new "pet pantry" developed through a partnership with a local pet food manufacturer provided bags of food to residents in need so they could feed their pets at home. Community business leaders partnered with the city to coordinate a pop-up food pantry, providing more than 2,000 families with food packs containing eggs, cheese, milk, potatoes, and ground beef. 
For more information on engaging your community and forging partnerships, read How to Encourage Community Building During the COVID19 Crisis and Creating Sustainable Citizen Engagement.
These stories should encourage you that the work of innovation does not need to be difficult or costly but does require time and creativity with the resources you have. They should also help you to see that good management and leadership are critical and that we should always be reinventing ourselves to meet the challenges of our communities and our world.   
Challenging times are often the opportunity you need to innovate and engage. In good times and in bad, make time to be creative. And be sure to make those creative efforts "stick" as a part of your work going forward and not forget them when the present crisis passes. Your community and your workplace will thank you!
New, Reduced Membership Dues
A new, reduced dues rate is available for CAOs/ACAOs, along with additional discounts for those in smaller communities, has been implemented. Learn more and be sure to join or renew today!