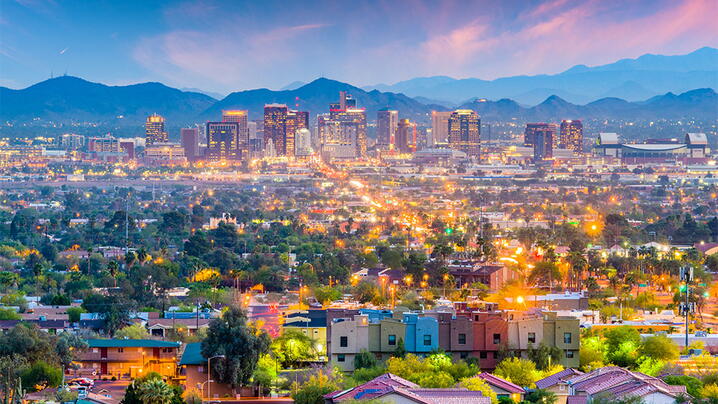 by Thomas Prior, Marvin Andrews Fellow, Alliance for Innovation
Has your staff attempted benchmarking in the past but found themselves comparing apples to oranges in an ultimately fruitless effort? While you're not alone, the Valley Benchmark Cities has created a collaborative network of 11 cities in the Phoenix metro area whose purpose is improving local government performance in Arizona.
Since the group's formation in 2011, the cities have worked collaboratively to identify and share resources, best practices, and common information with the goal of improving complex and diverse citywide operations. The 11 participating cities are Avondale, Chandler, Gilbert, Glendale, Goodyear, Mesa, Peoria, Phoenix, Scottsdale, Surprise, and Tempe.
The Valley Benchmark Cities initiative publishes an annual report to share 24 Valley-wide measures with city leadership and the public.
The annual report includes measures in the following service categories:
Demographics
Fire Services
Police Services
Library Services
Parks and Recreation Services
Water, Sewer, and Trash Services
Finance and Administration Services.
The Process
Once a month, representatives from each member city convene to discuss data collection, new and existing service metrics, and general trends from a local and regional perspective. Administrative and operational support is provided to the group through a partnership with Arizona State University's Center for Urban Innovation and the Alliance for Innovation.
During the FY 2017-18 year, the group performed a deep dive into how to incorporate sustainability measures into the annual report. Although deep dives are often championed by one or two representatives, the entire group contributes constructive feedback and direction. During a deep dive, the group looks toward ICMA's Open Access Benchmarking Indicators for inspiration and then expands upon those metrics to fit the needs of the group. Subject matter experts are often invited to provide insights on the usefulness of a measure and its data collection feasibility. Once the measure has been clearly defined and the data have been properly uploaded, the deep dive is presented at an annual meeting to decide whether to incorporate the new measure into the report.
The group is continuously refining and observing trends related to groundwater pumping, effluent reuse, electric vehicle charging stations, and alternative fuel vehicles with the hope of integrating these measures into future trend reports.
Making the Case for More Police Officers
Although the Valley Benchmark Cities' Annual Report is presented as a representation of the VBC group, member municipalities can customize the report to visualize how their city compares to the group. This customization capability allows cities to identify potential areas for improvement and spark a dialogue with department directors on solutions for service improvements.
The city of Goodyear is one city that has used the Valley Benchmark Cities Report to make data-driven decisions. While reviewing the data and examining the report, the police chief noticed Goodyear's officers had the greatest number of "annual calls for service per sworn police officer" in the VBC group. When budget season came around, the chief used this information to justify the need for additional police officers. The city council agreed with the police chief and approved a multiyear plan to increase the city's officer count.
Goodyear's use of the report as a budgetary resource is one example of the Valley Benchmark Cities' utility. The report has been a useful resource for staff, elected officials, and the public to contextualize the performance trends of their municipality.
The immediate and long-term goals of the Valley Benchmark Cities group is to encourage frequent dialogue between neighboring municipalities, provide an interactive and transparent resource for the public, and  ultimately identify and improve services.
Other Links of Note for Performance Management
Open Access Benchmarking. ICMA facilitates no-charge, software-neutral benchmarking. Access 17,000+ data points across a short list of KPIs.
ICMA Open Access Benchmarking: Data and Definitions. 80 key performance indicators (and 54 county-specific indicators) used in ICMA's Open Access Benchmarkinginitiative, a no-fee approach to local government performance comparisons.
A Performance Management E-book for Local Government. ICMA's comprehensive introduction to performance measurement and management for better decision making and improved local government service delivery.
New, Reduced Membership Dues
A new, reduced dues rate is available for CAOs/ACAOs, along with additional discounts for those in smaller communities, has been implemented. Learn more and be sure to join or renew today!