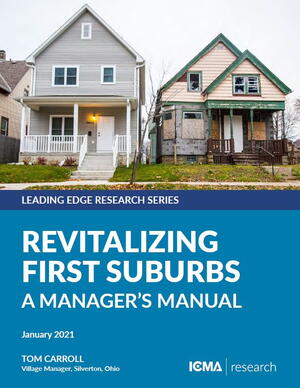 Problems generally associated with the inner city—loss of population, declining commercial activity, increasing poverty, deindustrialization, declining property values, blight, and increased crime—are manifesting with increasing frequency and severity in America's first suburbs. Findings of research in Hamilton County, Ohio, show that a decade after the end of the 2008 Recession, the recovery among Hamilton County's first suburbs has been incredibly uneven. This report introduces the challenges faced by first suburbs, provides tools to assess the state of a community, and offers strategies for local government managers to address these challenges in their own community. 
In this Leading Edge Research report, ICMA Research Fellow Tom Carroll builds a compelling case on the condition of America's first suburbs by examining the Cincinnati, Ohio, region and urges first suburban leaders to take actions to reverse—or at the very least arrest—the spreading decline of first suburbs. 

Expert Insight
Tom Carroll, CM
Village Manager, Silverton, Ohio
"Most city managers have the foundational tools and training to address the challenges of today's first suburbs. What is needed is a new sense of urgency, good government guided by benchmarking, a focus on interventionist actions to correct market failures, a vision and plan to rebuild aging housing, and a commitment to inclusion. These are formidable tasks, yet we have no choice but to try to reverse this trend." 
ICMA Local Government Research Fellowship
This report was supported through ICMA's Local Government Research Fellowship program. ICMA Research Fellows are practitioners and academics that conduct action-oriented research addressing important trends, drivers, and issues facing local governments. Their work advances ICMA's strategic priority to provide thought leadership and resources that support members and other local government stakeholders in creating and sustaining thriving communities throughout the world. Learn more about ICMA's Local Government Research Fellowship. 
Looking for more resources from Tom Carroll? Explore these selected publications: