Overview
Courageous Conversations: Mental Health and Suicide Prevention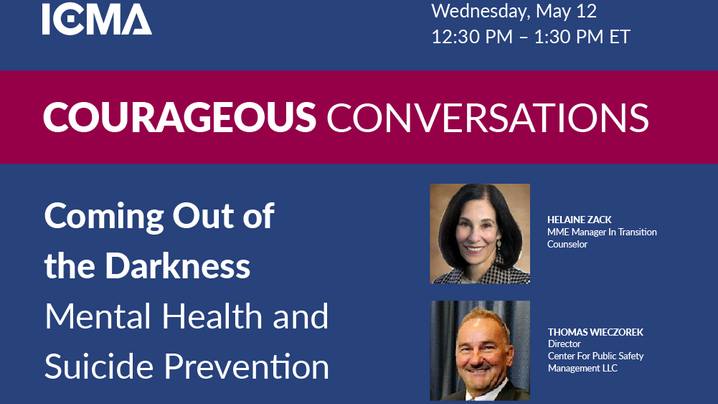 A pandemic, an economic collapse, multiple disasters, mass shootings, and social unrest. Municipal employees face a multitude of challenges that are unlike any encountered in the past. Add to it the uncertainty of what will happen next, and it creates the perfect storm for personal and mental health.
Dealing with depression, anxiety, and suicide. The session will be tailored on things to watch for, how to react, and what to do/not do in dealing with people who are depressed by being quarantined, losing business, home schooling children, etc.
What are the tools that managers can use during this time of crisis?
What is the problem and how might it affect my community?
Are there signs or symptoms we should watch out for?
What about our own health?
Hear from two individuals who deal with challenges of mental health, including suicide prevention. Learn how they became involved and what they recommend going forward.
Speakers
Helaine Zack MME Manager in Transition Counselor
Helaine Zack is a licensed, Master's level Social Worker in the State of Michigan. She has a Bachelor of Arts Degree in Psychology and Master's in Social Work degree from University of Michigan.  Helaine practiced in the field of Employee Assistance Programs for over forty years, taking care of employees with personal problems and coaching organizations how to perform more effectively.
She continues to conduct Critical Incident Stress Debriefing sessions for companies that have  unfortunate, traumatic events.  Previous client companies included many Cities, Schools, a Road Commission, and other non-profit organizations. 
In 2002, Helaine took her social work expertise and advocacy to a different area when she was elected to serve as a County Commissioner. Helaine is completing her 18th and final year as County Commissioner.  Helaine understands and values your roles serving the public and your communities. Also, for several years, Helaine has served as "The Counselor" for the Michigan Manager in Transition program.
Thomas Wieczorek, Director Center for Public Safety Management LLC
Thomas Wieczorek is an expert in fire and emergency medical services operations. He has served as a police officer, fire chief, director of public safety and city manager (Ionia) and is former Executive Director of the Center for Public Safety Excellence (formerly the Commission on Fire Accreditation International, Inc.).
Tom is also an ordained Catholic Priest for the National Catholic Church of North America and has worked frequently with the American Foundation for Suicide Prevention after the death of his spouse on May 21, 2016.
He is the past-president of the Michigan Local Government Manager's Association; served as the vice-chairperson of the Commission on Fire Officer Designation; and served as vice chairperson of the Commission on Fire Accreditation International. He was a former board member on the International Accreditation Service (IAS) Board of Directors, a wholly owned subsidy of the International Code Council.
He represents ICMA on the Emergency Management Assistance Compact (EMAC) Board of Directors and worked with ICMA and the National League of Cities through the Department of Homeland Security to create and deliver a program on emergency management for local officials titled, "Crisis Leadership for Local Government Officials."
He represents ICMA on the NFPA 1710 and 1730 Standards Committees and is a board member on the "Big 7" Governmental Policy Board, representing ICMA. He continues to serve on several teams within ICMA dealing with law enforcement, COVID-19 response, and dealing with systematic racism.
He received the Mark E. Keane "Award for Excellence" in 2000 from the ICMA, the Association's highest award and was honored as City Manager of the Year (1999) and Person of the Year (2003) by the Rural Water Association of Michigan, and distinguished service by the Michigan Municipal League in 2005.
---
After registering, you will receive a confirmation email containing information about joining the meeting. This event will be recorded. View List of Past Recordings
---
Visit ICMA's topic page on Mental Health for more resources.
Event Materials: