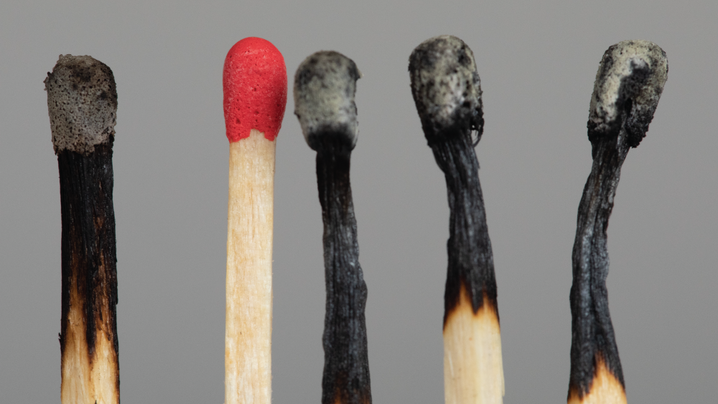 Heavy workload. An increase in job pressures. Conflicting expectations. Each of these demands can easily be the cause of workplace burnout. And now the World Health Organization (WHO) has identified workplace burnout as an "occupational phenomenon" that may warrant medical attention. While not classified as a disease or a medical condition, workplace burnout is nonetheless a well-defined syndrome, according to WHO.
"Burnout is a syndrome conceptualized as resulting from chronic workplace stress that has not been successfully managed," according to the organization.
Burnout has three characteristics, according to WHO: 
Feelings of energy depletion or exhaustion.
Increased mental distance from one's job, or feelings of negativism or cynicism related to one's job.
Reduced professional efficacy.
If you think you might be experiencing one or more of these burnout characteristics, don't ignore it; it can lead to greater physical and mental issues.
To get back to thriving in the workplace, try these steps to combat burnout:
Avoid Making Too Many Commitments
When Ann Marie Townshend, city manager of Lewes, Delaware, asked her local government peers about the hardest part of balancing work and non-work priorities, several colleagues responded that the hardest part is saying no. Often, when we set priorities, it means saying no to the things that aren't in this category.
Eric Norenberg, city manager of Milford, Delaware, says "while saying no is the hardest part of achieving balance, it gets easier over time." Both Norenberg and Sharon Lynn, city manager of Rehoboth Beach, Delaware, note that saying no is particularly challenging early on in a job.
In addition to saying no, we need to communicate to our elected officials that if new projects and requests need to be prioritized, others may need to be deferred. An annual retreat to prioritize projects, plus periodic updates, can help with this, but managers also need to speak up when a request cannot be fulfilled.
Choose Your Priorities Wisely
In the PM magazine article, Too Many Priorities for Your Own Good?, author and presenter on work-life balance Jeff Davidson recommends that you write down everything that's important to you in life, personally and professionally. Caution: It's hard to separate personal and professional lives when it comes to priorities, because your life is a system in which what you do in one realm affects what happens in the other. Still, write down everything.
Several days later, reexamine the list and cross out things that don't ring true anymore, and add things if you forgot them earlier. Another day, look at the list again and see if any items can be grouped together.
Reword and re-label priorities. If you're uncertain about an item, consider dropping it. Go through the same process the next day as well.
Next, prepare a draft of your priority list. Although the list might change over time, stay with it for now. Whether the list has four, seven, or nine items, maintain the list. If the list has 18 or 24 items, pare it down further to avoid overwhelming yourself.
As you examine your list, become a consultant to yourself. When faced with a problem, President Richard Nixon would become a consultant to himself, referring to himself in the third person, which allowed him a degree of objectivity that normally can't be reached by facing an issue head-on.
Set the Right Tone for What Constitutes a Workday
Johanna N. Leonard, AICP, community development director of Evanston, Illinois, reminds managers and staff that we need to stick to working hours for the workday and determine when it's appropriate to extend that day beyond the set time. Additionally, people often boast how they "worked nonstop" or "worked through lunch." Lunch can be a good time to take a break or catch up on non-work tasks. Reminding workers to take that lunch and leading by example are important in setting a tone. It's important that the culture not imply that working late or through lunch defines a hard worker.
Build and Maintain Personal and Professional Support Networks
Support networks made up of family, friends, and professional associates can reinforce other stress-management strategies. The ICMA publication, The Effective Local Government Manager, recommends:
Having close confidants who can help you assess a stressful situation and design a control strategy to deal with the source, who can provide honest and trusted advice as well as encourage and perhaps participate with the manager in an exercise or health maintenance program.
A support network of individuals who understand at least part of the pressures you face and who have your interests at heart.
Trusted department heads or other work associates – especially those whose mutual interests and personalities bind you in a friendship extending beyond occupational ties.
Someone who offers unconditional support, a sympathetic ear, and ideally, an unshakable emotional foundation.
Colleagues who hold similar positions in other communities. They can offer camaraderie at professional association events and expert advice on difficult or sensitive issues.
Personal friends who have no occupational ties can offer diversion, relief from daily pressures, and an outsider's view of troublesome matters.
Stop Owning Other People's Stuff 
How often do you hear yourself saying, "Never mind, I'll do it myself." Probably more often than you'd like, and this habit takes up your precious minutes in no time. The solution, says author Jackie Gaines, is to hold others accountable for their responsibilities. This includes your children, your spouse, and your colleagues. Let "never mind..." be the exception instead of the rule.
Register for the ICMA Annual Conference
Join us September 17-21 in Columbus/Franklin County, Ohio for the 2022 ICMA Annual Conference.
JOIN ICMA TODAY!
ICMA provides the tools, resources and connections to help you become part of the international network of 13,000+ local government management professionals.