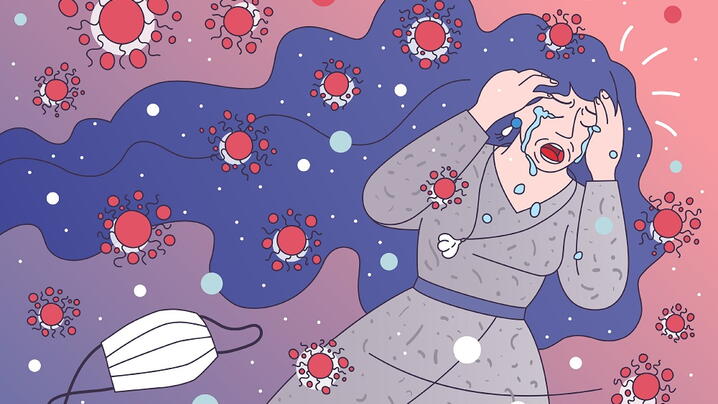 Can you believe it has been four months since the start of this COVID-19 madness? In the blink of an eye, we transitioned from going into the office and fighting with bumper-to-bumper traffic daily to working from home and having to balance both our job and family responsibilities to the extreme. It feels inevitable that this would take a toll on our overall health and wellbeing.
Personally, I'm exhausted. My mornings and evenings now consist of driving my two-year-old daughter an additional 40 minutes round-trip to not only ensure I have daycare provided for her in a safe place, but also so my husband and I can continue to work without much disruption to our demanding jobs. Knowing the chances of exposing my child to COVID-19 was certainly one of the hardest and most stressful decisions I've ever had to make, and while I continue to have feelings of guilt, it's simply a choice I had to make to benefit my family as a whole—and I know I'm not alone in this.
While I don't have to combine my work and home life under one roof day in and day out, I know that many of my colleagues and millions of Americans are facing these struggles and then some. As noted in a recent NBC News column,
"Many Americans are experiencing trauma from the widespread pandemic, grief over losses (be they life, job security, relationships or former ways of living), legitimate fears of getting sick, and the absence of community and caregivers. In the background, all lack many of the typical outlets for coping with such stressors, including gym workouts, vacations, office talk, and outings with friends—because, of course, exercise, regular sleep, healthy eating, social contact, and a routine can help mitigate feeling depressed."
During phase one of the pandemic, ICMA shared content and perspectives on managing stress and addressing mental health in the workplace. Now, it's a topic that cannot be ignored for both yourself and your employees, so here are some approaches you can take:
If you have an employee assistance program (EAP), promote it to your employees.
In a recent ICMA blog post written by Leisha DeHart-Davis, she recommends EAPs as a fairly low-cost option for providing services that support the emotional health of employees. While EAPs can be internally operated, many at the local government level are contracted out. Research suggests that employees tend to be only vaguely familiar with their employer's programs and, as such, EAPs tend to be underutilized. Now is a good time to let employees know what your EAP offers and encourage them to use it.
Intentionally involve others.
Nicole Lance, CEO of Lance Strategies, managing partner of EXB Team, emphasizes that when you're managing uncertainty, to not go it alone. Fear and uncertainty often make us retract like turtles pulling into their own shells. This cuts you off from valuable support and information networks and increases feelings of isolation. If you are uncertain about a way forward, challenge yourself to get as many data points of input from other people as possible. Consider it all research for making your best decision. Lance also assign many of her coaching clients the "ask for help challenge" where, for an entire week, they must find one thing a day to ask for help with. The exercise teaches two valuable lessons. First, that asking for help is okay and actually a good thing. Second, asking for help bolsters our capacity. There is much more support available than we often allow ourselves to comprehend, let alone leverage.
Normalize anger.
In a recent PM magazine article, a retired city manager expressed that anger is not a "bad" emotion—we might not have survived as a species without it—and it can certainly be an appropriate response to injustice. It may also lead to more favorable outcomes in business negotiations, as well as an increased motivation to change what's wrong with your life and with the world.
Adjust accordingly.
The same area of our brain that is activated in response to physical pain is activated during times of exceptional stress or high levels of uncertainty. Nicole Lance again mentions, first, understand this may be negatively impacting how you or those around you are reacting to the situation. Second, adjust accordingly! Give yourself some extra rest and be a little more cautious with your energy and what you're tackling each day.
Set the right tone for what constitutes a workday.
Johanna N. Leonard, AICP, community development director of Evanston, Illinois, reminds managers and staff that we need to stick to working hours for the workday and determine when it's appropriate to extend that day beyond the set time. Additionally, people often boast how they "worked nonstop" or "worked through lunch." Lunch can be a good time to take a break or catch up on non-work tasks. Reminding workers to take their lunch hour and leading by example are important in setting a tone. It's important that the culture not imply that working late or through lunch defines a hard worker.
Additional Mental Health and Coping Resources:
From the Michigan Managers Association Virtual Summer Workshop, a session on Mental Health and Suicide Prevention: Coming out of the Darkness. Watch the video here. Download the presentation here.
Michigan Municipal Executives: Leading in Stressful Times
ICMA Community Conversations:
ICMA Member Center Resources (icma.org/membership)
For all individuals seeking support during the COVID-19 global pandemic, Cigna offers a toll-free number (855.287.8400) to connect to a qualified representative. Assistance is available 24/7, for as long as necessary. The service is open to anyone in the United States, free of charge, to help people manage their stress and anxiety so they can continue to address their everyday needs. Callers may also receive referrals to community resources to help them with specific concerns, including financial and legal matters.
New, Reduced Membership Dues
A new, reduced dues rate is available for CAOs/ACAOs, along with additional discounts for those in smaller communities, has been implemented. Learn more and be sure to join or renew today!