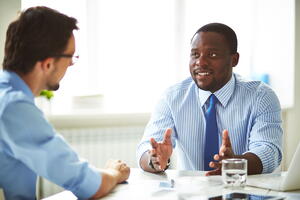 ICMA Executive Board members provide governance to the association and are responsible for selecting and supervising the association's executive director, providing fiduciary oversight, representing the association, and adopting policies to advance ICMA's mission and vision, thereby exercising a critical leadership role for the local government management profession.
The ICMA Executive Board is a working board that requires active participation and a significant commitment of time and effort from each member throughout the three-year term. Board members make themselves accessible to the executive director and the ICMA leadership team. They maintain a considerable amount of communication with the regional directors, certain ICMA programmatic staff, and the membership. Board members are provided with a sizable amount of reading materials in advance of meetings and come prepared to engage in discussion, offer guidance, or make decisions.
ICMA encourages individuals interested in pursuing this leadership opportunity to connect with their regional director or one of their Regional Vice Presidents to understand more about the commitment and the board service experience. Use the State Leadership / Liaison Directory. International candidates, contact ICMA staff at icmanominations@icma.org.
To view the Expectations of Executive Board Service, click the Download button on this page.
---
"There is sometimes a misconception that the demands of serving on the ICMA Executive Board – and the associated travel – can interfere with the work we do in our communities.  While service to the board is hard work, balance can be achieved.  Much of the work happens remotely and given the advances made during the pandemic, board members have new ways to connect and collaborate.  I know that you get out of board service what you put into it. The work is impactful and can be done without sacrificing the work we each do in our communities." - Troy Brown, ICMA President and former Regional Vice President, West Coast Region