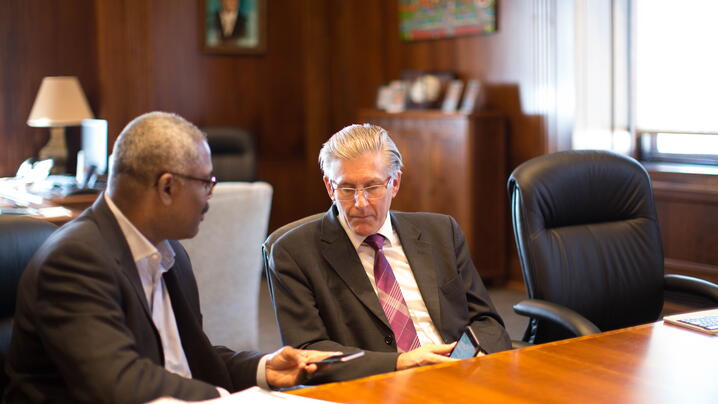 In a recent ICMA Coaching Program webinar, the topic of effective council-staff relationships was discussed by three ICMA members who have extensive experience working with elected officials.  These relationships are important in good times as they contribute to effective organizational performance and the delivery of quality public facilities and services. In challenging times, like now, they are even more important to a manager and his/her community's success!    
It's All About Relationships
ICMA Senior Advisor Kevin Duggan focused on the critical importance of effective communication/interpersonal skills to a successful relationship. Among the keys identified to establishing and maintaining a successful relationship were:
While managers and staff are often very cognizant of the need to develop and maintain technical skills, improving interpersonal and communication skills are likely to be even greater determiners of success in working with elected officials.
While it is not uncommon to find yourself at odds with one or more elected officials, try to always keep the disagreement on a professional, not personal, level. Avoid the appearance that you are personally unhappy with governing board members.
Develop strategies to help elected officials understand and appreciate the different roles and perspectives that staff and elected officials bring to the governing process.  Highlight the importance of and support the policy making process while explaining how elected officials benefit from a well-functioning council-manager form of government.
Engage in a strategic discussion with elected officials regarding those ways that elected officials can support staff in their role and how staff can help elected officials be successful.
Never forget that all successful relationships are based on TRUST.  Elected officials must trust in the manager's:  1) competency; 2) honesty; 3) and commitment (to the community and the council).
Use candidate and newly elected official orientations to not only create a base of knowledge, but also to demonstrate a commitment to an effective relationship with governing board members.
When having to work with "difficult" elected officials, carefully consider why they are viewed as challenging individuals and thoughtfully develop a strategy for dealing with the challenges they present.  Avoid reacting emotionally to provocations—exercise emotional maturity. 
Effective Governance and Leadership: Keys to Success
Ron Cox, former city manager and current local government advisor, views the use of effective governance principles and leadership attributes as fundamental to effective council/staff relationships:
It's critical to focus on the process of governance.  Understanding, appreciating, and supporting each other's roles are key indicators of success.
Well-functioning organizations must have predictable and consistent governance processes.
Governance is about building relationships through effective leadership, meaningful communication, understanding roles, and fulfilling expectations.
Leaders must promote understanding, respect, and trust.
Leadership principles are fundamental to an effective relationship—effective leadership by both the elected officials and the manager/staff.
Promoting understanding of roles and perspectives are very important to effective working relationships.  Using team-building workshops and personality/work style instruments can help develop a better appreciation of different perspectives and working/personality styles.
The development and adherence to a "governance philosophy" can help promote a better understanding of respective roles and an effective working relationship.
The development of a "vision and mission" for the organization can help get elected officials and staff get onto the same page regarding roles and organizational purpose.
Effective Communication Promotes Success
Ann Marie Townshend, manager, Lewes, Delaware, shared her thoughts regarding how effective communication and trust can promote manager/council success:
Focus on how, when, and about what in regard to communication with elected officials. Work to communicate reasonably equally with all members, recognizing different communication preferences.
Develop an understanding with each elected official regarding his or her communication preferences (written, face to face, phone calls, etc.).
Be particularly sensitive to the need to communicate "bad news" clearly, completely, and on a timely basis (do your best to make sure they hear bad news from you).
Be willing to openly and calmly accept criticism, even when it may not be fair criticism.  Try to avoid overreacting and becoming argumentative.
Be sensitive to your role, including accepting the decisions of policy makers, and not challenging their decisions in public. 
Don't play favorites and don't respond disproportionately to the loudest voice. Know when to speak out and when to withhold comment.
Keep confidences, but look for opportunities to help improve communication between elected officials.
Always be guided by ethics.  Be fair and consistent and don't stretch your ethical boundaries.
Effective relationships are clearly based more on "art" than "science."  No set of strategies will guarantee success.  However, a thoughtful and proactive approach to establishing and maintaining effective relationships with elected officials will significantly increase the likelihood of success—in both good and challenging times.
Additional Resources
New, Reduced Membership Dues
A new, reduced dues rate is available for CAOs/ACAOs, along with additional discounts for those in smaller communities, has been implemented. Learn more and be sure to join or renew today!