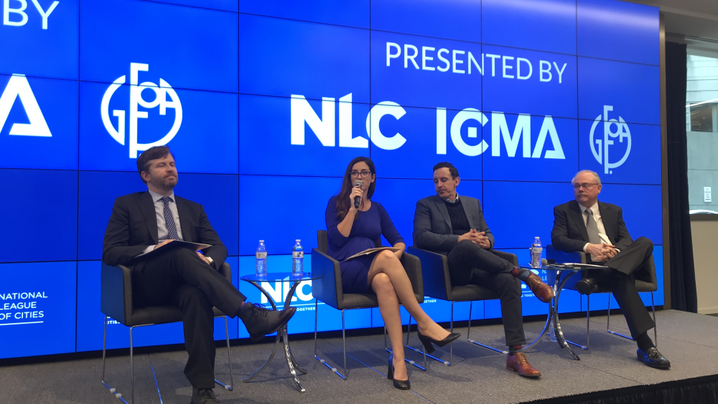 By Rebecca DeSantis, content and engagement coordinator, ICMA
As technology changes the way we interact with our daily environment, it can be daunting to find a way through the overload of options to find technology solutions that meet our needs, our budget, or our skill level.
Local governments, looking to provide best-in-class service delivery to residents, are finding that not every technology solution is fitting for their priorities or their wallets. Blockchain technology, although in its infancy, has some jurisdictions taking a closer look at potential applications, and most are finding that there are significant barriers to implementation. 
ICMA, in partnership with the National League of Cities (NLC) and the Government Finance Officers Association (GFOA), hosted an event following the recent release of the Blockchain Technology: Local Government Applications and Challenges whitepaper. Moderator Brooks Rainwater, senior executive and director of NLC's Center for City Solutions, led these speakers in a conversation on the future of blockchain and its use in digitizing local government services: Julie Hamill, author of the whitepaper; Xavier Hughes, chief technology and innovation officer at ICMA; and Russ Truell, former GFOA board member and former CFO of Franklin, Tennessee.
Here are some of the key takeaways from the panel:
Public vs. Private Blockchain
When talking about how local governments are exploring the use of blockchain, it is important to distinguish between private and public blockchain. Hamill explains that public blockchain, at its core, is peer-to-peer and "gives power to the people" because it is not owned by one single person or entity. Transactions are monitored by "mining," which takes up a considerable amount of energy and is costly for local governments.
Private blockchain, on the other hand, involves permissioned networks and possible manipulation, which makes it arguably less valuable to the public. Early blockchain success stories, however, involve the private sector. An example of this being Cook County, Illinois, implementing smart contracts where the terms of agreement are coded into a blockchain and self-executed. "You don't need a human in these transactions, so there is less human error and fewer fees." explains Hamill.
Separating Cryptocurrency from Blockchain
All three panelists stress the importance of separating cryptocurrency from blockchain. Although cryptocurrency exists on a blockchain, "Scam artists have taken advantage of the popularity of bitcoin and the complexity of blockchain, selling false promises and outright fraudulent ideas to unsuspecting people looking to get in early on what many consider to be the future of digital transactions," according to the whitepaper. It is important for local governments considering blockchain to remain skeptical of ideas surrounding cryptocurrency and remember that blockchain can exist without this digital currency.
Challenges with Blockchain
Although there has been some experimentation with blockchain at the local level, the experts agree that the significant amount of challenges around implementation are preventing the technology from gaining traction in local government. "Perhaps the largest challenge with blockchain is the data itself," said Truell. "Local governments still have structured data that will have to be moved into a digitial platform before blockchain could be used." Truell also emphasizes that major changes to the law would be needed to make blockchain a viable option.
Hughes reminds us that local governments have many pressing issues in the technology sphere, which include dealing with new mobility concerns around e-scooters. When priorities like this take up the bulk of their time, local governments may not have the bandwidth to also explore blockchain.
The high cost of blockchain might also keep a lot of local governments from experimenting with the technology. It's not only expensive to organize and digitize data to make it ready for blockchain, but local governments may also have to spend money to bring their IT infrastructure up to the caliber needed to use blockchain.
Practical Uses for Local Governments
The realistic uses for blockchain experiementation at this point involve areas like contracts, microtransactions in accounting, and vehicle maintenance tracking in public works. All three panelists agree that for those communities considering blockchain, it is critical to review the successes and challenges of others already testing the technology. Demonstrated success in blockchain in the private sector will inform public usage, explains Hamill. "It will show the public what blockchain can do."
So what can a local government leader do now to get started with blockchain? Find out what private entities are partnering with local governments and see if they are interested in helping your community, recommends the panel.
"It is a promising technology, and we should not be scared of it," concludes Hughes. "But it will take a lot of work to make it a reality."
Missed the panel? Watch the video of the entire event here!
Download Blockchain Technology: Local Government Applications and Challenges to learn more!
New, Reduced Membership Dues
A new, reduced dues rate is available for CAOs/ACAOs, along with additional discounts for those in smaller communities, has been implemented. Learn more and be sure to join or renew today!