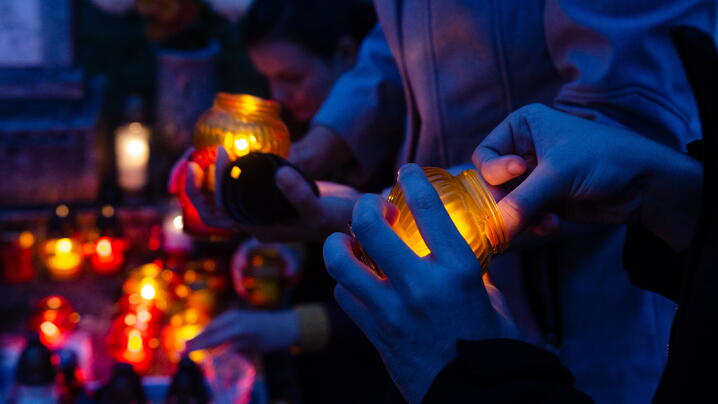 How will you react when the unthinkable happens in your community? Mass shootings have plagued our society, and while it can be easy to think that your community will not experience such a tragedy, that is a dangerous stance to take. Sarah Peck and Emily Nink, writers of the Mass Shooting Protocol and Mass Shooting Playbook stopped by ICMA's Voices in Local Government podcast to speak about the importance of preparedness and how local government leaders can effectively spring into action once tragedy strikes.
Inspiration and Research
Peck is director of UnitedOnGuns, a nonpartisan initiative of the Public Health Advocacy Institute where Nink is a policy associate. Together, they worked to curate research-driven resources that take a public health approach to mass shooting incidents. While speaking with Bill Peduto, mayor of Pittsburgh during the Tree of Life Synagogue shooting, Peck and Nink asked the critical question of what he needed on the day of the shooting that he wished he had at the time? Peduto's response was simple, but integral to the direction of their work, "a mass shooting protocol."
With Peduto's wish front of mind, Peck and Nink approached the leaders of six different cities who have experienced a mass shooting in order to better understand how these community leaders and first responders reacted to each of their unique tragedies. In total, 16 community leaders and first responders were interviewed for this study and a two-part resource was created as a result.
Protocol
Part one of this resource is the Mass Shooting Protocol, which outlines best practices of what to do within the first 24 hours of a mass shooting incident. Since local government leaders are viewed as the voice of the community, communication must be quick, thoughtful, and consistent throughout each step of the process. Other best practices that are covered in the protocol are declaring a local state of emergency, deployment of first responders, initial support to victims and families, setting up a family reunification center, establishing a victim's fund, separating press from crucial areas, and thinking through a recovery plan.
Playbook
While the protocol is a great resource for navigating an initial response after tragedy strikes, the Mass Shooting Playbook acts as an all-encompassing encyclopedia that covers every aspect of a mass shooting, from the preparedness, response, and recovery phases.  This 10-chapter, 200-page document leaves no stone unturned and equips users with the tools needed to think through the unthinkable.
During their appearance on Voices in Local Government, Peck and Nink take a deep dive into their experiences working with the local government leaders involved in their research. They shared that every official they reached out to was eager to voice their experiences, and the overwhelming response from each was the importance of preparedness. Peck and Nink pointed out that while many of their participants had gone through some form of active shooter training or tabletop exercises, they still felt ill-equipped to respond to these tragedies. Things that these officials wished they had in place to respond to a mass shooting more adequately were long-term recovery plans, prior identification of stakeholders, protocols for handling public record requests, structuring of victim's funds, volunteer management, protocol for quicker identification of victims, early involvement of mental health experts, and a "go bag" of what everyone in place needs to do once an event like this occurs.
Further, each leader involved in this research stressed the importance and lack of preparation they felt for what needs to happen on the civilian side, particularly after the crime tape is gone. Making ample mental health resources available and stressing messages of unity, as not to create more division and trauma, will set your community on the right path on the road to recovery.
Beyond a Mass Shooting Incident
Benefits from this type of preparation go beyond a mass shooting incident. Any type of mass-casualty event can benefit from each step of the Mass Shooting Playbook, which is why this is a critical resource for any local government leader's toolkit. Peck and Nink stress the importance of the playbook in helping to identify critical gaps before any type of tragedy strikes so you can look to fill them in advance. That way, you can react calmly and efficiently, and your community will experience as little loss, pain, and confusion as possible.
For more from this eye-opening interview and others, check out Voices in Local Government on Apple, Spotify, or the ICMA website.
Register for the ICMA Annual Conference
Join us September 17-21 in Columbus/Franklin County, Ohio for the 2022 ICMA Annual Conference.
JOIN ICMA TODAY!
ICMA provides the tools, resources and connections to help you become part of the international network of 13,000+ local government management professionals.