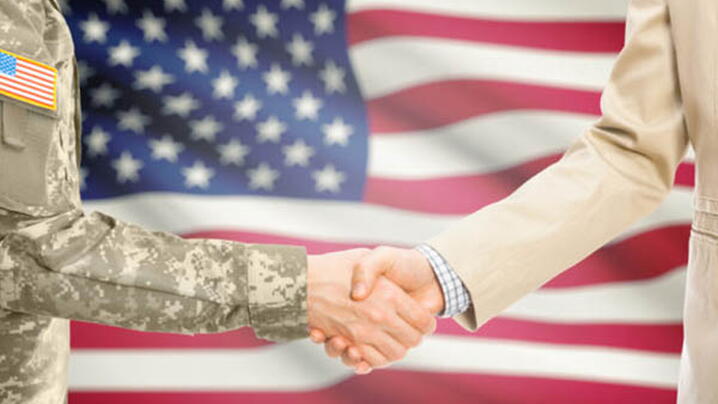 When most think of groups that have been discriminated against, veterans are typically not the first to come to mind. Unfortunately, veterans have suffered from discrimination so often that there are now federal laws that protect them. In recognition of Veterans Day, ICMA gathered a unique panel of veterans who did not let discrimination dull their success, to speak about their journey in public service—from the military to local government.
Entering the Military
Beginning a military career looks different for everyone. Whether you grew up in a military household, yearn for a greater sense of discipline, or are intrigued by the benefits and potential career paths available, there are many reasons why entering the military is enticing. For these panelists, each had a different journey to the uniform.
For Marty Hughes, assistant city manager of Kennesaw, Georgia, he came from two quite different worlds, both of which influenced his path to the military and local government. His mother was a Mexican migrant worker who put a strong emphasis on the value of education, and his father was of Irish decent and served in the Air Force during Vietnam. Hughes' unique background played a significant role in his decision to enter the military so he could pursue his career goals, make a positive impact, and adhere to the values that the United States prides itself on.
In the case of panelist Dominique Lazo-Johnson, community relations specialist of Fayetteville, North Carolina, she felt trapped in her city of Houston, Texas, and wanted something more out of life. She saw the numerous benefits and career options available through the military as a window to a whole new world of opportunities.
As for Henry Hayes, town manager, Sudbury, Massachusetts, he has a unique reason for joining. From growing up in an Army household, he took a Greyhound bus to Fort Worth at age 17 to start searching for jobs. While on his search, he went to the local mall and decided to "play" with an Air Force recruiter. He promised the recruiter that he would join the Air Force if, and only if, he could get in before his 18th birthday. While Hayes never expected to hear back from him, the recruiter managed to pull some strings and get Hayes enlisted before his 18th birthday. Being a man of his word, Hayes went on to begin this life-changing career in public service.
The Hard Truth
Although each panelist entered the military for drastically different reasons, one unfortunate thing they all have in common is that they have all faced and witnessed varying levels of discrimination while in their military roles.
While Marty Hughes never experienced severe discrimination aside from what he describes as mild "side jokes" about his nationality, he saw his wife (who he met while in the military) being treated very differently and even misogynistically by her peers. As for panelist Henry Hayes, being a Black man, he experienced bouts of racism throughout his time served. One particularly troubling interaction he recounted was being invited on a hunting trip by a fellow solider that his colleagues advised him to not go on if he planned on coming back alive. Although racism can certainly be experienced in any profession, we expect those in the military to be held to higher standard of treating others with equity and inclusion.
Racism is a disturbing reality for some soldiers, but the group that arguably receives the brunt of discrimination in the military is women. Panelist Dominique Lazo-Johnson had firsthand experience with the unhealthy culture that exists for women in the military. She found herself needing to consistently work harder to combat stereotypes and rise through the ranks. Despite her hard work and success in her role, Lazo-Johnson still faced the ultimate betrayal from one of her brothers in arms in the form of a home invasion and sexual assault that happened on base and in broad daylight. Despite the brazen and violent nature of this crime, her character was still called into question after this vicious assault that resulted in her medical discharge from the Army. This may have been a tragic and premature end to Lazo-Johnson's military career, but it was just the beginning of her career in public service.
Transitioning into Local Government
Making the leap into an entirely new career path can be difficult, but it is even harder when the career you are leaving comes accompanied by a set of preconceived notions that follow you to your new role. While transitioning into the world of local government, this panel noted many common stereotypes about those in the military that their new coworkers brought to their attention. From fears of working with someone who has diagnosed post-traumatic stress disorder to warning that they should not "expect people to come to attention," this panel has experienced it all when it comes to acclimating to their new roles and new coworkers in local government.
Combating stereotypes was a challenge for these panelists but blossoming in their new roles has been well worth the growing pains. Being thrust into the eye of the proverbial storm, which was 2020, Henry Hayes stepped into his role of town manager in Sudbury, Massachusetts, on none other than April Fools' Day of 2020. After quickly realizing the events going on in his community and the entire world were, in fact, not a joke, his military background proved to be a huge asset in working through if/then scenarios and crisis management. Each panelist found that their organizational skills, quick thinking, and problem-solving abilities have been easily transferable from their time in the military, proving to be an invaluable asset to the communities they serve.
A Life of Public Service Is a Life Well-Lived
While being in the military came accompanied with its own unique set of challenges, hardships, and discrimination, it also provided each of these panelists with opportunities that changed their lives for the better and helped usher them into the next phase of their lives in public service. Marty Hughes has the military to thank for his family, because he met his wife while serving and they now have two children. As for Henry Hayes, he believes that he never would have even stumbled into the world of local government if it were not for the military. Finally, although Dominique Lazo-Johnson survived one of the hardest experiences while in the military, she credits her time served for affording her the lifestyle she enjoys today. It instilled a level of discipline and goal setting, paid for her higher education, and paved the way for her and her children's success.
It may be difficult to initially see the parallels between a career in the military and one in local government, but these forms of public service go hand in hand more often than acknowledged. These parallels and the easily transferable skills gained through military service are why ICMA has a specific fellowship program that is geared toward veterans transitioning into local government roles, the goal of this program being to facilitate more success stories like that of these panelists.
From being inspired by family, wanting something more out of life, or losing a bet with a very resourceful recruiter, each panelist stumbled into the world of public service and never turned back. Take a deeper dive into each of these powerful stories by viewing the recorded presentation and explore other conversations from courageous leaders in the local government profession by visiting ICMA Living History.
Register for the ICMA Annual Conference
Join us September 17-21 in Columbus/Franklin County, Ohio for the 2022 ICMA Annual Conference.
JOIN ICMA TODAY!
ICMA provides the tools, resources and connections to help you become part of the international network of 13,000+ local government management professionals.