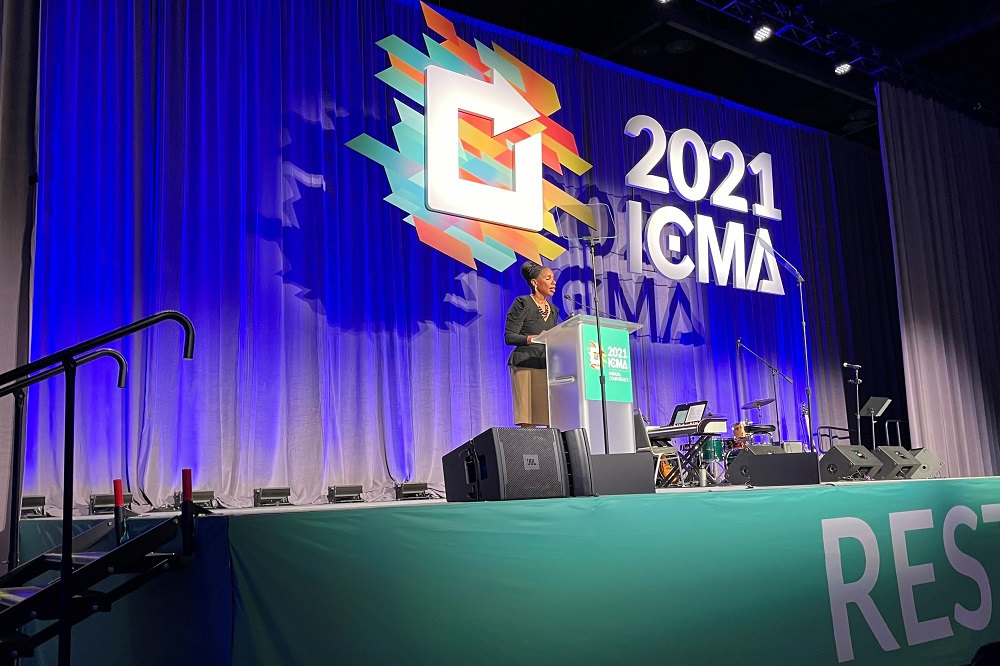 Chief Carmen Best (Ret.), the first African American woman to hold the top policing job in Seattle, Washington, served the city's police department for 28 years.
She resigned from the force in 2020, when the city council's decisions did not align with her own values. But Chief Best told attendees of the 2021 ICMA Annual Conference on Sunday in her presentation sponsored by Mission Square, "I'll always be a police officer, someone who wants to give back to their community."
Chief Best certainly gave back to her community in her almost 30 years in policing, with the most challenging times coming at the end of her career. In her keynote address, she shared her experience leading the force through these challenging times, the importance of having the right people by your side during a crisis, and the critical need for communication—among your staff and with the community.
Relationships Are Everything
Chief Best began her presentation by asking the audience to consider why they chose a career in public service. "Why are you here? At your core, what is it that made you sign up for this profession and show up every day? After the challenges of the past two years, why are we so committed to this work?"
She admitted that she has asked this same question of many people before, and most respond about their dedication to a life of service within the community. "You don't hear anyone saying they're in it to make a lot of money, or they really love the work/life balance." She told attendees to bear this in mind when we think of the other people serving alongside us—our coworkers. They're here for the same reasons we are. Giving a shout-out to her former boss in the crowd, she praised her many coworkers over the years and told the audience, "No one is successful on their own."
"The soul of your organization comes from the meaning and the value that your employees bring to it." After quoting the famous line from Peter Drucker, "Culture eats strategy for breakfast," Chief Best continued, "The 'who' part of your organization is always going to set your course. It's critical to have the right people in place."
She emphasized the need for building strong relationships with colleagues. "Relationships are everything." Sharing a story from her early days on the force, she recalled how she quickly came to realize the importance of her relationships with coworkers—she had to trust them with her life.
Relationships with the community are just as important. "We put in time, we went to those community meetings, listened to concerns and complaints, got to know the people. We went to meetings where you check the exits before you take the stage because you don't know how the meeting's going to go." She explained that the importance of kindling those relationships with the community. "You have to take the time to make the deposit on the relationship before you cash that check. Sometimes something tragic will put a dent in it, but then it's a little easier to rebuild."
Building an Effective Team
Chief Best discussed how from day one in her role as chief she made it a priority to diversify the leadership team, along with bringing both sworn and civilian employees into the room that had a variety of ideas and experiences. "When you're building a team, it's not as easy as matching up a skill set with a position. You have to take your time and put the right people in the right places."
With a basketball analogy, she said, "The team with the best talent doesn't always win the game. There's more to it than that." She compared this with building your team within your local government organization.  
She contended that challenging times reveal what percentage of your organization is filled with leaders. "How many people are stepping up to help move the organization forward?" Despite what the organizational chart might look like, everyone in an organization can lead. To reinforce this notion during meetings, she would turn questions back to employees, and ask, "What do you think? How would you go about deciding this?" This would ignite a dialogue that often ensured that everyone's voice was heard.
When the Going Gets Tough
After the murder of George Floyd in June 2020, Seattle braced itself for what came next. "I knew we were going to have protests," said Best. She described how the protests went on for weeks and were grueling for the department and for her personally. "When you're trying to lead through a crisis, you're trying to make decisions quickly—weighing your options on the fly—in really difficult situations."
"We have to do what is right. We can't just listen to the loudest voices. Politics is often mixed up with our personal beliefs. And as leaders, we need to be able to admit that and still lead by doing what is right. Sometimes that will leave you standing alone. Criticism will come, but you can't fear that. You have to be flexible, and you have to keep adapting. I never felt bad about any decision that was made."
Chief Best showed a brief video from the Seattle Police Department, and one officer's quote stood out: "I think we need to reinvent what policing looks like and what we want policing to be tomorrow."
She continued, "We do have a responsibility to think about how we approach things. Get everyone at the table as part of the discussion. We want to find ways to engage so that everyone has a voice in local government and in the rules and regulations being made. We have an opportunity here—to move forward together, to bring people together to strengthen public safety, and ensure everyone knows they have a place."

It isn't too late to register for #ICMA2021 — Go Digital!
Join thousands for the 2021 ICMA Annual Conference, October 3-6, where attendees will RESTART by learning from the hardships, focus on what matters, and chart a new course for their communities in the year ahead. Gain full digital access to keynote and trailblazer speakers, 100+ dynamic sessions, 20+ livestreamed sessions, and conversation huddles through December 31. Register today!
New, Reduced Membership Dues
A new, reduced dues rate is available for CAOs/ACAOs, along with additional discounts for those in smaller communities, has been implemented. Learn more and be sure to join or renew today!